Events are happening faster than we can write articles on, so we're switching to a summary format for some articles.
After being redscreened a second time, we're no longer posting live hyperlinks.
Hyperlinks are (in brackets) to prevent them defaulting to a page view.
---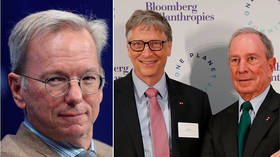 Government by billionaires? Cuomo names former Google CEO to join Gates & Bloomberg in drafting post-pandemic 'reforms'
Russia Today, 6 May, 2020
(https://www.rt.com/usa/487968-cuomo-google-billionaires-education-healthcare/)
New York Gov. Andrew Cuomo has appointed ex-Google CEO Eric Schmidt to lead a panel on post-pandemic "reform" of health and education systems, despite criticism for taking other billionaires with conflicts of interest on board.
Schmidt will head a 'Blue Ribbon Commission' tasked with "reimagining" New York's existing systems of healthcare and education, Cuomo announced on Wednesday during his daily coronavirus briefing. The decision to place such power in the hands of another unelected billionaire has riled critics already uneasy about the governor's post-Covid-19 plans.
---
---
The panel's initial priorities will be "tele-health, remote learning and broadband," Schmidt announced, dropping into Cuomo's broadcast. The former Google exec still receives a paycheck from parent company Alphabet in an advisory capacity, raising questions of conflict of interest given Google's leading role in developing a digital contact-tracing platform for Covid-19. While Cuomo confirmed in the same presser that the state is partnering with former New York Mayor Mike Bloomberg – another billionaire – in building a human contact-tracing network, any digital component will likely involve the participation of Google. At the same time, the tech giant's insatiable hunger for health data, as evinced by initiatives like Project Nightingale and Google's acquisition of Fitbit, is unlikely to sit well with New Yorkers concerned about the company's privacy record.
---
---
Cuomo was previously deluged by criticism after announcing on Tuesday that he would place the Bill & Melinda Gates Foundation in charge of developing a "blueprint to reimagine education in the new normal," praising former Microsoft CEO Bill Gates as a "visionary" and calling for state schools to be "revolutionized." Public schooling groups slammed the billionaire, accusing him of promoting "one failed educational initiative after another, causing huge disaffection in districts throughout the state."
The Gates Foundation poured nearly half a billion dollars of its own money into the notorious Common Core program, which while pitched as a way to improve floundering educational performance in mathematics has actually caused the US to drop even lower in international rankings since its nationwide implementation in 2013. After steering over $4 trillion of taxpayer dollars into the government-funded program, the Foundation tacitly admitted failure in 2016, acknowledging in a letter to donors that it had "underestimated the level of resources and support required for our public education systems to be well-equipped to implement [Common Core]."
Cuomo himself has landed in hot water in the past for his efforts to unilaterally refashion New York's admittedly dilapidated public school system. In 2015, he was accused of "unconstitutional interference in education policy" by New York State Allies for Public Education, which highlighted his "cozy relationships" with charter school advocates and education technology businesses. One of those education technology businesses was Google. In 2014, Schmidt, then the company's executive chairman, was appointed to a three-person commission to advise on a 'Smart Schools' bond issue, setting off alarm bells among consumer advocates who pointed out that Google would directly benefit from system-wide adoption of Google Apps and Chromebook laptops.
The New York governor's history with his state's healthcare system is equally checkered, marked by a long string of budget cuts, hospital consolidations, and layoffs, and his pledge to "revolutionize" the chronically strapped system has already gotten off on a bad foot. On Wednesday, Cuomo announced that out-of-state nurses who had come to New York to help out with the coronavirus epidemic would be required to pay state income tax on whatever compensation they had received, even if they were being paid by companies located in their home state.
Cuomo's decision to appoint private equity bigwigs, including Bill Mulrow of Blackstone Group and Steven Cohen of MacAndrews & Forbes, to the economic advisory team charged with reopening New York has also come in for criticism, given that private equity firms often benefit from the same bankruptcies the state's businesses are hoping to avoid.
---
COVID-19 unemployment may have an ultimately higher cost than the disease
A Political Junkie, Viable Opposition, 8 May 2020
(https://www.sott.net/article/434213-COVID-19-unemployment-may-have-an-ultimately-higher-cost-than-the-disease)
With untold millions of workers around the world finding themselves on the wrong side of the employment equation thanks to governments' attempts to "flatten the COVID-19 curve" by shuttering the economy, a look at the impact of unemployment on physical and mental health is in order. After the Great Recession, many public health researchers around the world looked at the potential for links between the stress caused by unemployment and health. In this posting, I will touch on some of the research that has been done, showing us what we can expect from the COVID-19 related economic shutdown.
1.) A study entitled "Job Displacement and Mortality: An Analysis Using Administrative Data" by Daniel Sullivan and Till Von Wachter looked at the impact of job displacement on mortality among Pennsylvania's high-tenure workers who leave companies that are experiencing large declines in employment (i.e. mass layoffs affecting at least 30 percent of the company's work force). The study found the following:

"Our estimates suggest a 50%-100% increase in the mortality hazard during the years immediately following job loss. The estimated impact of displacement on annual mortality rates declines substantially over time, but appears to converge to a 10%-15% increase in the hazard rate. If these increases lasted beyond the 25-year window we follow, they would imply a loss in life expectancy of 1.0-1.5 years for workers displaced in middle age. In contrast, we find little effect of job loss on mortality for workers displaced near retirement age."
The authors found that there was at least a 10 percent to 15 percent increase in the annual probability of dying that persisted for at least the next 20 years after the worker was laid off. Over an indefinite period of time, there would be a loss in life expectancy of between one and one and one-half years for a worker who was displaced at the age of 40.

2.) A study by Clemens Noelke and David E. Bell at the Harvard Center for Population and Development Studies examined the health impact of job loss during recessions. This research focuses on American workers aged 50 and older between 1992 and 2010 and looks at health indicators including mortality rates, cardiovascular disease, cognition, depression and unhealthy behaviours like smoking and alcohol consumption. The authors are focussing on older workers because it is more difficult for them to find new work and because they already tend to have pre-existing health conditions. While the final results of the study are currently being peer-reviewed, the authors expect that the results will show that there is a causative link between job loss and health.

3.) A study entitled "Losing Life and Livelihood: A Systematic Review and Meta-Analysis of Unemployment and All-Cause Mortality" by David Roelfs et al looked at the magnitude of the risk and moderating factors that affect the mortality of unemployed persons. The study looked at 235 mortality risk estimates from 42 studies which provided data on more than 20 million people. The study found the following:

"Unemployment was associated with a 73% increased risk of all-cause mortality for people under the age of 40 years who were in their early careers and a 77% increased risk for those between the ages of 40 and 50 years who were in mid-career. The association was substantially reduced for those between the ages of 50 and 65 years who were near the end of their working careers, falling to only 25 percent."

Overall, the risk of death was 63 percent higher among those who experienced unemployment than among those who did not after adjusting for age and other variables. The magnitude of the association between unemployment and mortality is higher for men (78 percent) than women (37 percent).

4.) A study entitled "Job Loss and Health in the U.S. Labor Market" by Kate Strully examined how job loss impacted the health of American workers using data from the 1999, 2001 and 2003 waves of the U.S. Panel Study of Income Dynamics (PSID) which collects data on both employment and health. Health was measured using three variables; fair/poor health, likely health conditions (conditions that are likely to respond to a recent event like job loss i.e. stroke, hypertension, heart disease, heart attack, diabetes and emotional or psychiatric problems) and unlikely health conditions (conditions that are unlikely to respond to a recent even like job loss i.e. lung disease, cancer, loss of memory or mental ability). The fair/poor health measure is based on a self-assessment scale in which respondents describe their health as excellent, very good, good, fair or poor.
The report found the following:
1.) Being fired or laid off increases the odds of reporting fair or poor health by 80 percent.

2.) Losing a job because of establishment closure increases the odds of reporting fair or poor health by 54 percent. Among respondents with no preexisting health conditions, it increased the odds of a new likely health condition by 83 percent.

3.) Only 6 percent of people with steady jobs developed a new health condition over the time between PSID surveys compared to 10 percent of those who had lost a job over the same timeframe. The increased rate of developing a new health condition also did not improve fro the 10 percent rate even if the workers had found new employment.
What I found quite fascinating is that a number of these studies appear on the National Institutes of Health website. Keep in mind that the National Institute of Allergy and Infectious Diseases which is part of the NIH is headed by Dr. Anthony Fauci,the lead player in America's program to defeat the COVID-19 virus and it is largely under his guidance that tens of millions of Americans find themselves unemployed.
Research clearly shows the link between reduced lifespan and increased health problems and unemployment. Certainly, some of the jobs that have been lost during the recent shuttering of the economy will return once things return to the "new
normal", whatever that might be, but there is no doubt that many businesses will fail, leading to the prospect of long-term unemployment for untold millions of American workers. We are all part of a massive social experiment which will prove very costly even when the COVID-19 deaths are not included.
---
Twin Pillars of Russiagate Crumble
House Intelligence Committee documents released Thursday reveal that the committee was told two and half years ago that the FBI had no concrete evidence that Russia hacked Democratic National Committee computers to filch the DNC emails published by WikiLeaks in July 2016.
The until-now-buried, closed-door testimony came on Dec. 5, 2017 from Shawn Henry, a protégé of former FBI Director Robert Mueller (from 2001 to 2012), for whom Henry served as head of the Bureau's cyber crime investigations unit.
Henry retired in 2012 and took a senior position at CrowdStrike, the cyber security firm hired by the DNC and the Clinton campaign to investigate the cyber intrusions that occurred before the 2016 presidential election.
The following excerpts from Henry's testimony speak for themselves. The dialogue is not a paragon of clarity; but if read carefully, even cyber neophytes can understand:
Ranking Member Mr. [Adam] Schiff: Do you know the date on which the Russians exfiltrated the data from the DNC? … when would that have been?
Mr. Henry: Counsel just reminded me that, as it relates to the DNC, we have indicators that data was exfiltrated from the DNC, but we have no indicators that it was exfiltrated (sic). … There are times when we can see data exfiltrated, and we can say conclusively. But in this case, it appears it was set up to be exfiltrated, but we just don't have the evidence that says it actually left.
Mr. [Chris] Stewart of Utah: Okay. What about the emails that everyone is so, you know, knowledgeable of? Were there also indicators that they were prepared but not evidence that they actually were exfiltrated?
Mr. Henry: There's not evidence that they were actually exfiltrated. There's circumstantial evidence … but no evidence that they were actually exfiltrated. …
Mr. Stewart: But you have a much lower degree of confidence that this data actually left than you do, for example, that the Russians were the ones who breached the security?
Mr. Henry: There is circumstantial evidence that that data was exfiltrated off the network.
Mr. Stewart: And circumstantial is less sure than the other evidence you've indicated. …
Mr. Henry: "We didn't have a sensor in place that saw data leave. We said that the data left based on the circumstantial evidence. That was the conclusion that we made.
In answer to a follow-up query on this line of questioning, Henry delivered this classic: "Sir, I was just trying to be factually accurate, that we didn't see the data leave, but we believe it left, based on what we saw."
Inadvertently highlighting the tenuous underpinning for CrowdStrike's "belief" that Russia hacked the DNC emails, Henry added: "There are other nation-states that collect this type of intelligence for sure, but the – what we would call the tactics and techniques were consistent with what we'd seen associated with the Russian state."
Interesting admission in Crowdstrike CEO Shaun Henry's testimony. Henry is asked when "the Russians" exfiltrated the data from DNC.

Henry: "We did not have concrete evidence that the data was exfiltrated from the DNC, but we have indicators that it was exfiltrated." ?? pic.twitter.com/TyePqd6b5P

— Aaron Maté (@aaronjmate) May 8, 2020
Not Transparent
Try as one may, some of the testimony remains opaque. Part of the problem is ambiguity in the word "exfiltration."
The word can denote (1) transferring data from a computer via the Internet (hacking) or (2) copying data physically to an external storage device with intent to leak it.
(Read more: https://original.antiwar.com/mcgovern/2020/05/10/twin-pillars-of-russiagate-crumble/.)
---
California Governor Gavin Newsom Signs Executive Order Permitting Voting By Mail In November
(https://www.thegatewaypundit.com/2020/05/california-governor-gavin-newsom-signs-executive-order-permitting-voting-mail-november/)
Democrats have been pushing for having vote-by-mail for the 2020 election.
This is causing alarm among critics who suggest this could lead to large scale voter fraud.
In California, Democrat Governor Gavin Newsom has just signed an executive order guaranteeing that anyone who wants to vote by mail will be able to do so.
Breitbart reports:
TRENDING: Tucker Carlson Confronts Former Rep. Trey Gowdy for Actions He and Former Speaker Paul Ryan Took that Allowed Mueller and Obamagate to Flourish (VIDEO)
California: Gavin Newsom Orders Vote-by-Mail for November Election

California Gov. Gavin Newsom (D) on Friday signed an executive order permitting all registered voters in the Golden State to vote by mail in the upcoming presidential election, citing concerns stemming from the Chinese coronavirus pandemic.

"I signed an executive order that will allow every registered voter in California to receive a mail-in ballot," Newsom said. "That mail-in ballot is important but it's not an exclusive substitute to physical locations."

"People that are otherwise not familiar with mail-in ballots, are uncomfortable with them, may have disabilities, may have other issues that may preclude that as an appropriate option, we still want to have the appropriate number of physical sites for people to vote as well," the governor added…

"There's a lot of concern and excitement around this November's election in terms of making sure that you can conduct yourself in a safe way and to make sure your health is protected and to make sure we are reaching out to all registered, eligible voters," the governor stated.

"And giving them the opportunity, giving them the choice not to feel like they have to go into a concentrated, dense environment where their health may be at risk but provide an additional asset and additional resources by way of voting by mail."
(Read more:  https://www.thegatewaypundit.com/2020/05/california-governor-gavin-newsom-signs-executive-order-permitting-voting-mail-november/.)
---
Mohave Arizona sheriff, Doug Schuster, defends his decision to not enforce the state's stay-at-home orders.
And in Annapolis, Maryland, crowds in cars protest stay-at-home orders. In Michigan, sheriff on discusses whether he'll enforce Gov. Whitmer's orders.
---
Pelosi, Schumer Set to Unveil Multi-Trillion Dollar, 'Rooseveltian' Coronavirus Relief Package
Stillness in the Storm, 05/08/2020
(https://stillnessinthestorm.com/author/stillness-in-the-storm/)
Speaker of the House Nancy Pelosi (D-CA) and Senate minority leader Chuck Schumer (D-NY) spent their extended recess working on a "multi-trillion dollar" "Rooseveltian" fourth coronavirus relief package that they're set to unveil as early as next week, signaling the start of a major battle between Democrats and Republicans over yet another massive government spending bill.
Pelosi commanded Democratic leadership to submit "wish lists" to her office earlier this week, telling House committee leaders and other key lawmakers to "think big" on relief projects. As a result, she and Schumer have, Fox News reports, compiled the "most far-reaching effort yet to address the economic fallout of the pandemic" — a "legislative laundry list" that will likely dwarf the $2.2 trillion CARES Act, which passed back in March.
"We're looking at a multitrillion-dollar bill," one legislator told the network.
Schumer expanded on that assessment, comparing the draft bill to President Franklin Delano Roosevelt's New Deal, designed to address the massive economic fallout of the Great Depression.
"We need big, bold action," Schumer told MSNBC Thursday, adding that Democrats "are working very closely together on putting together a very strong plan, which you will hear shortly."
"We need Franklin Rooseveltian-type action and we hope to take that in the House and Senate in a very big and bold way," he added.
(Read more: https://stillnessinthestorm.com/author/stillness-in-the-storm/.)