Former Japanese Prime Minister Shinzo Abe assassinated during campaign speech, hospital officials confirm
The suspect reportedly told police that he was dissatisfied with former Prime Minister Shinzo Abe and wanted to kill him
Brie Stimson | Fox News, Jul. 8, 2022
(https://www.foxnews.com/world/shinzo-abe-shot-speech-former-japanese-prime-minister)
Former Japanese Prime Minister Shinzo Abe has been assassinated in a shooting while giving a speech on a street in Nara in western Japan Friday morning, hospital officials confirmed hours later.
Earlier Friday, Japan's Prime Minister Fumio Kishida gave an emotional press conference where he said Abe, 67, was in "severe condition" and he hopes he will survive. Abe was taken from the scene of the shooting unconscious and in cardiac arrest with no vital signs, Japanese media outlets Kyodo News and NHK reported.
Kishida, who belongs to the same political party as Abe, returned to Tokyo from a campaign trip after the shooting. Kishida spoke to reporters at the prime minister's office, saying Abe was receiving the utmost medical treatment. "I'm praying for former prime minister Abe's survival from the bottom of my heart," he said.
---
Ben Fulford gave his analysis of the significance of the Abe assassination
Hit graphic to watch video
(Or go to https://rumble.com/v1bkiul-benjamin-fulford-fridays-big-intel-update-something-big-is-coming.html.)
---
Kishida called the attack "dastardly and barbaric" and that the crime during the election campaign, which is the foundation of democracy, is absolutely unforgivable.  …
Video posted to social media appeared to capture the moment Abe was shot. He is seen speaking to a crowd when suddenly a loud bang is heard and a cloud of smoke erupts. People in the crowd are heard gasping in shock. A second blast is heard just as the camera pans away.
It appears Abe was shot twice from behind. At the time, he was making a campaign speech ahead of Sunday's election for the parliament's upper house.
Video footage of the first shotpic.twitter.com/DlwYOqsOZx

— Nick Kapur (@nick_kapur) July 8, 2022
A male suspect was arrested at the scene and an apparent homemade gun was confiscated. He was identified as Tetsuya Yamagami, 41, Nara prefectural police confirmed. Gun violence is extremely rare in Japan.
Yamagami was tackled by security after the shooting.
Several of the country's Ministry of Defense officials said Yamagami had been working for the Maritime Self-Defense Force for three years until around 2005. He reportedly told police that he was dissatisfied with former Prime Minister Abe and wanted to kill him.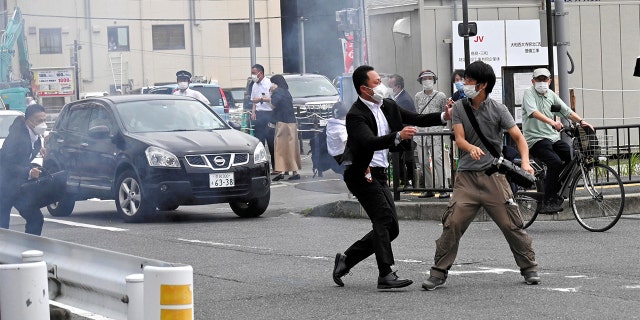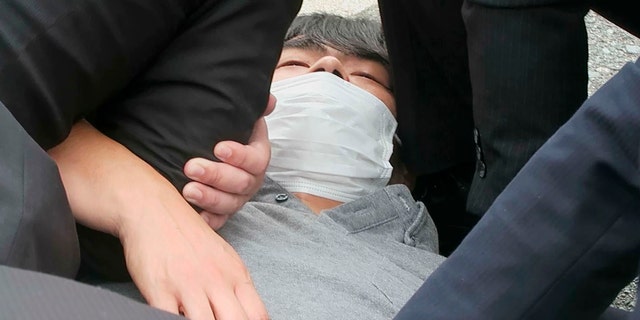 Abe is Japan's longest-serving prime minister. He served from 2006 to 2007 and again in 2012 until he resigned in 2020 after his ulcerative colitis, a chronic condition, resurfaced, calling his decision at the time "gut-wrenching."
During his term, he focused on the economy, rebuilding Japan's military and being a larger player in international affairs.