February 2021, I left a stove element on, burnt a pot, and my door was broken by the firemen.
I wrote a post called, A Burnt Pot. . . with Apologies.
On Monday, August 9th, my broken door was replaced with a "fire-proof door."
It took 5 months to be installed with Covid, shipping issues — no doors in stock, me not understanding deep gratitude — the door needing to be a "fire door" because of building (planetary) codes.
My curious mind wonders about the symbolism of a door; my dream book tells me a door represents "the sheltering aspect of the Great Mother."
We are in the midst of a Lions Gate Portal, and Steve sent me the Message from White Eagle, Hopi Indigenous, 03/16/2020 to post. A girlfriend sent it to me on Facebook, too.
"This moment humanity is going through can now be seen as a portal and as a hole.
"The decision to fall into the hole or go through the portal is up to you.
"If you repent of the problem and consume the news 24 hours a day, with little energy, nervous all the time, with pessimism, you will fall into the hole.
"But if you take this opportunity to look at yourself, rethink life and death, take care of yourself and others, you will cross the portal."
****
On the day my door was replaced, "Amelia" called from across the country. She had an adventure to tell.
I had helped her in the treatment centre I volunteer at; listened to her for several hours on 3 occasions as she sorted her life out.
She ended up leaving treatment to stay with her sister's friend, but she told me after about a week, the husband's abuse escalated.
This being an ongoing life theme, "Amelia" had enough:
She told this mother of 2 children she was going to call the police or they could come with her, and she would take them home to Niagara, across the country.
The woman finally agreed and they fled the situation with the children.
"Amelia" called to say she really appreciated I listened to her with no judgement.
When we reach out to help, one does just that; no agenda, but to be there, and be Love.
I've been there — felt the disarray and hopelessness — the not knowing which way to turn.
It is time for all women on this planet to have portals/doorways open to create lives of safety and peace for themselves and all the children.
****
I highly recommend volunteering anywhere you feel called to go.
Open the "heart door" for the ones in distress – help them remember/feel/know how Loved and cherished they are – and see the myriad ways the other side can help.
I now have greater understanding why the society that sprang up around me is called: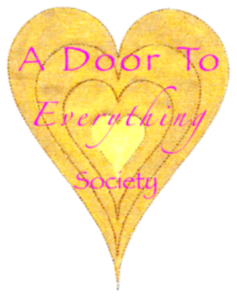 The elements of
forgiveness and gratitude
turn memories of disarray to
compassion/non-judgement/Love,
open doors to the 7th dimension,
Christ Consciousness.
To finish, from the Hopi Message:
"Learn about resistance of the indigenous and African peoples: we have always been and continue to be exterminated.
"But we still haven't stopped singing, dancing, lighting a fire and having fun.
"Don't feel guilty about being happy during this difficult time."
Create the world
you want
in Joy!
in gratitude
for the experiences,
knowing what doesn't work,
with understanding of the 4th dimension,
transubstantiation – remembering our Divinity
& awe – the wonder & perfect balance in nature!