Events are happening faster than we can write articles on, so we're switching to a summary format for some articles.
Some subjects may be too uncomfortable to read. We ask you to use discernment in your choice.
Skirting the meme war does not affect the subjects we cover; only the sources we use to cover them.
We may judge some information from a biased source as good and credible and post an extract (only) from that article.
---
Instant karma for Antifa brick-thrower. Thanks to Brian
---
Nearly 100,000 UPS Employees are Helping Fight Human Trafficking
Anthony McLennan, Truth Theory, 2020/05/17
(https://truththeory.com/2020/05/17/nearly-100000-ups-employers-are-helping-fight-human-trafficking/)
Global logistics giants UPS have trained nearly 100,000 of their workers to help wage in the war against human trafficking.The courier company first got involved in 2016, when they teamed up with Truckers Against Trafficking (TAT) and UPS freight drivers were trained on how to spot signs of sex trafficking.This was to help monitor locations such as truck stops and highway motels, which are often ideal transient points for traffickers.
#FBF to the session we hosted with @TatKylla on the prevention of #humantrafficking. We are committed to the fight against it and are partnering to #EndHumanTrafficking by training more than 97,000 of our drivers on how to spot and report it. pic.twitter.com/cjuv2LR0Kq

— UPS (@UPS) February 1, 2019
More recently, in January 2020, the program was expanded to give it more reach into urban and suburban areas, as the drivers who go into neighbourhoods were also put on a human trafficking training program.
"We have now provided training to our entire U.S. driving operations, more than 97,000 drivers and supervisors, including delivery providers and over the road semi-tractor trail," reads a company statement.
Closer ties with communities
Included in their training will be the recognition of 'branded tattoos' on victims.
"It could be the pimp's moniker, could be 'Daddy,' 'Moneymaker,'" explained Helen Van Dam, who runs UPS' Freedom Drivers Project.
We are proud to work with @TATKylla, @WellspringATL, @cityofrefugeatl, and @UnitedWay to combat human trafficking through training, education, and awareness. https://t.co/6QvjOO1LSU

— The UPS Foundation (@UPS_Foundation) January 23, 2020
"It puts a different layer on their relationship that we have with our drivers to understand it's not just about the company. It's not just about our employees, but it's truly about our community," said Danelle McCusker Rees, Human Resources President for UPS's domestic operations. "This issue impacts everyone."
UPS' initiative in fighting human trafficking is admirable. And it's not the only social upliftment  project they're working on.
"UPS aims to make the world a safer place by leveraging UPS logistics expertise, resources, and philanthropy to enhance the safety and resilience of communities through support of and collaboration with organizations involved in humanitarian relief and resilience, global road safety, human trafficking programs and local community safety initiatives," reads a statement on their website.
The logistics company have given financial and emergency funding to organizations such as the American Red Cross, World Food Program, UNICEF, Salvation Army, CARE and the United Nations High Commissioner for Refugees.
They have also implemented disaster preparedness programs across the world and have contributed in logistics and supply chain expertise in order to help strengthen public health systems.
Road safety education, access to Higher Education for African American college graduates, and environmental sustainability are just some of the other projects UPS are involved in.
Trafficking on the increase
Sex trafficking is a problem of massive global proportions. It takes a huge amount of manpower, and international cooperation to fight this scourge.
Modern slavery is thought to be on the rise because of a clampdown on the illegal sales of arms and drugs – 'traffickers have discovered that instead of selling arms and drugs once, human beings can be sold over and over again, making them more profit.'
The International Labour Organization reported in 2016 that an estimated 25 million people were in forced labor, with 5 million of those sexual exploitation victims. Its thought that forced labor generates close to $150 billion in profits per year.
It therefore seems to make a lot of sense for a global company like UPS to lend a hand, to leverage their extensive network to provide additional 'eyes on the ground'.
Operating via air, sea, ground and rail transport networks, UPS do business in more than 220 countries and territories and employ nearly half a million people.
Image Credit: Elvert Barne
---
Kim wrote in with regard to our post on AAM discussing the impact of torture on children: (1)

I understand what AAM means by disassociating with the body.
In one of the first regression therapies I had, I suddenly realized I wasn't in my body anymore; I was still in the hall watching my father carry my body to my bed whereupon he took off his belt and beat me. I was just over 2 years old at the time.
I was amazed at the the vision because it was so clear to not be in my body, disassociated, watching what was transpiring, and feeling pity on my father for being so stupid and unjust, as I hadn't done anything wrong.
I don't know if I jumped out of my body every time he beat me; but I do know that it took decades of work to lose the somatic fear completely. I always felt he wanted to kill me. Turns out he did once before and we were together again to clear up the karma. Fascinating stuff, and I laugh about it all now that I understand what's really going on.
I guess what I want to share is that we all can heal if we are willing to go deep and really work on the stuff that comes up. The only way out is through, and the relief on the other side is so profoundly freeing.
I have a lot of compassion for those children who have suffered so extremely. I don't know how they will get past the somatic/emotional trauma yet hope and pray they do.
Footnotes
(1) "Archangel Michael on the Fate of Tortured Children,"
---
Not a lot of comprehension of  false flags, agents provocateurs, crisis actors, etc.
No distinction between protesters and thugs.
But calls are growing for Pres. Trump to call out the military – which is, it seems, the plan.
NYPD Policemen reports disgust at rioting.
(https://twitter.com/davereaboi/status/1267934868920578055)
Transcript follows.
Almost 32 years with NYPD, I have never felt such disgust, hopelessness, and anger. Manhattan was occupied territory tonight, we were totally outnumbered by miscreants. They were brazen, laughing and rampant. It was so prevalent there was nothing a police officer could do according to the rules and expectations of the Democrat Party. [???] Our leaders took knees of solidarity with "protesters" during the day and then had a dick forced down their throats at night. Zero leadership. Zero courage. Complete and utter pandering. And I heard the Bronx was even worse. I didn't hear one person say the name George Floyd. It was complete anarchy and savagery. New York, wait until you wake up and see video of Manhattan. It will look like Iraq. If you don't beg Donald Trump to take charge of the democrat cities across America, your country will be lost. The shit I saw today disgusted me more than the shit I saw on 9/11. Wasn't even close. Going to bed. Good night.
---
Charges to be elevated against officer who knelt on George Floyd's neck
Mike Hall, CKWX News, Jun 3, 2020
(https://www.citynews1130.com/wp-content/blogs.dir/sites/9/2020/02/19/BREAKING-NEWS-1.jpg)
Minnesota state Attorney General Keith Ellison will elevate charges against former Minneapolis police officer Derek Chauvin to second-degree murder. The other three officers who were present will be charged with aiding and abetting murder, according to reports.
*** But wait a minute ***
It's been alleged that Derek Chauvin is not the policeman who killed George Floyd. I repeat an earlier posting:
Benjamin Fulford is alleging that the policeman who killed George Floyd is not Police Officer Derek Chauvin, who is being framed for the murder, but a crisis actor, who has been seen, for instance, at Sandy Hook and the Boston Marathon bombing.
If true, does that mean that Derek Chauvin will now go to jail for a crime he didn't commit and the real perpetrator will go free?
---
Antifa arrests coming, concerns over riots heading to suburbia, government source says
Holly McKay, Fox News, June 2, 2020
(https://www.foxnews.com/us/antifa-arrests-coming-riots-suburbs)
Agitators behind the rioting that has paralyzed the country over the past week want to move into more suburban areas, a government intelligence source has told Fox News.
Much of the worry stems from the notion that many in well-armed, suburban, and rural neighborhoods won't hesitate to exercise their Second Amendment rights and elevated anxieties could lead to heavy confrontation.
"Antifa knows this," said the source, who spoke on the condition of anonymity. "Local and state authorities have to get a grip on this because if it moves to the suburbs, more people will die."
Several analysts pointed to places that have served as something of "testbed" locations – including Madison, Wis., which was ransacked Saturday night, along with quiet pockets of Charleston, S.C.
While it remains murky as to who exactly is behind the ongoing turbulence taking place in dozens of cities nationwide, much of the finger-pointing has been directed toward Antifa, a radical left-wing anti-fascist outfit.
But most officials and analysts have surmised that there a number of players and agendas with regards to the rioting, which has overshadowed the peaceful protests calling out racial inequalities and police brutality directed toward African-Americans.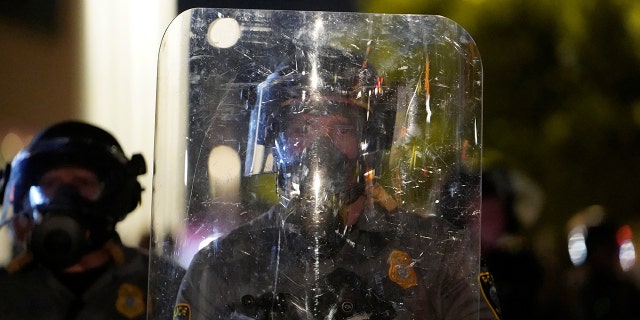 But even before riots exploded across the United States in the aftermath of George Floyd's death, federal and local officials have long been investigating the inner workings and revenue stream of the anarchist, left-wing outfit.
And arrests among its highest ranks may be imminent.
Intelligence sources pointed out that indictments have been building for some time, and a close examination of funding revenues remains under the microscope. While Antifa operates as something of a leaderless militant wing, sources closely engaged in the matter said that there are identifiable top brass driving and inciting criminal activity.
"These are smart people, educated people and it runs like a cell right out of the anti-fascist tradecraft books of Europe in the 1970s, it doesn't have a head or hierarchy, but it has a lot of local leadership," the government insider explained. "The local apparatus has very good intelligence capabilities, but where their weaknesses are is in communication and using apps that allow for large group chats."
An NYPD source, who was not authorized to speak on the record, concurred that fears were escalating in suburban pockets of New York state following a rash of rumors pertaining to looting starting there.
"People in other places like Suffolk County are worrying, preparing for the worst," said the source. "There is just a lot of confusion and fear."
Moreover, the group's "electronic communication" shows that they plan where to show up and typically arrive at pre-determined locations on bikes.
While Antifa is alleged to be playing a prominent role in the chaos – prompting President Trump to announce plans to label them a terrorist organization – on the other end of the spectrum, right-wing radical groups are also believed to be stoking the fires and capitalizing on the calamity.
Twitter said Tuesday that it had suspended the account of a white supremacist group for spreading discord and disinformation across the social media platform, using the "Antifa_US" umbrella and threatening to go into the "white hoods."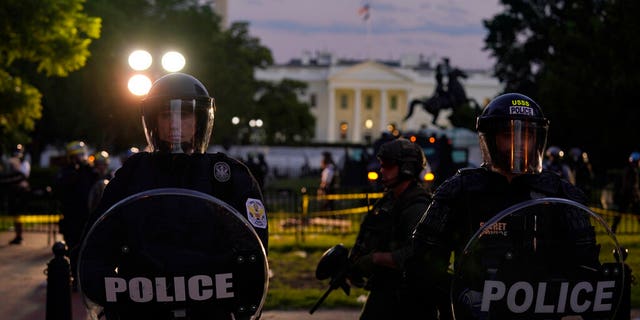 Furthermore, law enforcement officials have also stressed that much of criminal activity and stealing is also stemming from opportunistic individuals with no greater intention than to steal and wreak havoc, with no broader ideological leanings.