Events are happening faster than we can write articles on, so we're switching to a summary format for some articles.
After being redscreened a second time, we're no longer posting live hyperlinks.
Hyperlinks are (in brackets) to prevent them defaulting to a page view.
---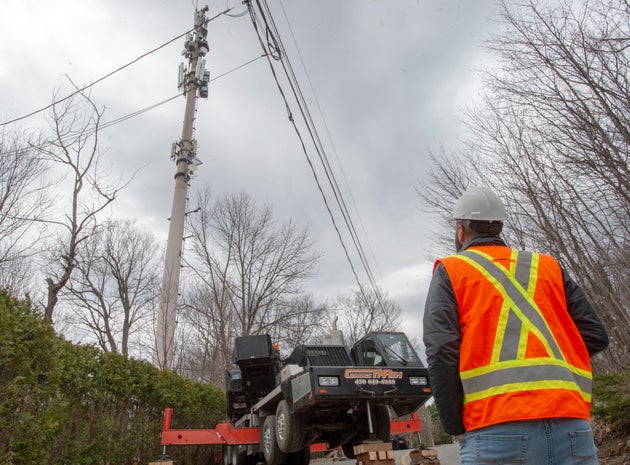 GAoG does not share the point of view of this article. We share it for its news rather than POV. And, no, we don't support violence.
Quebec Cellphone Towers Damaged As COVID-19 Conspiracy Theories Grow
False narratives about 5G technology have led to attacks in Europe
Giuseppe Valiante, Canadian Press, May 6, 2020
https://www.huffingtonpost.ca/entry/quebec-cellphone-towers-5g-conspiracy_ca_5eb2c698c5b6c698e95ff9b8??ncid=newsltcahpmgnews
MONTREAL — The major crimes unit of Quebec's provincial police is investigating after four cellphone towers north of Montreal were set on fire within the span of a few days.
Provincial police spokesman Marc Tessier says the latest fire occurred at a Rogers-owned tower in Laval on Tuesday morning. It's the second fire since Friday to hit one of the company's towers in that city.
Two other towers about 70 kilometres north of Montreal — one operated by Rogers and the other by Bell — were hit early Monday morning.
Tessier says the major crimes unit will investigate possible links between the four fires, including whether they can be traced back to people espousing conspiracy theories about 5G technology.
False narratives around COVID-19 and 5G — the fifth-generation technology standard for cellphone companies — have been shared hundreds of thousands of times on social media, leading to attacks on towers across Europe.
None of the Quebec towers targeted by suspected arson have 5G capabilities.
Mariepier Des Lauriers, spokeswoman for the town of Prevost, where a Rogers-operated tower was hit Monday morning, said that in recent weeks many residents brought up unfounded conspiracy theories linking 5G technology to COVID-19.
On Sunday, the small town wrote a message on its Facebook page specifying that its cellphone tower did not have 5G capability in response to numerous questions from concerned citizens.
A spokesperson for Rogers said the company is "thankful no one was hurt," but cited concern that "critical infrastructure appears to have been deliberately targeted."
The company said it was able to "optimize tower equipment in the area" to ensure service could continue.
Federal Industry Minister Navdeep Bains said on Twitter that he was "troubled by the reports of vandalism of Canadian cell towers."
(Read more: https://www.huffingtonpost.ca/entry/quebec-cellphone-towers-5g-conspiracy_ca_5eb2c698c5b6c698e95ff9b8??ncid=newsltcahpmgnews.)
---
Janet Ossebaard's excellent video.
[Censored by Youtube. Too big a file to upload.]
---
The second instalment in this series with Dr. Judy Mikovits, soon to be made into a movie.
"The world is watching you. We understand the pressure you're under to censor any information that contradicts the popular narrative. We know the risk that comes with defying the orders of those who pull the strings. We realize even the biggest of tech giants are under the command of powerful forces that wield the ability to destroy your empire with the click of a key.
"But due to the critical condition of our world, 'I was just doing my job' is no longer an acceptable excuse. This is no time to play politics. Our future is your future. Your family's future. Your children's future. Your grandchildren's future. This is a plea to the human in you.
"Preventing this information from reaching the people is taking a firm stance on the wrong side of history. A choice you will certainly live to regret as truth exponentially emerges. There is nothing, no billionaire, no politician, no media, no level of censorship that can slow this awakening. It is here. It is happening.
"Who's side are you on? And to the citizens of this magnificent planet… If anything is clear at this moment, it is the fact that no one is coming to save us. We are the ones we've been waiting for.
"Though great forces have worked long and hard to divide us, our resilience, strength, and intelligence has been gravely underestimated. Now is the time to put all our differences aside. United we stand. Divided we fall.
"All the information that you haven't been getting.
"Be brave. Share this video far and wide! Should this video be removed from this platform, download your own copy at: PlandemicMovie.co."
To download the movie, on a Mac get the app MacX Youtube Downloader. Sorry. Don't know what would work if you're on a PC.

https://www.macxdvd.com/upgrade/free-youtube-video-downloader-mac.htm?ttsoft=ytbdlmac-5.1.4-dlaf-undef
They also serve who download copies of videos that the MSM will likely censor.
---
Dr. Judy Mikovits on the Covid-19 vaccine being developed at taxpayer expense to enrich the patent holders and spread untold suffering among people.