Being with Archangel Gabrielle for next Wednesday's Zoom, listening, studying the blessing and virtue of joy, through Linda Dillon, channel for the Council of Love (1). . . her reminder to call on St. Germaine and the Violet Flame. . .
Here is what Archangel Gabrielle had to say to a mother with a daughter struggling with addiction:
The power of healing — I know, dear heart, that we have been speaking of joy — but again you raise the issue as a mother because it hurts when you see your child go awry, and particularly if they are going awry not in a way of clearing, but in a way of choice, of choosing an alternate path.
Now, also understand, and I remind thee that even those who are on alternate paths are still being penetrated and lifted up, and brought to the entrance point of the portal.
So do not lose hope or faith, but yes, I have some very practical advice:
the soul conversations (communicating higher self to higher self in meditation) are highly effective and potent, so do that.
Call on her, remind her:
I Am Your Mother and I Love You.
I have Loved you forever. I honour you.
I respect you and I know the Truth of Who You Really Are.
I support you.
Can you come back to me?
Can you release the addiction?
And then you send her the Violet Flame — it is the Flame of the I Am Presence. This is also done in meditation:
Cup your hands together,
place the situation within your hands,
& send the energy of the Violet Flame of St. Germaine.
It will penetrate, it will reach. . .
It will reach, not only throughout the planet,
but throughout the Universe.
So use it.
St. Germaine's Violet Flame can be used for any situation – the truckers, the government, the protests.
Call on St. Germaine and place a chalice of the Violet Flame under the situation: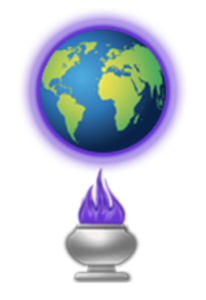 The Violet Flame helps bring


every

thing

to

Divine Alignment.
The Violet Flame is inspiration, transmutation, transformation, transubstantiation, forgiveness of self, others, situations, fire within for the burning away of all karma, past, present and future.
It is passion, freedom, healing and creation.
The Violet Flame is the Essence of the Unknowable
at that Point of Conjunction and Love Creation


with the Mother

and a way for us to know
the Love of the Father, as well.
St. Germaine (2)
St. Germaine, July, 2014 (3) through Linda said, our perspective is limited as to how effective the Violet Flame is:
"Now you say to me in a very practical way:
'Well, St. Germaine, does that mean if I do this every day — that we of Earth do this every day — that war in the Middle East will cease?'
"And that is exactly what I am telling you.
"You have no idea how limited your perspective on how effective these tools that we give you can be."
He reminds us daily use of the Violet Flame brings the attributes of the higher dimensions:
"In the higher dimensions there is a purity, so there is no pollution, there is no war, there is no hunger, there is no poverty.
"Now take each of those and think of the opposite on the spectrum.
"There is sharing of resources.
"There is the glowing beauty of Gaia and of human beings in the fullness of their health. That is why we're asking you to bring in your new body.
"There is no war.
"There is community and unity, the more you live in the acceptance of that reality.
"This is not about denial, this is about you declaring and choosing to live elsewhere.
"There is no hunger.
"There is plenty for All.
"There is shelter for All." (3)
Footnotes
(1) The Blessing and Virtue of Joy with Archangel Gabrielle, https://voiceoffreedom.ca/the-blessing-and-virtue-of-joy/
(2) "St. Germaine Asks, 'What Is Love Really?'" channeled by Linda Dillon for the Council of Love, January 17, 2014, https://goldenageofgaia.com/2021/01/15/an-hour-with-an-angel-st-germaine-on-love-the-violet-flame-the-perfect-balance-of-the-mother-father-one/ (Audio)
Also, The Violet Flame: Operation Torch for War Within and Without, https://voiceoffreedom.ca/the-violet-flame-operation-torch-for-war-within-and-without-2/
(3) "St. Germaine Reminds Us… We Are Multi-Dimensional, Inter-Dimensional Beings…", channeled by Linda Dillon for the Council of Love, July 19, 2014, http://counciloflove.com/2014/07/st-germaine-reminds-us-we-are-multi-dimensional-inter-dimensional-beings/