One breaking news story out of Australia and six others on the pandemic, cabal takedown, and ballot destruction.
---
Thanks to Brian.

Coronavirus: WHO backflips on virus stance by condemning lockdowns
Lockdowns have been used to control the coronavirus around the world. Now a WHO official has questioned the success of them.
Alex Turner-Cohen, News.com.au, Oct. 12, 2020
(https://tinyurl.com/y3oya9af)
The World Health Organisation has backflipped on its original COVID-19 stance after calling for world leaders to stop locking down their countries and economies.
Dr. David Nabarro from the WHO appealed to world leaders yesterday, telling them to stop "using lockdowns as your primary control method" of the coronavirus.
He also claimed that the only thing lockdowns achieved was poverty – with no mention of the potential lives saved.
"Lockdowns just have one consequence that you must never ever belittle, and that is making poor people an awful lot poorer," he said.
"We in the World Health Organisation do not advocate lockdowns as the primary means of control of this virus," Dr Nabarro told The Spectator.
"The only time we believe a lockdown is justified is to buy you time to reorganise, regroup, rebalance your resources, protect your health workers who are exhausted, but by and large, we'd rather not do it."
Dr Nabarro's main criticism of lockdowns involved the global impact, explaining how poorer economies that had been indirectly affected.
"Just look at what's happened to the tourism industry in the Caribbean, for example, or in the Pacific because people aren't taking their holidays," he said.
"Look what's happened to smallholder farmers all over the world. … Look what's happening to poverty levels. It seems that we may well have a doubling of world poverty by next year. We may well have at least a doubling of child malnutrition."
Melbourne's lockdown has been hailed as one of the strictest and longest in the world. In Spain's lockdown in March, people weren't allowed to leave the house unless it was to walk their pet. In China, authorities welded doors shut to stop people from leaving their homes. The WHO thinks these steps were largely unnecessary.
Instead, Dr Nabarro is advocating for a new approach to containing the virus.
"And so, we really do appeal to all world leaders: stop using lockdown as your primary control method. Develop better systems for doing it. Work together and learn from each other."
His message is timely. In a world first, a number of health experts from all over the world came together calling for an end to coronavirus lockdowns earlier this week.
They created a petition, called the Great Barrington Declaration, which said that lockdowns were doing "irreparable damage."
"As infectious disease epidemiologists and public health scientists, we have grave concerns about the damaging physical and mental health impacts of the prevailing COVID-19 policies, and recommend an approach we call Focused Protection," read the petition.
"Current lockdown policies are producing devastating effects on short and long-term public health."
The petition has had 12,000 signatures so far.
It was authored by Sunetra Gupta of the University of Oxford, Jay Bhattacharya of Stanford University, and Martin Kulldorff of Harvard University.
When asked about the petition, Dr Nabarro had only good things to say. "Really important point by Professor Gupta," he said.
---
World's Top Epidemiologists Oppose Fauci and Call for End to Lockdowns
Humans are Free, October 8, 2020
(https://humansarefree.com/2020/10/top-epidemiologists-oppose-fauci-call-for-end-to-lockdowns.html)
Three of the world's top epidemiologists are going public to contradict Dr. Fauci and other doctor politicians who are calling for renewed lock-downs over the Coronavirus.
They are:
Dr. Martin Kulldorff – Harvard Medical School Professor
Dr. Sunetra Gupta – Oxford University Epidemiology Professor
Dr. Jayanta Bhattacharya – Stanford Epidemiology Professor
They were interviewed Monday night by Laura Ingraham on Fox News.
They claim that the consensus in the scientific community is NOT in favor of locking down entire populations, but only those at most risk, and they are calling for the end of lock-downs for the vast majority of the population who are not at risk for COVID.
And they are not alone. They published the "Great Barrington" Declaration this week which has already been signed by over 1000 medical and public health scientists within the first few hours of being published.
Watch the full interview:

Click on graphic to watch video
---
Amy True interviews Dr. Christiane Northrup
I haven't watched yet but recommended for very clear and trenchant analysis of the pandemic as a cabal initiative. Thanks to Len.

On Facebook: Click on graphic to watch video.
---
16000 Doctors & Scientists Sign Declaration Strongly Opposing a 2nd COVID Lockdown
What Happened: Approximately 16,000 doctors have come together opposing lockdown measures in various countries, as well as the possibility of a second lockdown that multiple governments are currently considering. They believe lockdown measures are not only completely unnecessary, but also have a devastating impact on physical and mental health as well as society.
Many of these signees are some of the world's top doctors and scientists, and they've been speaking out against lockdown measures since they first began months ago. One of them is Michael Levitt, a Biophysicist and a professor of structural biology at Stanford University, who has criticized the World Health Organization (WHO) as well as Facebook for censoring different information and informed perspectives regarding the Coronavirus. According to him, "the level of stupidity going on here is amazing."
Just yesterday I wrote about Dr. Jay Bhattacharya, a Professor of Medicine at Stanford University who recently gave an interview stating "there is more harm from the lockdown than there is from COVID." He's one of many experts who feel this way, and explains why. In that article I put more examples of renowned doctors and scientists from around the world who do and have opposed lockdown measures.
Implementation of the current draconian measures that are so extremely restrict fundamental rights can only be justified if there is reason to fear that a truly, exceptionally dangerous virus is threatening us. Do any scientifically sound data exist to support this contention for COVID-19? I assert that the answer is simply, no – Dr. Sucharit Bhakdi, a specialist in microbiology and one of the most cited research scientists in German history (source)
It's called "The Great Barrington Declaration" and it states the following:
 "Covid-19 is less dangerous than many other harms, including influenza. As immunity builds in the population, the risk of infection to all – including the vulnerable – falls. We know that all populations will eventually reach herd immunity – i.e.  the point at which the rate of new infections is stable – and that this can be assisted by (but is not dependent upon) a vaccine. Our goal should therefore be to minimize mortality and social harm until we reach herd immunity.

You can read their entire statement here and see a list of some of the signees, as well as sign it yourself. In the picture above, you will see from left to left see a few of the initiators behind the declaration:
Dr. Martin Kulldorff, professor of medicine at Harvard University, a biostatistician, and epidemiologist with expertise in detecting and monitoring of infectious disease outbreaks and vaccine safety evaluations.
Dr. Sunetra Gupta, professor at Oxford University, an epidemiologist with expertise in immunology, vaccine development, and mathematical modeling of infectious diseases.
Dr. Jay Bhattacharya, professor at Stanford University Medical School, a physician, epidemiologist, health economist, and public health policy expert focusing on infectious diseases and vulnerable populations.
The CDC also released new infection/fatality estimates that also has many people and experts calling into question the severity of the virus, this was well after John P. A. Ioannidis, a professor of medicine and epidemiology at Stanford University has said that the infection fatality rate is close to 0 percent for people under the age of 45 years old. It turns out he was right.
Ronald B. Brown, Ph.D., from the School of Public Health and Health Systems at the University of Waterloo recently stated that the COVID-19 fatality rate is the "worst miscalculation in the history of humanity."Not long ago, Brown published a paper in Disaster Medicine and Public Health Preparedness, titled "Public health lessons learned from biases in coronavirus mortality overestimation." According to him,  CDC and WHO documents show that the case fatality rate for influenza was similar to the coronavirus, implying that the lockdowns were pointless. His paper questions why the 2017-2018 influenza season in the United States did not "receive the same intensive media coverage as COVID-19."
A group of Canadian doctors in the province of Ontario have come together and written an open letter to Ontario premier Doug Ford. The letter is signed by 20 doctors and professors of medicine from faculties at the University of Toronto, McMaster University and the University of Ottawa and from hospitals such as Sick Kids. The letter was sent to ford on September 27th, and it argues against a return to lockdown measures as a way to tackle rising COVID-19 cases. You can read more about that here.
The Physicians For Informed Consent (PIC) recently published a report titled  "Physicians for Informed Consent (PIC) Compares COVID-19 to Previous Seasonal and Pandemic Flu Periods." According to them, the infection/fatality rate of COVID-19 is 0.26%. You can read more about that and access their resources and reasoning here.
A recent article published in the British Medical Journal  has suggested that quarantine measures in the United Kingdom as a result of the new coronavirus may have already killed more UK seniors than the coronavirus has during the peak of the virus. You can access that and read more about it here.
In Germany, more than 500 German doctors & scientists have signed on as representatives of an organization called the "Corona Extra-Parliamentary Inquiry Committee" to investigate what's happening on our planet with regards to COVID-19 and express the same sentiments. You can read more about that here.
Why This Is Important:
Professor Christopher Exley, a Professor in Bioinorganic Chemistry at Keele University just posted the following picture on his Instagram account:
The point is, the number of scientists and doctors around the world who are opposing actions taken by multiple governments, as well as recommendations from the WHO is quite overwhelming. What's suspicious is the fact that none of these measures ever quite receive the mainstream media attention that they deserve, and one narrative/perception of COVID seems to dominate our television screens.
A quote from Robert F. Kennedy Jr. comes to mind as I am writing:
Even the pharmaceutical companies have been able to purchase congress. They're the largest lobbying entity in Washington D.C.. They have more lobbyists in Washington D.C. than there are congressman and senators combined. They give twice to congress what the next largest lobbying entity is, which is oil and gas… Imagine the power they exercise over both republicans and democrats. They've captured them (our regulatory agencies) and turned them into sock puppets. They've compromised the press… and they destroy the publications that publish real science. (source)
Why have we been constantly told that things will not go back to normal until we get a vaccine? Is all the fear and hysteria that has been created around COVID simply a vaccine marketing tactic?
The Takeaway:  Is there a battle for our perception happening right now? Is our consciousness being manipulated? Why is there so much conflicting information if everything is crystal clear? Why are alternative treatments that have shown tremendous amounts of success being completely ignored and ridiculed?  What's going on here, and how much power do governments have when they are able to silence the voice of so many people? Should we not be examining information openly, transparently, and together?
Is the new coronavirus, like 9/11, a catalyst for a shift in human consciousness. Are people 'waking up' as a result of what has, is and will transpire?
---
Robert David Steele talks about what's likely happening to the cabal backstage and the function of the Durham Report. He invites POTUS to enact his UNRIG Election Reform Act. His language is military but I consider him sensible regardless.
---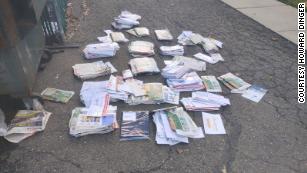 DOJ charges mail carrier for dumping mail and ballots in New Jersey dumpsters
Paul P. Murphy, CNN, Oct. 7, 2020
(https://www.cnn.com/2020/10/07/politics/mail-ballots-dumped-new-jersey-ballots/index.html)
(CNN) The Department of Justice has charged a mail carrier for dumping mail, including ballots, in two dumpsters in New Jersey.
According to a DOJ statement, 26-year-old Nicholas Beauchene was arrested and charged with one count of delay of mail and one of obstruction of mail. If found guilty of both charges, he faces up to five years and six months in prison and a $255,000 fine.
Court documents say that Beauchene has worked for the Postal Service since July. He's accused of dumping 1,875 pieces of mail in two dumpsters, one in North Arlington and the other in West Orange.
Mail, which included ballots, found dumped in a North Arlington, New Jersey dumpster.
The mail in the North Arlington dumpster contained 98 general election ballots; mail found in the West Orange dumpster had one general election ballot. All of the mail, according to the DOJ, was eventually delivered.
Postal investigators believe he dumped the mail on two different days, from two different mail routes.
Howard Dinger, a North Arlington resident, told CNN he found the mail sitting in a North Arlington dumpster, wrapped with rubber bands on Friday. He discovered it while throwing out his own trash. Dinger said he immediately called the police.
---
California Man Finds Mail-In Ballots in Santa Monica Trash Cans
Jim Hoft, Gateway Pundit, October 12, 2020
(https://tinyurl.com/y2qvo8sh)
A Santa Monica man found dozens of mail-in ballots and other important mail tossed into two trash cans in an alley last week.
The man called local authorities who are looking into the scandal.
What is going on here? I am disgusted! My husband just found all these ballots in the alley trash can. @ABC7 @MYFOXLA @NBCLA @cbs2kcal9brk @CNN @Univision @USPS #ballots #votingmatters #votingfraud #usps #Election2020 #disgusted pic.twitter.com/eIFc1E4OfJ

— Soledad ⚾️ (@cholemama) October 8, 2020
A California man said he found dozens of mail-in ballots in two trash cans.
"I opened the trash can, and I see a lot of envelopes and ballots, especially ballot envelopes in the trash can, and I knew right away that was not normal," said Osvaldo Jimenez, who found the mail last Thursday.
The trash cans are located in Santa Monica and contained several dozen ballots, as well as other mail such as bank statements and bills. All of the mail was addressed to homes in the area.
"I thought it was somebody playing a prank," he said. "Nobody's going to throw ballot envelopes in the trash can."
Jimenez alerted authorities to his discovery.