Events are happening faster than we can write articles on, so we're switching to a summary format for some articles.
Some subjects may be too uncomfortable to read. We ask you to use discernment in your choice.
Skirting the meme war does not affect the subjects we cover; only the sources we use to cover them.
We may judge some information from a biased source as good and credible and post an extract only from that article.
---
NO PROBLEM: Georgia, Florida and Texas All Perfectly Fine After Re-Opening Economies
(https://www.thegatewaypundit.com/2020/05/no-problem-georgia-florida-texas-perfectly-fine-re-opening-economies/)
We were all told the sky would fall when states began reopening.
It hasn't — and it won't.
States like Florida, Georgia and Texas — some of the largest states in the country — have reopened and everything's fine.
"Three large Southern states that moved aggressively to reopen amid the coronavirus crisis have seen new cases and deaths largely hold steady since then," the New York Post wrote.
In Florida, which shut down all public beaches earlier but has reopened all of them, the Department of Health on Thursday said there 1,204 new confirmed cases of COVID-19 among the state's population of 29.5 million, bringing the total to 48,675, according to the Miami Herald.
There were also 48 more COVID-19 fatalities, pushing the Sunshine State's death toll to 2,144. (If you're wondering the death rate, that's 0.007 of the state's population).
Florida  hit a record 1,413 new cases way back on April 16, but the numbers have been steadily dropping. Since the state began reopening on May 4, its seven-day average of new cases is mostly flat, according to a chart published by the New York Times.
---
In Texas, there were 945 new cases on Thursday, for a total 52,268, according to the Texas Tribune.

The seven-day average of new cases rose fairly steadily from around 1,000 on May 1, when Gov. Greg Abbott began lifting the lockdown he ordered March 19, but began dipping on Sunday and is now around 1,250, according to a chart prepared by the Tribune.

There were also 21 COVID-19 deaths in the Lone Star State on Thursday, increasing the total number of fatalities to 1,440, the Tribune said.
---
[Georgia figures removed; alleged to be incorrect.]
Across the country, the number of confirmed cases topped 1.5 million — but new cases have been on the decline since peaking in late April, according to information posted online by Johns Hopkins University's Coronavirus Resource Center.
---
Robert David Steele to President Donald J. Trump: Reclaim the $50 Trillion Plus For #MAGA  2:40 mins
---
'This is laying the groundwork for some pretty serious poverty for women'
Wendy Tuohy, Sydney Morning Herald, May 24, 2020
(https://tinyurl.com/yb2mfnym)
Australian women are suffering more job losses, worse anxiety and more-dire long-term financial prospects than men due to the economic shutdown caused by COVID-19.
Academics and advocates including Sex Discrimination commissioner, Kate Jenkins, say more women are likely to be pushed into poverty, which will extend into later life unless gender-specific solutions are included in the recovery.
A joint Melbourne University Policy Lab and La Trobe University study found April labour force figures showing greater job losses for women: it found 15.8 per cent had experienced job loss compared with 11 per cent of men.
The Life During Lockdown study found women are less likely than men to be working at home with their hours and pay unchanged and are suffering from more sleep disturbance and greater fear about funding their retirement.
One in three women said they were more anxious during the pandemic, compared with one in five men and 20.4 per cent of mothers said they were anxious "most of the time", compared with 14 per cent of fathers.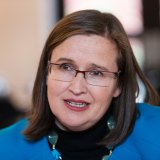 One in five women (20.2 per cent) were "very worried" about retirement, compared with 16.3 per cent of men and 59 per cent of women were worried about having enough money, compared with 54 per cent of men.
Melbourne University associate professor of sociology, Leah Ruppanner, said the study, combined with April unemployment data that showed women were losing jobs at nearly twice the rate of men, revealed women face worrying disadvantage.
If government recovery efforts continued to focus mainly on heavy industry and construction, in which job numbers for women are proportionally low, "we could see 50 years' gender equality progress be eroded overnight."
Sex Discrimination Commissioner Kate Jenkins said several indicators, including ABS job loss and Grattan Institute employment forecasts that women and young people would be hardest hit, had "highlighted in razor sharp focus how gender inequality can be amplified in a crisis situation".
"Through a lot of the information now coming together people are seeing that quite clearly. This is laying the groundwork for some pretty serious poverty for women in the future if you piece it all together," she said.
---
Our society is entirely leaning on one gender carrying the weight of being on the front line, or having completely lost their job.

Sex Discrimination Commissioner, Kate Jenkins
---
That Australia had a highly gender segregated job market, with women concentrated in several lower-paid industries hardest hit by coronavirus including retail trades, hospitality and accommodation – "that shut down over a day" – had also made them more vulnerable to long-term economic disadvantage.
They were also more likely to be in part-time or casual jobs, due to needing to shoulder most caring responsibilities, which had been among the first to go.
This, plus the fact women are concentrated in lower-paid front-line industries of healthcare, social assistance and education meant "our society is entirely leaning on one gender carrying the weight; of being on the front line, or having completely lost their job."
Quality affordable childcare had been shown during the pandemic response to be key to women fully participating in the paid workforce and it must be a focus of recovery policies.
Workplace Gender Equality Agency CEO, Libby Lyons, said a new system of childcare was needed, under which optional early years education could be provided at schools for children from the age of two.
"Early childhood education and childcare is absolutely critical for women to be able to fully participate as we move into the recovery stage.
"We are calling for a review and inquiry into how we move forward and this could require structural change. We want a national discussion," she said.
"We need to use this as an opportunity to ensure as we move into economic recovery women have equal opportunity to participate in the workforce as men … If we look at our education system and make it from [when children are ages] 2 to 18, the infrastructure is there."
(Read more: https://tinyurl.com/yb2mfnym.)
---
Feds probing ways to address COVID-19 impact on women
CP24, May 23, 2020
(https://www.cp24.com/news/feds-probing-ways-to-address-covid-19-impact-on-women-1.4951548)
OTTAWA — With women bearing the brunt of the COVID-19 pandemic, federal officials are trying to figure out how recovery efforts can help get women back to work, earning more money and securing more stable jobs.
Women have seen proportionately steeper job losses than men, and are more often in part-time work, as well as in sectors that were affected early on in the pandemic. Statistics Canada reported this month that 1.5 million women lost jobs over March and April, a 17 per cent drop in employment from February levels.
The actions that Ottawa takes could offer an opportunity to address some of the social inequities COVID-19 has exposed: that women are more often employed in marginal jobs; tend to make less money than men do; and represent the vast majority of health care, child care and elder care workers.
Child care is being flagged by many as the most pressing need to help women get back to work.
Jennifer Robson, a social policy expert from Carleton University whose advice has been sought by Prime Minister Justin Trudeau in recent weeks, says temporary layoffs and reduced hours could quickly turn into permanent layoffs if businesses are ready to reopen but parents who don't have child care can't go back.
Canadian moms make 40 per cent of household income, which is an important part of the economy, Robson says. But it also means that families without child care options will have a problem.
"Somebody has to stay with them and a lot of the economic signals will probably be pushing women to be that person that stays home," she says.
Since women make up about half of Canada's workforce, economic recovery is mathematically impossible without women going back to work, says Armine Yalnizyan, a fellow with the Atkinson Foundation whose advice was also recently sought by the Prime Minister's Office.
"There's no recovery without a she-covery and no she-covery without childcare," she says.
Social Development Minister Ahmed Hussen has been leading an internal effort to determine how federal spending on child care can be better targeted. Experts and stakeholders have told him Ottawa can help provinces and territories address the patchwork of child-care options across the country.
Women and Gender Equality Minister Maryam Monsef also stresses the central role child care will play in Canada's economic recovery effort.
"Access to skilled labour was already a challenge before COVID and we cannot afford to lose women who choose to work because of lack of available, affordable, high-quality child care. This will be fundamental to restarting our economy," she said in a recent interview.
Parents will need to feel confident that child care centres are safe. Physical distancing measures will likely lead to a reduction in spaces, which will make each space a hot commodity, Robson says.
That's where social infrastructure investments will be needed, which could include using other community facilities temporarily for child care to "adapt spaces for more, but lower-density, child-care provision," Robson says.
But child care is not the only answer to addressing the so-called "she-cession" of the COVID-19 pandemic in Canada.
The virus has exposed the fragility of the long-term care system. Nursing homes have seen the highest numbers of outbreaks and deaths from COVID-19, including among their staff.
This has also had a particularly gendered impact, as a majority of workers in elder care centres are women.
Possible solutions could see Ottawa create national standards for elder care, including staffing ratios, as well as better health and safety regulations and more robust employment standards for workers across Canada, Yalnizyan says.
One move several provinces made quickly was to require workers to stick to one long-term care home, since many worked in multiple places to make ends meet and risked carrying the virus that causes COVID-19 from one to the next. Ontario boosted their pay and promised bonuses.
Robson says more clarity is also needed on leave provisions for parents or caregivers who may not be able to return to their jobs right away. Each province has its own standards and time limits, and there's another set for federally regulated workers.
"Now that we're in a situation where some industries and some sectors are having some emergency restrictions lifted, I think there is some merit to having greater clarity in communicating both to employers as well as parents — what are the rules?"
Trudeau has said his government's primary focus remains on managing the emergency response to the crisis and that it's too early to talk about stimulus plans.
But a senior official in the Prime Minister's Office who spoke to The Canadian Press on condition of anonymity because they weren't authorized to speak publicly, says discussions are taking place about how to rebuild the country in a way that is more competitive and resilient, with an economy that is "future-proof."
The official confirmed child care is a key aspect of these discussions, as are ways to address the vulnerabilities within the elder care system. Problems in these two systems overlap, including why child-care and senior-care workers are paid so little when there is such a strong demand for these services.
Federal standards that respect provincial jurisdictions are key, the official said.
The pandemic has revealed the importance of essential services, Yalnizyan says, which raises the question of whether government should be doing more to provide them.
"(Government) could be providing essential services for all workers, because that's what we're learning — that childcare is an essential service, and so is drugs, dental and vision. It shouldn't be tied to whoever your employer is," she says.
Some employers keep workers' hours down so the employers don't have to cover benefits, Yalnizyan points out.
Boosting spending power will be essential to the economic recovery, and one way to do that for women whose marginal service- and retail-sector jobs have disappeared is for government to take over paying for and providing essential services, Yalnizyan says.
"Once you start liberating the purchasing power that way of people who are working, then there is more money to start setting up these more marginal things."
---
Indigenous Group in Brazil Wins Decades-Long Battle Against Illegal Loggers in the Amazon
Andy Corbley, Good News Network, May 23, 2020
(https://www.goodnewsnetwork.org/indigenous-group-in-brazil-wins-decades-long-battle-over-illegal-logging/)
A victory in a decades-long court battle provided relief for a special part of the Amazon rainforest and for the Ashaninka indigenous people who live there, as their 1990s lawsuit against illegal logging interests finally ended with a public statement of apology and a $3 million award for compensation.
Forestry companies and their legal teams acknowledged the "enormous importance of the Ashaninka people as guardians of the forest, zealous in the preservation of the environment," in their official apology which claimed regret "for all the ills caused."
Francisco Piyãko, part of Ashaninka leadership said, "These resources come to enhance existing actions, to generate sustainability for our people, our land, so that it helps to strengthen us to continue the broader project of environmental protection and maintenance of our ways of life."
Yale's School of Forestry & Environmental Studies suggested that the Attorney General, Augusto Aras, believes this case could be a turning point in environmental and indigenous peoples lawsuits.
"What we did here was to comply with the Constitution, understanding that the indigenous people have sacred rights guaranteed by the Magna Carta," Aras said in a statement. "You have the right to have a decent life, materially speaking, to choose your own destiny, to take part in political decisions, with respect to isolated communities."
Beginning in 1980, forestry firms started harvesting mature cedar and mahogany trees for the European furniture trade in the Kampa do Rio Amônia Indigenous Reserve. The money awarded in the settlement will be paid over 5 years, and will be put mainly towards reforestation projects.
"The case will define hundreds of thousands of cases on massive environmental crimes in Brazil," Antonio Rodrigo, the attorney for Ashaninka, said according to Latin Post.
(File photo by Nishaan ahmed)
---