A roundup of articles on the status of the Coronavirus and ways we can help….
---
Why are "they" beefing up the number of people with, or who have died from, Covid-19? (1) To win acceptance for a vaccine that contains microchips (dark hats) or (2) To keep people indoors while the positive military takes the Deep State down (white hats) or (3) ???
---
---
"When I was a boy and I would see scary things in the news, my mother would say to me, 'Look for the helpers. You will always find people who are helping.'"
–Fred Rogers
---
A lot of scary things are on the news lately, from the continued spread of the coronavirus into every crevice of the globe to the mental and emotional toll that fighting the virus is taking on those of us in self-isolation. In these troubled times, we've seen industries, businesses, and celebrities step up to help out.
Entertainers are streaming live performances, while the tech industry keeps us connected through apps such as Houseparty and Zoom. The fashion industry, and an army of garment industry workers and home sewists, are making masks for frontline medical workers. And from Australia to South Korea, governments are hammering out stimulus packages to stabilize industries and support residents burdened by this pandemic. The United Nations is also working on a plan to aid nations unable to bankroll similar bills.
Of course, none of these is a panacea, especially not for people within already vulnerable communities who were struggling even before the virus hit.
Fortunately, around the country, grassroots initiatives spearheaded by nonprofits, community groups, and individuals are working to fill these gaps. Some are addressing basic, immediate needs such as shelter, food, and replacing lost income, while others are addressing mental health and providing ways to keep spirits up during quaran-times. All of these contributions are meaningful and important, but here are a dozen in North America that we want to amplify.
• More than 3 million Americans have already applied for unemployment because of interrupted work. For those whose paychecks are still coming, Instagrammer Brad Hall has a challenge: Pass the Lettuce. The premise is simple: If you haven't lost income, pledge to share your $1,200 stimulus payment with those in need. To raise awareness of this pay-it-forward pledge, Hall invites people to post a video of themselves taking the pledge and eating a head of lettuce to social media with the hashtag #passthelettuce, and then tag three people, nominating them to do the same. The New York Times has also compiled a list of nonprofits providing health care, food security, and mutual aid services worthy of the donation.
• On a similar note, Hand in Hand, a national network of domestic employers, is encouraging those who hire nannies, housecleaners and home attendants to commit, if they can, to continue paying their workers during the pandemic. So far more than 185 employers have taken the Employer Pledge. Many of these workers are undocumented, don't receive sick leave and will not qualify for most benefits under the federal government's stimulus program. "Our employers are both parents who hire nannies, people who hire cleaners and seniors and people with disability employing attendants and caregivers," Executive Director Stacy Kono says.
At the same time, the National Domestic Workers Alliance wants to raise $4 million through its Coronavirus Care Fund to provide relief to domestic workers across the U.S. who are practicing social distancing by staying home.
Sue-Ann Siegel takes a call as she works a shift monitoring the Montgomery County Hotline from her home office March 18, 2020, in Chevy Chase, Maryland. Calls she fields include those from the National Suicide Prevention Lifeline. Photo by Katherine Frey/The Washington Post.
• The coronavirus not only threatens physical health, it is also affecting our mental well-being. Infectious outbreaks cause stress, but so does flattening the curve. Social distancing and self-isolation can trigger feelings of disconnectedness and depression, especially for those who already struggle with mental health. In New York, more than 6,000 counselors are donating time and expertise to help people through an Emotional Support Hotline. (Note that professional therapists can only offer treatment for residents of the state they are registered in.)
Though not a substitute for professional counseling, techniques such as physical exercise, meditation, and mindfully consuming news can also offer relief. Mind Control: Managing Your Mental Health During Covid-19 from Coursera is another option for improving mental health during this challenging time.
• Few industries have been as affected by the measures to curb COVID-19 as hospitality, where nearly 90% of workers have no paid sick days or health insurance. The Seattle Hospitality Emergency Fund is raising $250,000 to help offset wage disruption within the industry, particularly for undocumented workers. The GoFundMe campaign is spearheaded by former restaurant worker and nonprofit founder, Jessica Tousignant.
Children of Restaurant Employees is a national nonprofit that is also helping vulnerable families in the food and beverage industry. In addition to their ongoing work, they have established a resource page and are giving financial support to families with someone diagnosed with COVID-19 at home.
• The financial and social insecurities of sex work means that many employed in this sector are disproportionately affected by the current loss of work. PACE Society has created a Sex Worker Relief Fund to give money to sex workers in metro Vancouver "based on need and social marginalization." The Bay Area Workers Support is providing similar support in California.
• LGBTQ people are particularly vulnerable when it comes to COVID-19. The health care system marginalizes this community, which also reports higher rates of chronic stress, cancer, and HIV than other groups. The Human Rights Campaign as well as a number of other advocacy organizations across the country have created resource lists and tool kits to inform and support those in the community.
• Many construction workers are currently faced with a difficult dilemma: stop work and lose wages or continue to report to job sites where social distancing and hand-washing are practically impossible. Moreover, because the coronavirus is so new, there is no established protocol for alerting authorities about virus-unsafe conditions or securing related hazard pay, according to the industry journal, Construction Dive. In Washington state, Construction Workers United is organizing support for construction workers who, despite the governor's ban on nonessential infrastructure projects, are being asked to work without hazard pay.
• Even before coronavirus, the Appalachian Region was struggling with a poverty rate of more than 15%. Stay Together Appalachian Youth Network and the Kentucky Student Environmental Coalition, two youth-driven grassroots groups, have joined forces to raise financial support for people under 30 within their combined service area, covering Kentucky and parts of Alabama, North Carolina, Tennessee, Virginia, and West Virginia.
"The needs we are seeing most right now are mostly around needing money for rent and bills," coordinator Lou Murrey says in an email. "Many of these young folks are caring for other family members and have lost their job, they are anxious about what they are going to do to take care of their people." You can apply for $200 in direct aid or donate on the project website.
• More than 650,000 people in Maryland live with food insecurity—and that's in the best of times. Coronavirus has exacerbated their need and that of the nearly 400,000 public school students across the state who receive free and reduced lunches. Western Maryland Meal Response Team, created by resident Lisa Wolford, provides as many meals for families as food donations from partners such as the West Maryland Food Bank and financial contributions via PayPal will allow.
"This started the day the first school closures were announced as a way to feed children who'd miss a meal at lunchtime," Wolford says in a private message. "[It] has exploded into a community-wide emergency food pantry. In fifteen days, we've fed 225 families."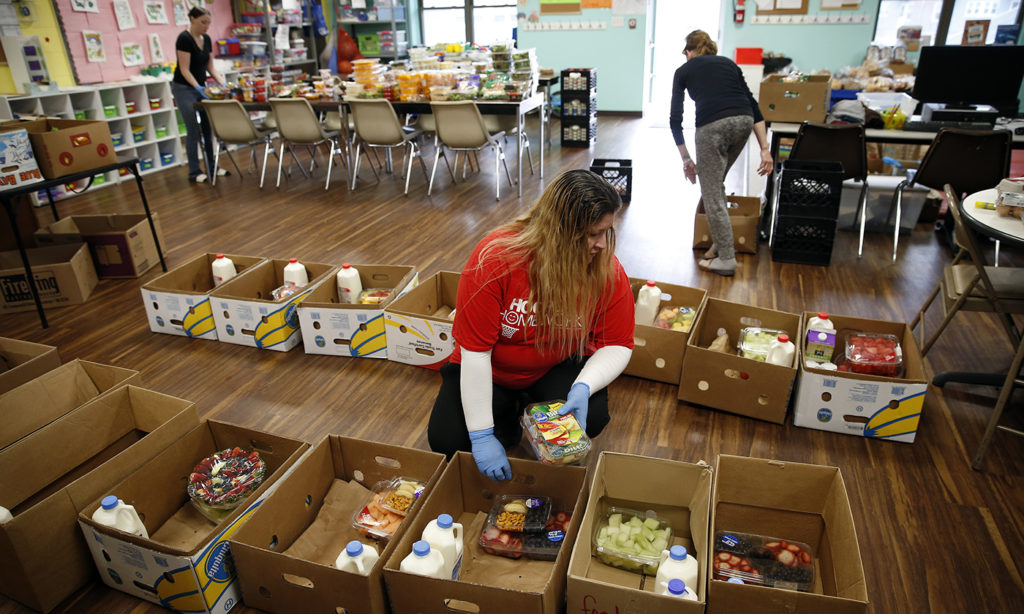 • Unfortunately, many workers across creative industries are still struggling to cope with the loss of work. With them in mind, Sweet Relief is its upping financial aid to musicians affected by shuttered entertainment venues. And in the Bay Area, nightlife workers can apply for aid through the SF Bay Area Queer Nightlife Fund. Americans for the Arts has compiled a list of more than 30 relief funds for artists.
• Arts organizations around the country have found creative ways to keep patrons engaged while they shelter in place. North Dakota Museum of Art, for example, just dropped an open call for entries for an upcoming experimental exhibition: "Art in Isolation." Regional residents of all ages and artistic ability are invited to email works created during self-isolation. The works will later be printed out and used to create a single gallery-sized art installation.
The Getty Museum in Los Angeles is also involving art lovers in a crowdsourced creative project: "We challenge you to recreate a work of art with objects (and people) in your home," they tweeted. Those who prefer looking at art over making it can virtually tour the world-class collections of museums like the Louvre
---
Where will the money come from for universal basic incomes?  You and I know it's going to come from the Reval. But if it weren't, simply negotiate world peace and eliminate the need for standing armies.
Coronavirus Is Exposing How Foreign Crusades Bled America's Domestic Resources Dry
Murtaza Hussain, The Intercept, April 6 2020
https://theintercept.com/2020/04/06/coronavirus-threat-national-security-priorities/?utm_medium=email&utm_source=The%20Intercept%20Newsletter
The coronavirus pandemic now ravaging the United States should lead every American to a series of important questions: What are the real threats that I face? What has my government been prioritizing in terms of my — and the nation's — security? And where has all my tax money been going?
Considering these questions, it's hard not to conclude that the American government's national security priorities have been so askew of reality that they left the country dramatically unprepared for an acute threat to millions of its people.
The last few weeks have revealed a spectacle of a federal government apparently incapable of doing what is required to stop the spread of a pandemic on American soil.
The government's focus has been overwhelmingly on the threat of extremist groups and unfriendly regimes abroad, mostly in the Middle East. Over a period of two decades, the United States spent trillions of dollars waging wars and occupations across the region. These confrontations have won America an ever-growing list of enemies around the world. They are still making life miserable for millions in the Middle East. But their impact on the United States itself is now also being painfully revealed: a country that has spent trillions on foreign wars but is unable to defend its citizens from basic threats like disease and economic collapse.
The last few weeks have revealed a spectacle of a federal government apparently incapable of doing what is required to stop the spread of a pandemic on American soil. Not only has testing capacity lagged far behind much smaller and less wealthy countries like Taiwan and South Korea, but shortages of critical health infrastructure will likely mean the excess deaths of potentially hundreds of thousands of Americans in the foreseeable future. Governors of large states have been publicly begging the federal government for ventilators, masks, and other basic tools to deal with the outbreak. There is little sign that the capacity even exists at present to respond to these requests.
Meanwhile, the avalanche of military spending that was released after the September 11 attacks continues to roll onwards. According to Brown University's Costs of War Project, the U.S. government has spent a staggering $6.4 trillion on its wars in Afghanistan, Iraq, and Pakistan since 2001.
This gargantuan number does not even account for interest payments on the borrowing needed to pay for the wars, which could run to as much as $8 trillion by midcentury, let alone the opportunity costs to American society of this massive spending on foreign adventurism. Then there are the attendant inflations of the Pentagon's base budget; domestic "war on terror" spending at the Departments of Justice and Homeland Security; and of course the wild expansion of our intelligence apparatuses, all but unaccountable to the general public in both their acts and spending.
That American counterterrorism wars have killed hundreds of thousands of people while failing to achieve any clear political or strategic benefit makes the squandering of this generational wealth even more bitter.
The parlous state of America's critical infrastructure has not gone unnoticed by the rest of the world amid this crisis. Even though the pandemic originated in China, the Chinese Communist Party later exhibited a reasonable ability to get the outbreak under control domestically and is now attempting to position itself as an exporter of global goods: shipping masks and doctors across Europe and Asia.
While the Trump administration visibly struggles to muster an appropriate response at home, it has also been undercutting the efforts of other countries to handle the crisis. It has done so by diverting critical resources away from allies like France while attempting to exacerbate the global pandemic through economic sanctions against enemies like Iran, despite the pleading of its allies to change course.
The net result of all this might be a United States that has bled its institutions to the point of anemia in pursuit of ideological crusades abroad, only to find itself unable to compete with major rivals on the things that matter most.
In a recent article in the national security publication War on the Rocks, Mira Rapp-Hooper of the Council on Foreign Relations and author of the forthcoming book Shields of the Republic: Triumph and Peril in America's Alliances noted the grimly ironic implications of this.
"It seems unlikely that the American leadership that knowingly abetted this global catastrophe will be capable of transforming its governance efforts when it has embraced poor governance as strategy," Rapp-Hooper wrote. "If China exits this epochal crisis as a confident leader it will not be the ineluctable result of a structural shift; Beijing will have Washington's calamitous domestic mismanagement and myopic foreign policy to thank for it."
Even after two decades of nearly unmitigated strategic failure in the Middle East coupled with the disastrous self-harm of unchecked defense spending, it seems that significant portions of the U.S. elite have still not awoken from their intoxication with foreign wars of choice.
Amid a global pandemic that could kill millions and cripple the American economy for years to come, there are strong signs that the U.S. military might be ordered to embark on yet another war in Iraq — this time to fight Iranian-backed militias in that country whose ambitions are ultimately local to the region.
Such a conflict would serve the purposes of well-organized elite interest groups in the nation's capital. But it is almost impossible to argue that it'd make any contribution to improving the day-to-day security of ordinary people living thousands of miles away in the United States.
If this war does take place, we can place it into a larger context: a once-powerful country depleting its strength through costly military adventures in distant lands, but institutionally incapable of providing the basics of life for its people at home.
---
I believe that the United States and Russia are closely cooperating over the global takedown of the cabal and that a lot of events, such as the one discussed here, aree staged to further the action.
A "reason" for American/Soviet detente when the cooperation actually goes back years.
Russia's counter-COVID aid to the US improves impetus for a new detente
Andrew Korybko, The Duran, Sun, 05 Apr 2020
Now is the perfect time for defying the "deep state" with the support of the American people after they've come to suddenly have a much more favorable view of their country's rival after it urgently dispatched humanitarian assistance to them with Trump's support in order to help everyone improve their odds of surviving World War C.
This soft power "coup" was made possible by Presidents Trump and Putin cooperating in pursuit of their shared interests, but it might (inadvertently in terms of Russian motivations) have the potential to become a strategic "coup" with time if Russia's eventual rapprochement with the West lessens its growing dependence on China and thus places the People's Republic in a comparatively more disadvantageous position than before. That's certainly not Russia's intent, but few doubt that it's the US'.