A roundup of articles on the status of the Coronavirus and ways we can help….
---
Coronavirus: Transforming London's ExCeL centre into Nightingale hospital
BBC.com, April 1, 2020
https://www.bbc.com/news/av/uk-52112652/coronavirus-transforming-london-s-excel-centre-into-nightingale-hospital
Timelapse footage has captured the transformation of London's ExCeL centre into a temporary hospital for coronavirus patients.
The Nightingale Hospital is expected to be operational by the end of the week.
Five hundred beds are already in place and there is space for another 3,500.
(Sorry. Couldn't find the BBC version. Here's the Telegraph's.)
And a time-lapse video of the construction of a temporary Wuhan hospital:
---
House the Homeless in Hotels
https://www.copevancouver.ca/house_the_homeless_in_hotels_now
End homelessness and stop COVID-19: We're being told to stay at home to protect ourselves and others, but you can't stay home if you don't have a home.
The latest homeless counts found that 7,655 people in B.C. are experiencing homelessness, including 3,298 staying in shelters. You can't self-isolate if you sleep in a shelter with lots of other people. And you can't keep from picking up or spreading germs if you live in a Single Room Occupancy (SRO) hotel room with no kitchen where you share the bathroom with everyone on your floor.
Hotels can be a solution: Hotels and motels across BC are largely empty because of travel restrictions. Hotel workers are laid off and looking for work. People without homes could be offered hotel rooms so they can self isolate — starting with the most vulnerable who are over 55 and have health issues.
They would have a nice bed, a TV, a window, wifi, and hotel workers to clean and bring them food. Other places like Toronto and San Francisco have acquired hotels to house the homeless. Why can't BC?
A win for everyone: Housing the homeless in hotels will provide income for hotels, employment for laid-off hotel workers, housing for people who are homeless, and we'd all be protected because our fellow community members will be able to do what we are all trying to do, self isolate.
The Province should work with laid off hotel workers and their union, Unite Here Local 40, to ensure work opportunities exist and that workers receive the proper health and safety training from medical staff. Ultimately, BC hospitality workers want to perform their civic duty, doing what they do best — house and feed people in this time of great need.
---
Taiwan donating millions of masks to other countries to fight COVID-19
 Zack Budryk, The Hill,

04/01/20
Taiwanese President Tsai Ing-wen announced Wednesday that the nation will donate 10 million face masks to countries hit hard by the novel coronavirus.
Taiwan's production of face masks has ramped up, allowing it to donate the surplus to countries seeing surges in coronavirus cases, Tsai said in a Wednesday speech at the Presidential Office in Taipei, Focus Taiwan reported.
Taiwan's Ministry of Economic Affairs said earlier this week that the country's daily mask output is at 13 million, more than quadrupling its average daily surgical mask output of 3.2 million in early February.
Tsai said Taiwan, which began as predominantly an importer of masks, has become the second-largest surgical mask producer in the world, and the government plans to increases its daily output even further to 15 million units.
Foreign Minister Joseph Wu did not specify when the masks would be delivered, but he said they would be donated to key diplomatic allies such as the U.S. and Western European nations, according to the publication.
Asked whether Taiwan would provide masks for China, where the virus originated and which does not formally recognize Taiwan's government, Tsai said the island will provide aid to any nation in need of help within its ability.
She added that Taiwan is also developing a rapid diagnostic test for the virus as well as possible vaccines and drug treatments.
Tsai said the nation is in negotiations with the U.S., the European Union and the Czech Republic to map out anti-viral strategies while Taiwan itself trades resources with the U.S. and Australia, according to the outlet.
The news comes as several U.S. states have raised concerns that they have been unable to procure enough personal protective equipment from federal stockpiles, with Illinois Gov. J.B. Pritzker (D) saying Tuesday: "We've had to go out onto the open market to find both surgical masks and N95 masks … and we're competing against federal government, we're competing against big states like New York and California."
---
Is this the beginning of a Universal Basic Income in Australia?
Lucy Dean, Yahoo Finance, March 31, 2020
https://au.finance.yahoo.com/news/will-coronavirus-force-australia-to-have-permanent-ubi-202657769.html
Last week, the federal government announced Australians left without an income due to coronavirus will have access to increased welfare payments, dubbed the Coronavirus Supplement.
And yesterday, it delivered a $130 billion stimulus package that will see workers receive fortnightly wage subsidies or replacements of $1,500. 
In the last few weeks, the government has spent $320 billion to keep the country afloat. For reference, the last federal budget was $500 billion.
While the outlay is jaw-dropping, the spending presents an opportunity to rethink the way we deliver welfare and function as an economy, according to senior research fellow at the University of Queensland's School of Economics, Professor John Quiggin.
He's one of 100 signatories to an open letter calling for the introduction of a Liveable Income Guarantee, also signed by business leaders, policy exports, business people and religious leaders.
"As we see in the context of this crisis, the economic system we have is one that periodically generates high levels of unemployment and often has large numbers of people unable to find work," he told Yahoo Finance.
"In these circumstances, paying people a living income with no conditionality or much less conditionality than we've tried to impose in the recent past… makes a lot more sense and is a lot more equitable than the policies we've been pursuing with increasing severity over the last 20-30 years."
According to Quiggin, the Coronavirus Supplement essentially is a Universal Basic Income (UBI). The question now, he said, is what if we tried a UBI in a non-emergency period?
"Why go back to an approach [to welfare] which had to be abandoned at the moment we had a crisis?"
The "punitive approach" to unemployment needs to change, he said, noting that few Australians are looking forward to collecting an income to sit on the couch.
And a future UBI would be a baseline pay, with Australians encouraged to seek gainful employment. But where it was difficult, there would be volunteering channels.
"Given some encouragement, people who can't find paid work will be happy to make contributions in other ways," he said.
"What we need to get rid of completely is the punitive approach which says 'if you're unemployed it's your own fault'."
The problems with Australia's social security program have been widespread and on display in recent days, as images of hours-long queues outside Centrelink were beamed around the country and the MyGov website crashed under the huge demand.
Tens-of-thousands of Australians have been stood down since February, with companies like Qantas, Virgin Australia and Myer alone pushing thousands into the welfare system.
According to the last census, 10.6 million Australians are employed. Prime Minister Scott Morrison believes as many as 6 million Australians will receive the $1,500 wage subsidies over the coming six months.
One of the recognised benefits of a UBI is that it takes the strain off existing systems: no questions asked means no forms to fill out our hoops to jump through.
How much would it cost? 
Professor Quiggin said the cost will depend on the level of the UBI.
One way to deliver it would be to return to a system where the main benefits including unemployment benefits and the pension are delivered at the same rate.
"My estimate is that to deliver this comprehensively we'd need something between 5 and 10 per cent of national income, that's essentially an increase in effective tax rates of between 5 and 10 cents in the dollar, taking account of income tax and the GST.
"So it would be a very significant expansion… but not something impossible."
Australia's United Workers Union is calling for a UBI that's equal to the minimum wage of $740 a week, which comes close to the $1,500 fortnightly subsidy announced by the government on Monday.
(Read more….)
---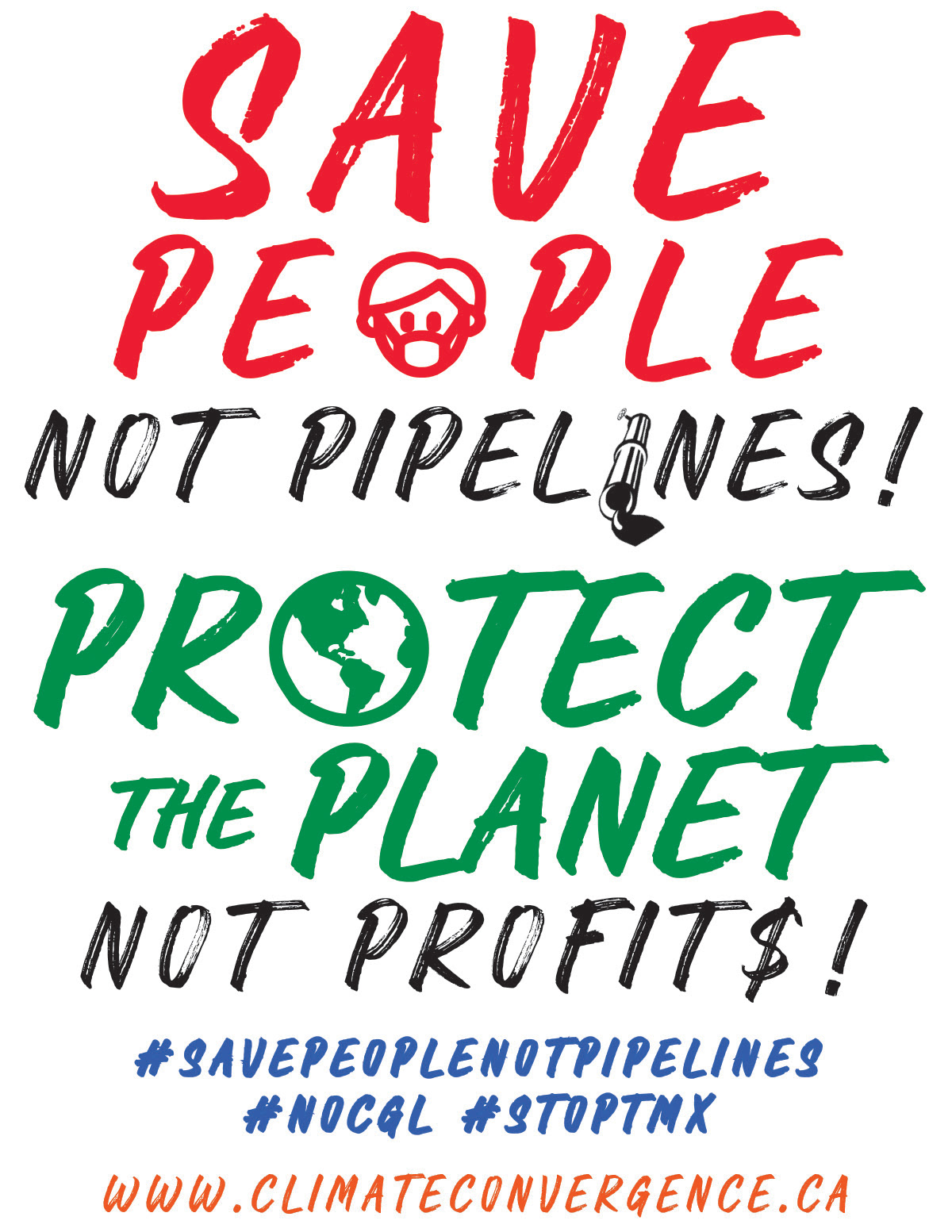 Are the oil corporations and the Canadian government using the Covid-19 pandemic as a blind to hide their continuing construction of the Coastal GasLink and TMX pipelines?
Climate Convergence Statement
Save People Not Pipelines! Protect the Planet, Not Profits
https://www.facebook.com/climatewarriors/posts/2987170907969781
Climate Convergence sends our love and solidarity to everyone around the world fighting in defense of our communities and our mother earth during these difficult times. The Covid-19 pandemic has created challenging and uncertain times.
We are very much looking forward to the day we can be on the streets with all of you – fighting for climate justice and the better world we all believe in. For the time being that's not possible, but we wanted to reach out and say that we are committed to this struggle, and to finding safe ways to keep fighting.
In the past weeks we have seen many inspiring examples of communities coming together to protect the most vulnerable, but we have also seen many blatant examples of governments and corporations prioritizing the profits of the few over the well being of the many.
Locally – our most urgent demands are to immediately halt all construction related to the Coastal GasLink and TMX pipelines, as well as the Site C Dam. While Prime Minister Justin Trudeau and Premier John Horgan urge people to "go home and stay home" due to the public health crisis, they maintain a reckless commitment to continuing construction on these mega-projects.
Wet'suwet'en Nation members report that Coastal GasLink is continuing to clear forest and deliver pipe on their territory. The Unist'ot'en Camp posted a statement decrying the urgently obvious:
"Indigenous communities are already at increased risk from this pandemic, due to a lack of adequate health care and housing infrastructure. CGL and RCMP's actions are compromising our health and safety. They are carrying on with business as usual, acting as though they are above the law and above common decency."
On Burnaby Mountain, TMX tank farm construction and pipeline expansion preparation continues non-stop. Not to mention that the TMX pipeline expansion is owned by the government of Canada and funded by tax-payers – to the tune of at least $12 billion and counting. This is the kind of money that could have been used for creating jobs in renewable energy or today could be used to help working people in this pandemic.
BC Hydro also continues to fly people to Fort St. John to work on the Site C dam, despite 16 workers already in "self-isolation" due to flu-like symptoms. "Site C is not a vital thing to our society," said Fort St. John's city councillor Byron Stewart. "I personally would just like to see the province step in and shut it down and send everybody home." However, the provincial government, as self-appointed corporate and government champions are showing no willingness to stop putting fossil fuel workers and the surrounding community in danger.
Now the federal government is considering a multi-million dollar bail out of the oil and gas industry in Canada. This is not what people in Canada, or the planet needs. We demand that these mega-projects be stopped immediately, and the billions in bailouts go directly to workers and communities in need, not the corporations.
We must work together and unite with all those around the world who are saying we can not go back to "business as usual". We will fight back to save the planet. Communities have shown they are able to work hard and make sacrifices, but poor and working people in Canada shouldn't be the ones shouldering the burden of the current health crisis that is mainly the result of mismanagement and dysfunctionality of the capitalist order.
We've seen how fast governments can act and mobilize billions of dollars to corporations when they really want to – and we won't forget it when it comes to demanding they act on the climate crisis and they continue to turn their faces the other way.
Climate Convergence bases a lot of our work on public awareness and mobilization, so organizing public activities in a time of Covid-19 presents a new challenge. However, we will soon announce some exciting new initiatives, to continue the struggle for the environment and plan to come out of this difficult situation with new skills, connections, and a renewed conviction that a better and sustainable world is both necessary and possible!
ACKNOWLEDGEMENT

Climate Convergence organizes on the unceded traditional territories of the Coast Salish peoples of the səlil̓wətaʔɬ (Tsleil-Waututh), Sḵwx̱wú7mesh (Squamish), and xʷməθkʷəy̓əm (Musqueam) Nations.
Climate Convergence | www.climateconvergence.ca | [email protected]com | @climate604 | 778-889-7664