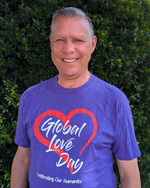 Founder's Global Love Day Address
May 1, 2023
Greetings Dear Friends to Global Love Day 2023,
This day marks our special 20th anniversary of Global Love Day as a celebration of our humanity and recognition of the unconditional love in each of us.
Joining together around the world on this day, we embody our magnificent presence and amazing capacity to imagine and manifest a better world for all.
The joy in our hearts connects us all in this grand symphony of life.
Each moment is precious as we realize how love begins with self-acceptance and forgiveness.
From this foundation, all things are possible.
What we think and feel becomes our reality, and when we infuse love from our heart, we bring wonder and beauty to our collective composition.
We know we are interconnected and interdependent and each choice of compassion and kindness makes a profound difference to our individual and planetary wellbeing.
Our presence is an integral part of life as we bring a unique and magical energy of loving resonance that flows throughout our journey, touching countless lives.
As we share this universal bond of love with one another, we understand that with respect and compassion we embrace diversity in all its many arrangements.
This diversity brings a kaleidoscope of color that enriches the very essence of life, expanding what is achievable with each unfolding expression.
Made from the atomic building blocks of the stars, we shine brightest when we open our heart and expand our mind to our true brilliance as powerful, creative and loving beings.
As grand conductors of our lives, we are also one humanity on this planet and together we are making a difference through love.
With a happy heart and gracious appreciation, I welcome you to our twentieth Global Love Day celebration.
Love, light and peace,
Harold W. Becker
Founder and President
The Love Foundation Inc.
***
Meditation for Global Love Day 2023
TLF Board Member Kevin Orlwoski voiced a beautiful meditation that helps us connect to our innate source of love and amplify that universal love of all life and the earth.
Enjoy these 6 minutes. . . add your loving energy to the collective.
Also, see playlists:
Global Love Day Inspirations
and Global Love Day Celebration Music.