My thanks to Len, D, and Brian, the fruits of whose research make up these pages.
---
Nicholas Veniamin interviews Rod Steel on the Reval
Comes recommended. I haven't had a chance to watch yet.
Hit graphic to watch video
(https://hooktube.com/watch?v=iQFn5RqVW5E)
---
Laura Eisenhower has a Message for Hollywood
Laura calls Hollywood out on child sex trafficking, adrenochrome, and Satanism. She also recognizes the role of things like mind control in what has transpired and looks for a way to stop these crimes without ignoring the fact that the cabal has trapped many people in becoming part of their activities.
Hit graphic to watch video
(https://hooktube.com/BwC4B65febQ)
---
---
"Died Suddenly"
Hit graphic to watch video
(https://hooktube.com/BwC4B65febQ)
---
Thousands of people in Rome protesting against the mandates while chanting, "We are not giving you our children" 💪🏼 🇮🇹 pic.twitter.com/jc2LmyKZSV

— Art TakingBack 🇺🇸 (@ArtValley818_) November 21, 2021
---
Victoria Premier Served with Papers, Charged with Misprision of Treason
Other premiers to be similarly charged.
Hit Graphic to watch video
(https://www.facebook.com/1546155533/videos/596837081525023/)
---
Australians Protest in Massive Numbers Against COVID-19 Mandates in Major Cities
Melbourne, Sydney, Brisbane among 13 cities with planned 'freedom rallies'
Mimi Nguyen Ly, Epoch Times,  November 20, 2021
(https://tinyurl.com/2tvdwj9t)
Australians gathered in massive numbers across the country on Saturday in protest against COVID-19 vaccine mandates and other [Corona] virus pandemic restrictions in a wave of planned "freedom rallies."
At least tens of thousands of people in Melbourne arrived at Flagstaff Gardens in large numbers for a rally. One man declared, while filming the peaceful march, "We've taken over the whole CBD."
Prior to that, crowds gathered at parliament house before they proceeded through the city. Waving "kill the bill" placards and Australian flags, the demonstrators called to stop the Victoria state government's controversial pandemic bill, which is currently being delayed in the upper house.
The crowd also called to "sack Dan Andrews," the state premier, and to end the [Corona] virus vaccine mandates or passports.
Melbourne has seen multiple protests in the past few weeks, with crowds gathering at the Victorian parliament in opposition to the pandemic bill. The controversial bill, if passed, would set a permanent framework for that state government to handle future pandemics.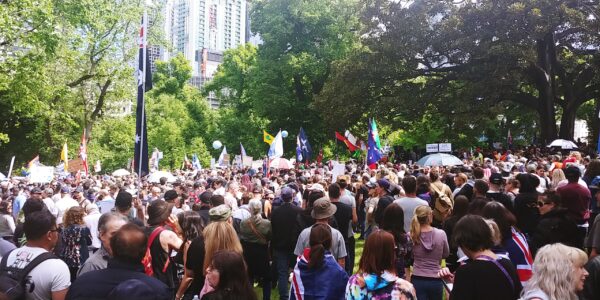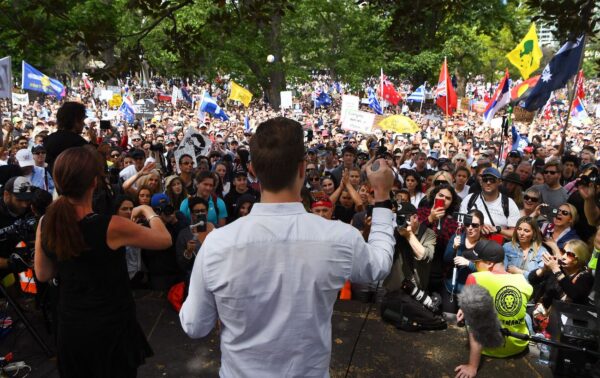 Among multiple provisions, the bill would give unprecedented power to the premier and the health minister, including allowing the health minister to make pandemic orders specific to "classes" of people based on their age, location, vaccination status, or occupation. It also would give the premier the power to declare a pandemic and extend it for three months at a time, for as long as considered necessary.
"I've never protested anything in my life. With everything that's going on, I have a 12-year-old son who has been locked out of society now, which dragged me to think I need to make a change," Sarah Rich, who was in attendance at Flagstaff Gardens, told The Epoch Times.
She held a sign that read, "I am not a violent extremist, I am a concerned mother," alluding to the misleading portrayal of protesters by some media outlets covering the recent protests in Melbourne.
"I'm not a violent extremist, I'm a mum who's concerned for her children. That is why most of us are here—we're just concerned for our children," she said. Rich shared that her two children have had panic attacks and anxiety due to the lockdowns and the "two-tiered society" that distinguish people by vaccination status.
Dada Paramatmananda, another attendee, said that people in Melbourne are exercising their democratic freedoms and taking to the streets after the courts and lawmakers have not been able to secure the freedoms they're seeking.
"If you look, people are peaceful, there's no violence," he said, stretching out his arms as he pointed to the crowd. "People are peacefully demonstrating and standing up for their rights."
Following a loud and peaceful rally, the crowd moved back toward parliament house, and later continued marching through various streets in the CBD.
Thousands tuned in to watch the protests in Melbourne via a live feed by independent journalist Rukshan Fernando.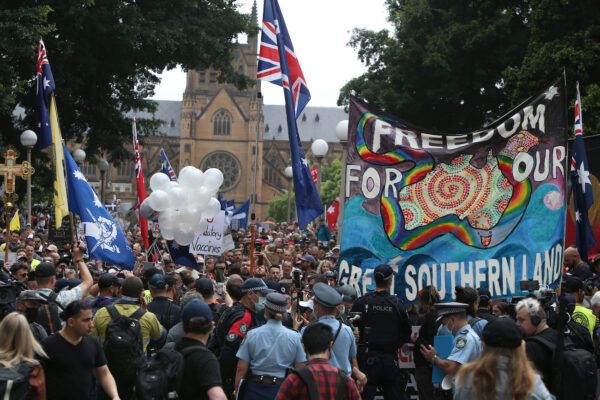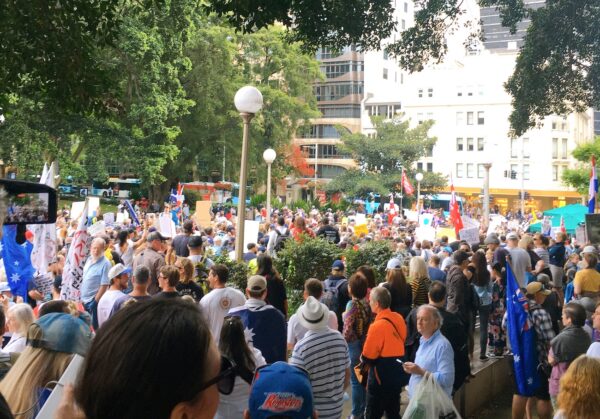 In Sydney, thousands of protesters gathered at Hyde Park calling for freedom amid ongoing local vaccine mandates and prior lockdown restrictions. They chanted "freedom" and sang the national anthem together, accompanied by the sounds of bagpipes. The crowd later marched toward the state parliament house.
United Australia Party MP Craig Kelly announced Friday on Telegram that he would be handing out "Freedom, Freedom, Freedom" signs ahead of the rally.
"When we have governments that adopt vaccine passports we are no longer free," he told the Sydney rally, reported The Age. "The idea that you could lose your job because you have not engaged to take an experimental vaccine that has zero long-term safety data is a disgrace and an abuse of human rights."
"The buck stops with the prime minister. He could ban vaccine passports in this country if he wanted to," he added. "My message today is one of hope. The crowd we see in front of us is just a small number of people that is coming after the Labor and Liberal parties at the next election."
Daniel Kim, 28, a physiotherapy student in attendance at the Sydney demonstrations, said he was barred from pursuing his studies and had to resign from the course because he was not vaccinated.
Kim also told The Epoch Times that he lost his job due to lockdowns amid the CCP virus pandemic. "I'm looking for work but it's hard considering I'm not vaccinated," he said.
Harry, a tradie in Sydney in attendance, said it was important for people to question government policies and to have a discerning mind.
"Why is there a bill that's waiting to pass [in Victoria] about future control, why?" he asked. "Why is there talk in the New South Wales government about extending the emergency laws, why is there a future proposal for control? Is that a valid question?"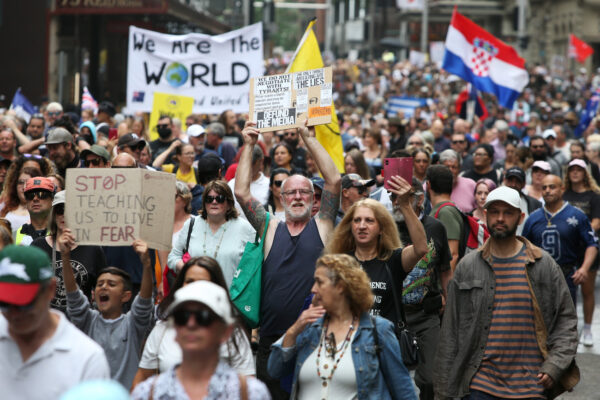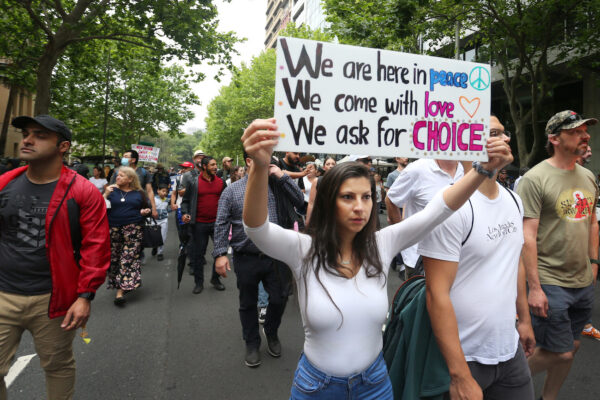 He questioned the validity of mask mandates, saying, "The [3M mask for construction workers] could not prevent silicone from getting ingested in my lungs. How, in the biggest pandemic, unprecedented in history, and they want us to wear a cloth mask, explain that to me?"
"All of these things do not add up," he added. "We were educated at school, at [university], at work, and also our parents have taught us that we need to question, we need to ask things."
Meanwhile, some protesters who say they are anti-fascist organized counter rallies to the freedom rallies in Sydney and Melbourne. The turnout was in far smaller numbers.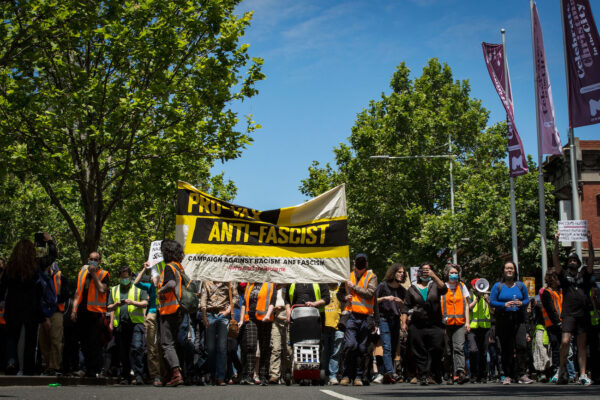 Other major cities joining the planned "freedom rally" protests that started at noon included Brisbane, Adelaide, Perth, Hobart, and Darwin.
In South Australia's Adelaide, thousands gathered at Rundle Park. Those protesters marched through the CBD. They included social workers, teachers, health care workers, and lawyers, with some saying they have lost their jobs due to COVID-19 vaccine mandates, reported 9News.
Packed crowds could also be seen on the streets of Brisbane, in the northern state of Queensland. A child can be seen holding a sign saying, "leave the kids alone."
At a freedom rally in Brisbane's Botanic Gardens, businessman and leader of the United Australia Party Clive Palmer said he would rather "go out of business" than to listen to vaccine advice from Queensland's premier, reported the Brisbane Times. He also said that the Australian people would not be silenced on this issue.
In Perth, thousands of Australians could be seen congregating around the Commonwealth of Australia building. At least 10,000 people gathered at Forrest Place in protest against COVID-19 vaccine mandates, reported The Age.
Regional hubs including Mt. Gambier, Warrnambool, Cairns, Townsville, Bundaberg, and Gympie, also planned protests for Saturday.
Details of the World Wide Rally for Freedom, including videos and links to livestreams of the event on the day, were mainly circulated via groups on Telegram.
Alex Joseph contributed to this report.
---
Germany, Greece Impose New Restrictions for Unvaccinated People
Mimi Nguyen Ly, Epoch Times, November 19, 2021
(https://tinyurl.com/m7jxcuwc)
Germany and Greece officials have rolled out new restrictions on people who have not opted to be vaccinated against the [Corona] virus, joining officials from several other countries across the globe in backing policies that differentiate by vaccination status.
German Chancellor Angela Merkel said Thursday that in places where hospitalization rates have exceeded a certain threshold, the country will only allow vaccinated people or people who have recovered from COVID-19 to access public, cultural and sports events, and restaurants.
She said the move is needed to combat a "very worrying" fourth wave of the [Corona] virus pandemic, which is currently overburdening hospitals.
She added the federal government is considering a vaccine mandate for care and hospital staff.
"Many of the measures that are now needed would not have been needed if more people were vaccinated," Merkel said. "And it isn't too late to get vaccinated now."
Meanwhile, German lawmakers approved new measures on Thursday that, if approved by the country's upper house of parliament, would mean that employees would need to prove they are vaccinated, have recently recovered from COVID-19, or have tested negative for the virus, to access their workplaces public transport.
The head of Germany's disease control agency has warned the country could face a "really terrible Christmas."
"We are currently heading toward a serious emergency," Lothar Wieler, director of the Robert Koch Institute, said during an online debate late Wednesday. "We are going to have a really terrible Christmas if we don't take countermeasures now."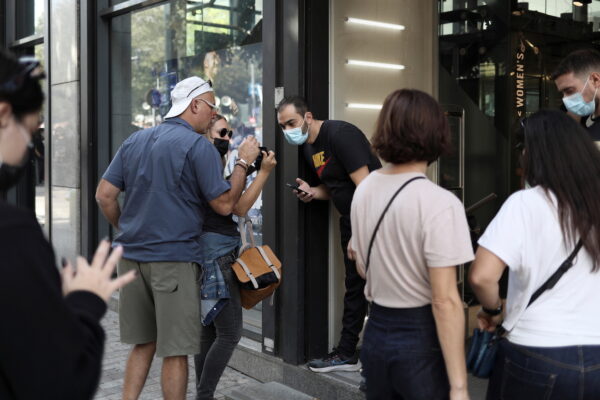 In Greece, unvaccinated people will be blocked from accessing certain indoor spaces even if they test negative for COVID-19. Venues include restaurants, cinemas, museums, and gyms. Earlier in the month, unvaccinated people were still able to access most venues if they tested negative.
With the new rules, worshippers can still attend church if they test negative for the [Corona] virus.
Prime Minister Kyriakos Mitsotakis told the nation in a televised address to "get vaccinated," and claimed the CCP virus pandemic is one "of the unvaccinated."
"Greece is mourning unnecessary losses because it simply does not have the vaccination rates of other European countries," Mitsotakis said. Greece has 62 percent of its population fully vaccinated.
New rules in Greece also mean that people over 60 will have their vaccination certificates expire after seven months from the date of issue, in a bid to have them take a booster dose of the COVID-19 vaccine.
Austria, Slovakia, and the Czech Republic have all limited public life for the unvaccinated this week amid rising CCP virus cases across Europe.
Austria imposed lockdown measures aimed at unvaccinated people, who are now only allowed to leave home to buy groceries, for work, or medical reasons.
In the Czech Republic, only people who are vaccinated or have recovered from COVID-19 in the past six months are allowed to enter a range of venues and events. Slovakia took similar measures. Both governments will also require COVID–19 testing at workplaces.
Reuters contributed to this report.