My thanks to Len, D, and Brian for their research, the fruits of which appear here.

Remember: "War" is for the purpose of declaring martial law. Declaring martial law is for the purpose of announcing the fall of the cabal and the return of the Republic.
No need to worry. This is what we've been waiting for.
---
Reaching The Tipping Point
Simon Parkes Blog
(https://www.simonparkes.org/post/reaching-the-tipping-point)
Due to the increasing info traffic, I put CC coordinators on high alert late last night
Some hold that the Queen of England will die before any military action can take place; others say that's not required. Either way we're reaching the tipping point very soon.
---
President Trump to move to a secure location before the weekend…
(https://www.simonparkes.org/post/trump-to-be-secured)
---
---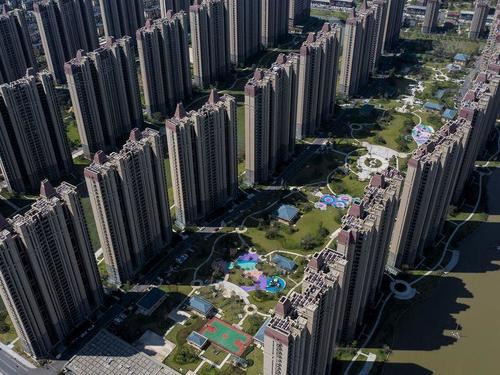 Evergrande Shares Tumble On Sale Failure, 97% Plunge In Sales As Markets Brace For Chinese Default Avalanche
(https://www.zerohedge.com/markets/evergrande-shares-tumble-sale-failure-97-plunge-sales-markets-brace-chinese-default)
After weeks of being halted for trading since the last day of September, on Thursday trading in shares of China's most insolvent property developer, Evergrande, resumed. In retrospect, it was not a great idea.
Evergrande shares slumped as much as 14.2% after the debt-strapped developer sought unsuccessfully to sell a controlling stake in its property management business. The collapse of talks to sell the 50.1% stake in Evergrande Property Services to Hopson Development Holdings for 20.04 billion Hong Kong dollars ($2.58 billion), revealed in an exchange filing late Wednesday evening, ratcheted up the odds that Evergrande will default on an offshore bond this weekend when the 30 day grace period expires on an offshore bond coupon payment that was due a month ago and was never paid.
Evergrande also indicated that it had not made progress on other asset sales either.
---
COVID-19 Vaccines Result in Far More Deaths in Just 10 Months Than All Other Vaccines Combined for the Last 30 Years
Maria Villareal, Stillness in the Storm, October 22, 2021 (Oct. 14)
Data from the Vaccine Adverse Event Reporting System (VAERS) shows that the Wuhan coronavirus (COVID-19) vaccines had been associated to the deaths of 16,310 people since December last year. Prior to that, there had only been 6,214 people who died from all vaccines approved by the Food and Drug Administration (FDA) in 30 years.
There have also been more permanent disabilities, life-threatening reactions and hospitalizations from COVID-19 vaccines compared to all other mandated jabs in the past 30 years. The database has also recorded 2,102 fetal deaths following the inoculation of the COVID-19 shots in pregnant women.
Yet, the Centers for Disease Control and Prevention (CDC) continues to tell American people and pregnant women that it is safe to get a COVID-19 vaccine.
Record number of people suffering from adverse effects
The CDC admits that there are risks of thrombosis and heart diseases from the COVID-19 vaccines, especially among younger males. However, they brush aside these known side effects as "rare" and continue to push people to get the shots despite the risks.
The VAERS database is open to the public to fact-check their claims. As of October 1, there had been 12,553 cases of thrombosis recorded through VAERS, resulting in 589 death, 869 permanent disabilities and 2,543 life-threatening events for people who took COVID-19 shots in the first 10 months of rollout. Using the same data for all the vaccines in the past 30 years, there have been 487 cases of thrombosis resulting in 18 deaths, 65 permanent disabilities and 110 life-threatening events.
Since the rollout of the COVID-19 vaccines, there had been 26 times more cases of blood clots and 33 times more deaths from blood clots than cases and deaths due to blood clots following all other types of vaccinations in the past 30 years.
Senior citizens over the age of 65 comprise 76 percent of the recorded deaths following the COVID-19 vaccination, which translates to 12,396 deaths. Before the COVID-19 vaccination, there had only been 1,068 people over the age of 65 who died from any of the previous types of vaccines in the past 30 years.
Older adults are among the hardest hit by the coronavirus pandemic. People 65 years and older represent nearly 80 percent of all COVID-19 deaths as of September 29. At the same time, these older adults are among the first to receive the vaccine and have the highest vaccination rates among all age groups, with 83.3 percent fully vaccinated.
Despite these numbers, the CDC and the FDA still approved the booster dose for this age group.
COVID-19 cases and hospitalizations rise among vaccinated
In Pennsylvania, COVID-19 infections and hospitalizations have risen among the vaccinated. Officials say that the majority of people in the area are vaccinated, but it is likely that the protection has already waned.
The Department of Health data on so-called breakthrough infections shows that between September 5 and October 4, about a quarter of infections and nearly 5,000 hospital admissions across the state were among vaccinated individuals. As more people get vaccinated, there are also more vaccinated people who contract the virus and eventually wind up in the hospital.
The situation in Pennsylvania mirrors the national impact of the virus. COVID-19 cases accounted for 14 percent of U.S. hospitalizations and 16 percent of deaths in June and July – about twice the percentage compared to earlier in the year.
---
Biden Says Police Officers, First Responders Should Be Fired for Refusing Jab
Resist the Mainstream Staff, Oct. 21, 2021
(https://resistthemainstream.org/biden-says-police-officers-first-responders-should-be-fired-for-refusing-jab/)
President Biden on Thursday said police officers and first responders who refuse the COVID-19 vaccine should stay home and be fired.
Speaking during a presidential CNN town hall, moderator Anderson Cooper noted that as many as one in three emergency responders in some major cities are refusing to comply with city vaccine mandates.
"I'm wondering where you stand on that," Cooper said. "Should police officers, first responders be mandated to get vaccines? And if not, should they be mandated to stay at home, [should they be] let go?"
"Yes and yes," Biden replied, going on to suggest that he implemented his controversial vaccine mandate only as a last resort.
In July, Biden announced businesses with more than 100 employees will be required to mandate coronavirus vaccines or administer weekly tests. Employers are also required to pay employees for time off to get vaccinated and recover from side effects.
"The mandates are working," Biden further claimed, claiming even most airline employees have complied.
Biden went on to say that those who oppose vaccine mandates are attempting to make vaccines "a political issue."
The president also scoffed at those who oppose vaccine mandates on the basis of "freedom."
"I have the freedom to kill you with my COVID," Biden said, mocking what he sees as the attitude of mandate opponents. "No, I mean, come on, freedom."
This is an excerpt from Fox News.
---
Trump Releases New Details on Social Media Platform That He Is Launching Soon
Resist the Mainsteam, Oct. 22, 2021
(https://resistthemainstream.org/trump-releases-new-details-on-social-media-platform-that-he-is-launching-soon/)
President Donald Trump announced on Wednesday night a new social media company that he plans to officially launch in Spring 2022 called "TRUTH Social."
"I created TRUTH Social and TMTG to stand up to the tyranny of Big Tech," Trump said in a statement. "We live in a world where the Taliban has a huge presence on Twitter, yet your favorite American President has been silenced. This is unacceptable. I am excited to send out my first TRUTH on TRUTH Social very soon."
"TMTG was founded with a mission to give a voice to all," he added. "I'm excited to soon begin sharing my thoughts on TRUTH Social and to fight back against Big Tech. Everyone asks me why doesn't someone stand up to Big Tech? Well, we will be soon!"
The statement from Trump Media & Technology Group added:
Trump Media & Technology Group and Digital World Acquisition Corp. (NASDAQ: DWAC) have entered into a definitive merger agreement, providing for a business combination that will result in Trump Media & Technology Group becoming a publicly listed company, subject to regulatory and stockholder approval. The transaction values Trump Media & Technology Group at an initial enterprise value of $875 Million, with a potential additional earnout of $825 Million in additional shares (at the valuation they are granted) for a cumulative valuation of up to $1. 7 Billion depending on the performance of the stock price post-business combination. Trump Media & Technology Group's growth plans initially will be funded by DWAC's cash in trust of $293 Million (assuming no redemptions).
Trump Media & Technology Group's mission is to create a rival to the liberal media consortium and fight back against the "Big Tech" companies of Silicon Valley, which have used their unilateral power to silence opposing voices in America.
The statement said that a beta launch would take place for invited guests in November 2021, and that a nationwide launch is expected in the first quarter of 2022.