My thanks to Len, D, and Brian for their research, the fruits of which appear here.

Remember: "War" is for the purpose of declaring martial law. Declaring martial law is for the purpose of announcing the fall of the cabal and the return of the Republic.
No need to worry. This is what we've been waiting for.
---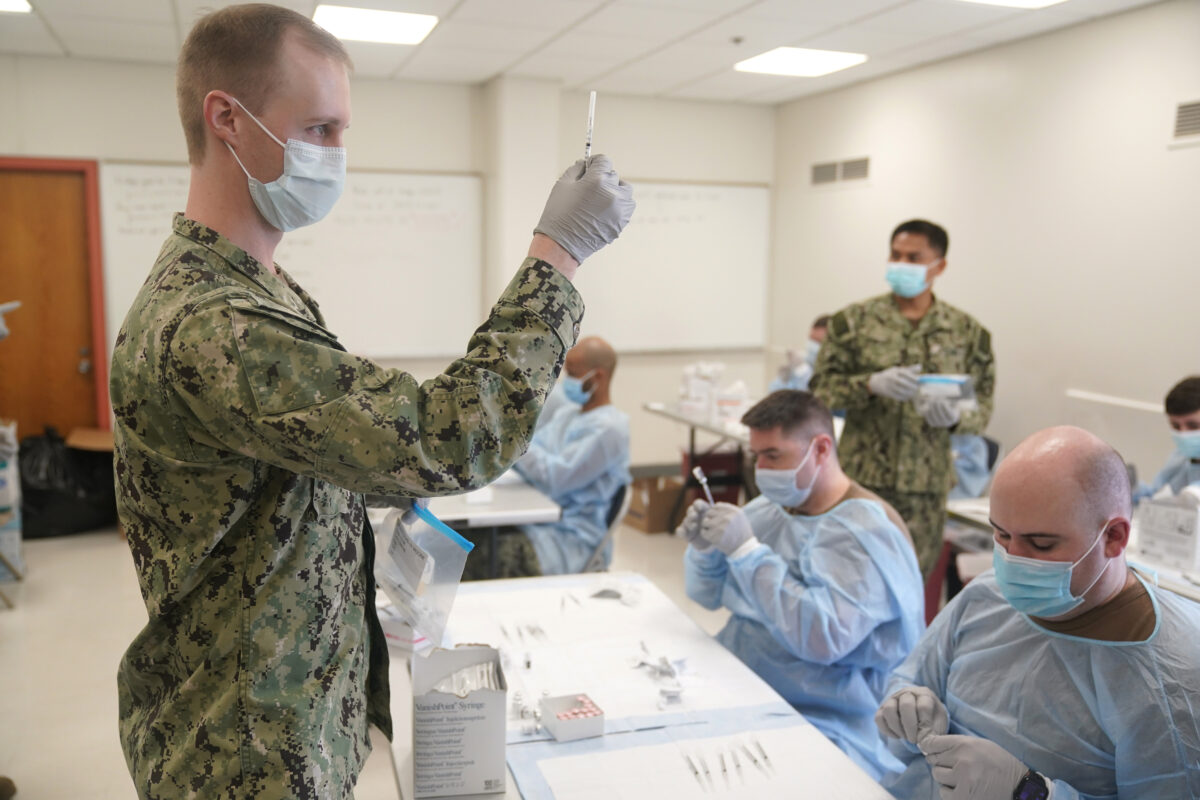 New Navy Order: Unvaccinated Sailors to be Discharged, Could Face Financial Penalties
Zachary Stieber, Epoch Times, October 16, 2021
(https://tinyurl.com/4jp64zv4)
A new U.S. Navy order released this week says all active-duty Navy personnel who don't get a COVID-19 vaccine by an upcoming deadline will be discharged—with possible financial repercussions as well.
The order applies to any sailor that is not fully vaccinated against the virus that causes COVID-19 by Nov. 28 and has not received a religious or medical exemption or has an application for an exemption pending.
Fully vaccinated refers to getting two shots of the Pfizer or Moderna vaccine or the single-shot Johnson & Johnson vaccine, and two weeks or more having elapsed since the final shot.
COVID-19 is the disease caused by the CCP (Chinese Communist Party) virus.
The Nov. 28 deadline was already known, as is a Dec. 28 date for reserve personnel, but the new order (pdf) contained fresh details about what unvaccinated sailors face.
Any can be separated as soon as the deadline arrives without compliance, Vice Chief of Naval Operations Adm. William Lescher and Chief of Naval Personnel Vice Adm. John Nowell wrote in the joint order.
The discharge process will be overseen by the COVID Consolidated Disposition Authority, which includes Nowell.
In the weeks before the deadline arrives, commanders were told not to let any sailors refusing a COVID-19 vaccine get promoted, reenlist, or execute orders, with the exception of separation orders.
Additionally, the sailors can be temporarily reassigned, regardless of whether they've received or are seeking an exemption.
Officers and enlisted members serving in leadership roles who have not gotten a shot were informed in writing they had five days to initiate a vaccination series or request an exemption. If they do neither, they'll be relieved and have what's known as detachment for cause, or "administrative removal of a member from a current duty for unsatisfactory performance of duty or misconduct."
Any Navy personnel separated because of vaccine refusal will get a general discharge under honorable conditions or a higher level of discharge. Depending on the level, they could lose some veterans' benefits.
That's not all they could lose.
Officers may be subject to "recoupment of unearned special or incentive pays" in select cases. The COVID authority "may seek recoupment of applicable bonuses, special and incentive pays, and the cost of training and education for service members refusing the vaccine" from sailors, the order also says.
Unvaccinated personnel could also face a court-martial.
The order drew criticism from several lawyers who are representing military personnel who are seeking religious or medical exemptions.
"This is nothing more than pure vindictiveness. There's no legitimate reason to threaten our brave service members with court-martial or involuntary separation. And now the Navy is threatening to hurt them financially?!? You might expect a country like China or North Korea to force its people to choose between faith and country. But this is America. What the Navy is doing goes against the very fabric of our nation," Mike Berry, general counsel for the First Liberty Institute, told The Epoch Times in an email.
R. Davis Younts, another attorney, said the order is "deeply concerning" and "appears to be targeting military members based on their faith."
"My clients are being threatened with this simply for exercising their legal and constitutional right to submit a religious accommodation request. It appears as if the Navy may be signaling a plan to deny all religious accommodation requests without any consideration of individual cases, medical concerns, or natural immunity," he added. "My clients fear political motivations are the priority and the law and military readiness are being ignored. My clients believe it is as important as ever to stand strong against this mandate and continue to exercise all of their legal rights despite any threats they receive."
The COVID-19 vaccine mandate, outlined by Navy Secretary Carlos Del Toro, was announced on Aug. 30, five days after Defense Secretary Lloyd Austin ordered branch heads to develop mandates.
A Navy spokeswoman declined to comment this week when asked if any religious or medical exemptions have been approved.
As of Oct. 13, over 98 percent of active-duty Navy personnel are fully vaccinated or will be before the deadline arrives. Ninety-four percent of the total force have received at least one dose of a COVID-19 vaccine.
---
Whistleblower: FDA and CDC Ignore Damning Report that over 90% of a Hospital's Admissions were Vaccinated for Covid-19 and No One Was Reporting This to VAERS
Physician Assistant, Deborah Conrad, bravely reports these harms and is barred from filing VAERS reports
Aaron Siri, Oct. 17, 2021
(https://aaronsiri.substack.com/p/whistleblower-fda-and-cdc-ignore-3e2?utm)
A concerned Physician Assistant, Deborah Conrad, convinced her hospital to carefully track the Covid-19 vaccination status of every patient admitted to her hospital.  The result is shocking.
As Ms. Conrad has detailed, her hospital serves a community in which less than 50% of the individuals were vaccinated for Covid-19 but yet, during the same time period, approximately 90% of the individuals admitted to her hospital were documented to have received this vaccine.
These patients were admitted for a variety of reasons, including but not limited to COVID-19 infections.  Even more troubling is that there were many individuals who were young, many who presented with unusual or unexpected health events, and many who were admitted months after vaccination.
One would think that after an association was identified by a healthcare professional, our health authorities would at least review this finding, right?  Sadly, when Ms. Conrad reached out to health authorities herself, she was ignored.  My firm then sent a letter to the CDC and FDA on July 19, 2021 on Ms. Conrad's behalf (see letter below), yet neither agency has responded.  Even worse, when doctors came to Ms. Conrad for assistance with filing VAERS report for their patients, the hospital prohibited her from filing these reports.
That the CDC and FDA failed to respond is arguably not surprising – they have been cheerleading this vaccine for months.  Admitting almost any harm now would be akin to asking them to turn a gun on themselves.
This again highlights the importance of never permitting government coercion and mandates when it comes to medical procedures.
Full letter to the CDC and FDA:
Letter exchange with the hospital:
In-depth interview with Ms. Conrad on the Highwire:
Hit graphic to watch video
(https://thehighwire.com/videos/these-patients-deserve-to-be-heard-vaers-whistleblower/)
---
Groundbreaking: Nebraska AG Says Doctors Can Legally Prescribe Ivermectin, HCQ for COVID, Calls Out FDA, CDC, Fauci, Media for 'Fueling Confusion and Misinformation'
At the request of the Nebraska Department of Health, on Oct. 15, Nebraska Attorney General Doug Peterson issued a legal opinion that Nebraska healthcare providers can legally prescribe ivermectin and hydroxychloroquine for the treatment of COVID, so long as they obtain informed consent from the patient.
Megan Redshaw, The Defender, Oct. 18. 2021
(https://tinyurl.com/y86ppcuc)
Few subjects have been more controversial than ivermectin and hydroxychloroquine — two long-established, inexpensive medications widely and successfully used in many parts of the world for the prevention and treatment of COVID.
By contrast, the use of both medications against COVID has been largely suppressed in the U.S, where doctors have been threatened and punished for prescribing them.
On Oct. 15, Nebraska Attorney General (AG) Doug Peterson issued a legal opinion that Nebraska healthcare providers can legally prescribe off-label medications like ivermectin and hydroxychloroquine for the treatment of COVID, so long as they obtain informed consent from the patient.
However, if they did neglect to obtain consent, deceive, prescribe excessively high doses or other misconduct, they could be subject to discipline, Peterson wrote.
The AG's office emphasized it was not recommending any specific treatment for COVID. "That is not our role," Peterson wrote. "Rather, we address only the off-label early treatment options discussed in this opinion and conclude that the available evidence suggests they might work for some people."
Peterson said allowing physicians to consider early treatments will free them to evaluate additional tools that could save lives, keep patients out of the hospital and provide relief for our already strained healthcare system.
The opinion, based on an assessment of relevant scientific literature, was rendered in response to a request by Dannette Smith, CEO of the Nebraska Department of Health and Human Services.
Smith asked the AG's office to look into whether doctors could face discipline or legal action under Nebraska's Uniform Credential Act (UCA) — meant to protect public health, safety and welfare — if they prescribed ivermectin or hydroxychloroquine.
"After receiving your question and conducting our investigation, we have found significant controversy and suspect information about potential COVID-19 treatments," Peterson wrote.
For example, a paper published in the Lancet — one of the most prestigious medical journals in the world — denounced hydroxychloroquine as dangerous, yet the statistics were flawed and the authors refused to provide analyzed data.
The paper was retracted, but not before countries stopped using the drug and trials were cancelled or interrupted.
"The Lancet's own editor-in-chief admitted that the paper was a 'fabrication,' a 'monumental fraud' and a 'shocking example of research misconduct' in the middle of a global health emergency," Peterson wrote in the opinion.
A recently published paper on COVID recognized that "for reasons that are yet to be clarified," early treatment has not been emphasized despite numerous U.S. healthcare providers advocating for early treatment and "scores of treating and academic physicians" — who have published papers in well respected journals — urging early interventions.
Peterson cited numerous studies showing ivermectin and hydroxychloroquine reduced mortality by up to 75% or more when used as a preventative or prophylaxis for COVID, suggesting hundreds of thousands of lives could have been saved had the drugs been widely used in America.
"Every citizen — Democrat or Republican — should be grateful for Doug Peterson's thoughtful and courageous counteroffensive against the efforts of Big Pharma, its captive federal regulators, and its media and social media allies to silence doctors and deny Americans life-saving treatments," Robert F. Kennedy Jr., chairman of Children's Health Defense, told The Defender via email.
"We finally have a leader who puts constitutional rights, peer-reviewed science and human health above industry profits. Doug Peterson is uncowed and unbowed — a genuine hero on horseback for all Americans." Kennedy said.
Children's Health Defense President Mary Holland agreed. "This Nebraska AG opinion lets doctors get back to being doctors — without being second-guessed by government, pharmacists and others interfering in the crucial doctor-patient relationship," Holland said.
Although the AG's office did not rule out the possibility that other off-label drugs might show promise — either now or in the future — as a prophylaxis or treatment against COVID, it confined its opinion to ivermectin and hydroxychloroquine for the sake of brevity.
Nebraska AG highlights science on ivermectin
In his legal opinion, Peterson concluded evidence showed ivermectin demonstrated striking effectiveness in preventing and treating COVID, and any side effects were primarily minor and transient. "Thus, the UCA does not preclude physicians from considering ivermectin for the prevention or treatment of COVID," Peterson wrote.
In the decade leading up to the COVID pandemic, Peterson found numerous studies showing ivermectin's antiviral acti­vity against several RNA viruses by blocking the nuclear trafficking of viral proteins, adding to 50 years of research confirming ivermectin's antiviral effects.
In addition, safety data for ivermectin showed side effects were "vanishingly small." The latest statistics available through VigiAccess reported only 5,674 adverse drug reac­tions to ivermectin between 1992 and October 13, 2021, an "incredibly low" number given that 3.7 billion doses have been administered since the 1980s, Peterson wrote.
Peterson cited several studies showing ivermectin led to improvement of COVID outcomes when used in early treatment or as a prophylaxis, while noting many studies with negative findings about ivermectin "excluded most available evidence," cherry picked data within studies, misreported data, made unsupported assertions of adverse reactions to ivermectin and had "conclusions that did follow from evidence."
Peterson also found that epidemiological evidence for ivermectin's effectiveness, derived by analyzing COVID-related data from various states, countries or regions is instructive in the context of a global pandemic.
In one instance, a group of scholars analyzed data comparing COVID rates of countries that routinely administer ivermectin as a prophylaxis and countries that did not. The research showed "countries with routine mass drug administration of pro­phylactic … ivermectin have a significantly lower incidence of COVID-19."
(Read more: https://tinyurl.com/y86ppcuc)