My thanks to Len, D, and Brian for their research.
Remember: "War" is for the purpose of declaring martial law. Declaring martial law is for the purpose of announcing the fall of the cabal and the return of the Republic.
No need to worry. This is what we've been waiting for.
---
A few days ago, Maria Zack announced on Stew Peter's show that she would be asking a French citizen with databanks pertaining to the deep state allow himself to be interviewed. Here now comes the next instalment (I haven't listened to it yet):
Hit graphic to watch video
(https://rumble.com/vnlodz-shadow-government-databanks-expose-global-evil-and-corruption-says-french-b.html)
Rumble — Philippe Argillier says he has four databanks that will expose 38 individuals that run the "shadow government," responsible for the CREATION OF COVID-19, which took place YEARS AGO!
---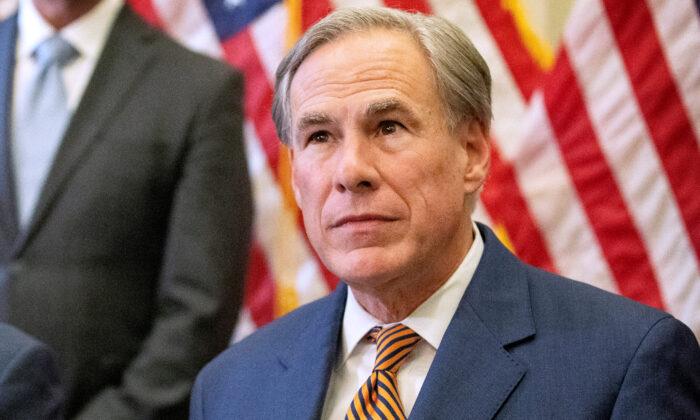 Texas Governor Issues Executive Order Banning Vaccine Mandates by Any Entity
Mimi Nguyen Ly, Epoch Times,  October 11, 2021
(https://tinyurl.com/352mmvnz)
Texas Gov. Greg Abbott on Monday issued an executive order that bans vaccine mandates by any entity, including private employers, in the state.
"The COVID-19 vaccine is safe, effective, and our best defense against the virus, but should remain voluntary and never forced," Abbott said in a statement upon issuing the order.
The executive order (pdf) states, "No entity in Texas can compel receipt of a COVID-19 vaccine by any individual, including an employee or a consumer, who objects to such vaccination for any reason of personal conscience, based on a religious belief, or for medical reasons, including prior recovery from COVID-19."
"I hereby suspend all relevant statutes to the extent necessary to enforce this prohibition," Abbott wrote in the order.
He also added the issue as an agenda to the third special legislative session which is currently convened until Oct. 19, to give lawmakers the opportunity to pass a law to similar effect.
"The executive order will be rescinded upon the passage of such legislation," Abbott wrote.
President Joe Biden in September issued a directive to compel private companies with over 100 employees to have their workers be vaccinated or tested weekly. Once in force, companies face $13,600 in fines per violation.
At the time, Abbott called Biden's move "an assault on private businesses" and said that "Texas is already working to halt this power grab," joining more than a dozen states in resisting the mandate.
The text of Abbott's latest executive order, GA-40, reads, "in yet another instance of federal overreach, the Biden Administration is now bullying many private entities into imposing COVID-19 vaccine mandates, causing workforce disruptions that threaten Texas' s continued recovery from the COVID- 19 disaster."
It adds, "countless Texans fear losing their livelihoods because they object to receiving a COVID-19 vaccination for reasons of personal conscience, based on a religious belief, or for medical reasons, including prior recovery from COVID-19."
The governor noted in his executive order that the Texas legislature "has taken care to provide exemptions that allow people to opt out of being forced to take a vaccine for reasons of conscience or medical reasons."
Abbott previously in June signed into law a measure that bans government entities and private businesses from requiring proof of COVID-19 vaccination as a condition for service or entry. Businesses that don't comply with the law will not be able to enter any state contracts and will be ineligible to receive a grant.
A previous executive order Abbott signed in April did not cover private businesses with regard to vaccine passports.
---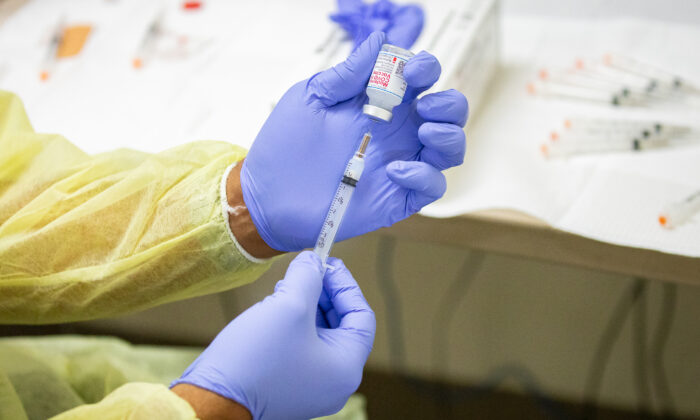 FDA Responds to Nordic Countries Suspending Moderna COVID Vaccine Usage
Jack Phillips, Epoch Times,  October 11, 2021
(https://tinyurl.com/99nxht2h)
The Food and Drug Administration (FDA) responded to Nordic countries limiting the use of Moderna's COVID-19 vaccine last week, saying the shot's benefits outweigh the risks.
Health officials in Finland, Norway, Sweden, and Iceland suspended the use of the Moderna vaccine for younger people due to a risk of side effects including myocarditis.
Sweden said it would pause the vaccine for people under the age of 30, and Denmark did the same for those under 18. Finland said that males under the age 30 shouldn't receive the jab, while Icelandic officials added over the weekend that they would suspend use of the shot.
"The FDA is aware of these data. At this time, FDA continues to find that the known and potential benefits of vaccination outweigh the known and potential risks for the Moderna COVID-19 Vaccine," an FDA official said in a statement to news outlets over the weekend in response to the Nordic nations' decision to suspend the vaccine for certain age groups.
Moderna, meanwhile, said in a statement after the countries' decision that it was "aware of the very rare occurrence of myocarditis and/or pericarditis following administration of mRNA vaccines against COVID-19."
"These are typically mild cases and individuals tend to recover within a short time following standard treatment and rest. The risk of myocarditis is substantially increased for those who contract COVID-19, and vaccination is the best way to protect against this," the company's statement continued.
Moderna's vaccine is still being administered under the Food and Drug Administration's emergency use authorization. The company's application for full approval is still pending.
On Oct. 10, Iceland's Health Directorate said the Moderna vaccine would be entirely suspended due to the risk of cardiac inflammation.
"As the supply of Pfizer vaccine is sufficient in the territory … the chief epidemiologist has decided not to use the Moderna vaccine in Iceland," according to a statement published on the Health Directorate website.
The move was handed down due to "the increased incidence of myocarditis and pericarditis after vaccination with the Moderna vaccine, as well as with vaccination using Pfizer/BioNTech," its statement continued.
And in Sweden, officials have "decided to pause the use of Moderna's vaccine, Spikevax, for everyone born in 1991 and later, for precautionary reasons," reads a statement from the Swedish health agency, according to a translation.
The agency further added there is "an increased risk of side effects such as inflammation of the heart muscle or heart sac," noting that the risk is "very small."
Mika Salminen, director of the Finnish health institute, said Finland would instead give Pfizer's vaccine to men born in 1991 and later. Finland offers shots to people aged 12 and over.
"A Nordic study involving Finland, Sweden, Norway, and Denmark found that men under the age of 30 who received Moderna Spikevax had a slightly higher risk than others of developing myocarditis," he said.
---
Some biased coverage. Discernment advised.
Official Data: Nearly All 'Covid' Deaths in August and September Occurred in the Fully Vaccinated
Humans are Free, October 11, 2021
(https://humansarefree.com/2021/10/nearly-all-covid-deaths-occurring-in-fully-vaccinated.html)
The Office for National Statistics (ONS) in the United Kingdom has released a new dataset showing that 81 percent of everyone who died in the month of September [and 80% in August] after testing "positive" for the Wuhan coronavirus (Covid-19) was "fully vaccinated" in accordance with government guidelines.
Again, 80% of "Covid-19" deaths from AUGUST and 81% "Covid-19" deaths from SEPTEMBER. That's huge!
Bombshell update: Johns Hopkins data provides further proof that COVID shots cause the majority of illness and death around the world.
In the U.K. alone during the month of September, some 30,305 people died within 21 days of getting injected for the Chinese Flu. This was an inadvertent admission by the ONS, which had previously told inquiring minds that "they do not hold this information."
It turns out that they do hold this information, but did not want to make it public because it wrecks the mainstream claim among governments and medical systems that Fauci Flu shots are "safe and effective."
"The ONS report, used to dupe the public into believing just 1% of fully vaccinated people have died of Covid-19, didn't include Covid-19 deaths that have and are currently occurring in this extremely strange third wave of Covid-19 deaths," reported Humans Are Free.
"Strange because Covid-19 deaths have been and still are many times higher than this time last year, despite the fact summer has been on our side, as well as an allegedly 95% effective vaccine."
One year ago, the number of covid-related deaths pretty much flat-lined. This was before Donald "father of the vaccine" Trump unleashed his rushed-to-market "Operation Warp Speed" injections, for which he is still going around bragging are one of his greatest "accomplishments."
This year, however, the world is seeing a massive surge in new "cases" of the Chinese Virus. The numbers are so high that Humans Are Free reported that this is something "you would expect to see in the middle of winter with a 95% effective vaccine."
Winter is coming: What will become of the fully vaccinated?
The shots are obviously not 95 percent effective, unless by "effective" they mean that these injections are injuring and killing most of the people who take them. Perhaps this is the real goal of the plandemic, which was obviously never about "saving lives" of "flattening the curve" – unless human beings are the "curve," of course.
In that case, the world population really is being flattened at warp speed, and millions remain none the wiser due to their willful ignorance and blind trust in the system to somehow have their best interests in mind.
Not only are the vast majority of all "covid" deaths now occurring among the fully vaccinated, but so are the vast majority of all new "cases." Pretty much the only people still having trouble with [Covid] are those who took the jabs, in other words.
Week after week, hospitals are filling up with fully jabbed people who are getting sick and dying in droves due to their immune systems being wrecked by spike proteins and whatever other poisons are contained within those mystery vials.
This is data that anyone can look at, by the way. Anyone who claims to support "science" is lying to themselves if they continue to believe the likes of Tony Fauci and CNN when it comes to the "new normal" of widespread Chinese Virus vaccination compliance.
"The data clearly shows the jabs do not prevent infection or transmission, and it clearly shows that even in summer and early autumn they are increasing the risk of hospitalisation and death rather than reducing the risk," reports Humans Are Free, noting that this is all happening in summer when sickness and death should be at a minimum.
"The problem we now face? Winter is just around the corner."