My thanks to Len, D, and Brian for their research.
Remember: "War" is for the purpose of declaring martial law. Declaring martial law is for the purpose of announcing the fall of the cabal and the return of the Republic.
No need to worry. This is what we've been waiting for.
---
---
Ivermectin Successfully Used in India
Hit graphic to watch video
(https://rumble.com/vnckn5-ivermectin-cures-india.html)
---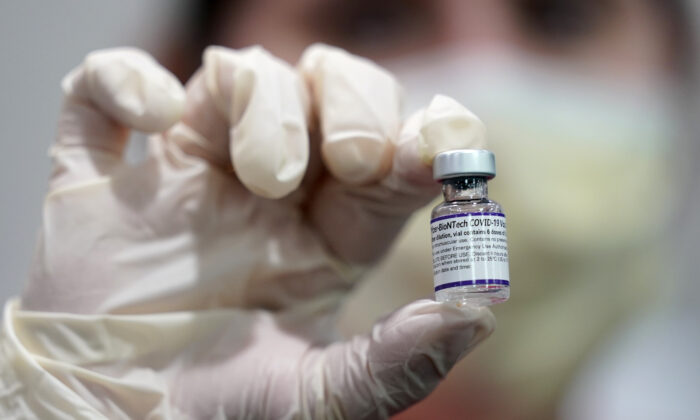 Pfizer Formally Asks Drug Regulators to Let Kids as Young as 5 Get Its COVID-19 Vaccine
Zachary Stieber, Epoch Times,October 7, 2021
(https://tinyurl.com/5xyk3tr7)
Pfizer said on Oct. 7 that it had submitted a request to U.S. drug regulators to expand the authorization for its COVID-19 vaccine to children between the ages of 5 and 11.
The U.S.-based pharmaceutical company and its German partner BioNTech sent the request to the Food and Drug Administration (FDA) about a week after submitting data they said show that the vaccine triggered antibody responses in children in a Phase 2/3 clinical trial. The full results for the trial, which was run by the companies, haven't yet been released.
"With new cases in children in the U.S. continuing to be at a high level, this submission is an important step in our ongoing effort against COVID-19," Pfizer said in a statement.
Pfizer's vaccine is already authorized for children aged 12 to 17 and approved for adults aged 18 and older, though the approved version isn't yet available in the United States.
Some experts and parents are pushing for a vaccine for younger children, arguing that they can spread COVID-19 to others, even if they're at little risk of severe disease themselves. But opponents note the low risk of danger COVID-19 poses to children and the elevated chances kids have of suffering heart inflammation if they receive a COVID-19 vaccine. Some European countries are now recommending just one dose of COVID-19 vaccines that utilize messenger RNA technology, such as the Pfizer vaccine, because of potential side effects.
Pfizer's trial gave children a two-dose regimen of 10 micrograms each, while older populations were given doses of 30 micrograms each. The lower dosage "was carefully selected as the preferred dose for safety, tolerability, and immunogenicity in children," Pfizer and BioNTech stated in September.
Dr. Janet Woodcock, the acting commissioner of the FDA, recently said that the vaccine "may need a different dosage or formulation from that used in an older pediatric population or adults."
"We know from our vast experience with other pediatric vaccines that children are not small adults, and we will conduct a comprehensive evaluation of clinical trial data submitted in support of the safety and effectiveness of the vaccine used in a younger pediatric population," Woodcock said.
The agency's vaccine advisory panel will meet on Oct. 26 to review the efficacy and safety data. A meeting of the Centers for Disease Control and Prevention's (CDC) vaccine advisory committee to discuss the matter hasn't yet been scheduled.
White House COVID-19 response coordinator Jeffrey Zients told CNN that the new Pfizer request could be granted before Thanksgiving.
"We will be ready as soon as the CDC and the FDA give the go ahead," Zients said. "We are ready. We have the supply. We're working with states to set up convenient locations for parents and kids to get vaccinated, including pediatricians' offices and community sites."
The submission comes after new studies show that Pfizer vaccine's effectiveness against infection and severe disease sharply wanes over time. In addition, three scientists from the company were recently recorded acknowledging that natural immunity, or the protection bestowed from getting COVID-19 and recovering, is similar to or better than the protection from the company's vaccine.
---
Florida Programmer Clinton G. Curtis Testifies to Having Designed Computer Programs to Flip Elections
Hit graphic to watch video
(https://defendingtherepublic.org/they-knew-and-they-know-including-key-government-officials-and-lots-of-dirty-politicians-your-votes-have-been-stolen-with-algorithms-and-computers-since-2000/)
Sydney Powell says:
"Countless politicians entrenched in power have known for years the votes are manipulated by 'powers that be'—not according to the will of the voters.  Just imagine the billions of dollars in the campaigning/election industry alone, the RNC, the DNC, that is all a sham.  Our votes are not deciding our elections. …
"Here's what you need to see right now—from a hearing in 2004 that included members of Congress Jerry Nadler and Maxine Waters among others. …
"We also have the Defense Department's own interest in patents for the very processes that allow votes to be manipulated and change by unseen hands and a patent for a process to predetermine an election—just as it happened in 2020. More on this in the next news blast."
---
BREAKING BIG: Sweden and Denmark Halt Moderna Vaccinations on Those 30-and-Under Due to Potential Side Effects
Jim Hoft, Gateway Pundit,  October 6, 2021
(https://www.thegatewaypundit.com/2021/10/breaking-big-sweden-denmark-halt-moderna-vaccinations-30-due-potential-side-effects/)
Sweden and Denmark announced on Tuesday they were halting Moderna COVID vaccinations for those under 30-years-old due to possible side effects. …
The two nations saw ample evidence to ban the vaccine for its youth.
Bloomberg.com reported:
Sweden and Denmark decided to halt vaccinations with Moderna Inc.'s Covid-19 shot for younger people because of potential side effects.
The Swedish health authority Wednesday cited new data on the increased risk of heart inflammation as a reason for the pause for those aged 30 and under. Denmark will stop giving the shot to those younger than 18.
Moderna shares fell as much as 5.3% in New York trading.
"We are monitoring the situation closely and are acting rapidly to ensure that Covid-19 vaccinations are constantly as safe as possible, while also providing protection," said Anders Tegnell, Sweden's chief epidemiologist.
The two countries recommended Pfizer Inc.'s and BioNTech SE's rival vaccine as a replacement. Both vaccinations use messenger RNA technology to prompt an immune reaction.
According to the VAERS tracking website, in the United States, 3,933 Americans have died following the Moderna COVID vaccination. 10,848 have died due to the Pfizer vaccination.
---
Ex-Pfizer Employee Warns Vaccine Increases COVID by Over 300%

Humans are Free, October 1, 2021
(https://humansarefree.com/2021/10/ex-pfizer-employee-warns-vaccine-increases-covid.html)
The fraudulence of covid-19 vaccines is on full display, and the evidence is sitting right out in the open. The full FDA approval for Pfizer's COMIRNATY vaccine contained clinical proof that the inoculation increases COVID infection by over 300 percent!
A former Pfizer employee named Karen Kingston is blowing the whistle on her former employer. Kingston is currently a pharmaceutical marketing expert and biotech analyst. When she scrutinized the full FDA approval for COMIRNATY, she found blatant fraud in Pfizer's clinical studies.
Kingston brought forth a Briefing Document from the FDA's advisory committee meeting that took place on September 17, 2021. The title of the document is, "Application for licensure of a booster dose for COMIRNATY (COVID-19 Vaccine, mRNA)." The document includes clinical studies conducted by Pfizer. These studies track the durability of immunity offered by the COMIRNATY vaccine and compare it to immunity observed in unvaccinated people.
"If you get the Pfizer vax, you're more likely to get COVID" said Kingston, "So, when they weren't injected, their infection rate was 1.3% and when they got injected, it was 4.34%. It went up by over 300%." How could the FDA have glossed over this evidence and approved blatant fraud?
Since the vaccine was officially approved, the federal government started applying pressure on businesses across the US, threatening them with extortion and fines if they do not impose vaccine mandates on their employees.
The covid-19 vaccines have been injected almost 225 million times into the arms of Americans, causing severe injury and death along the way. Real world observations also support clinical data showing that the vaccines increase one's susceptibility to covid-19.
In fact, the vaccines increase viral load in the nostrils of the vaccinated. An August 26 article by Dr. Peter McCullough shows that the covid vaccines allow the vaccinated to carry 251 times the viral load of covid-19 in their nostrils, turning them into the asymptomatic super spreaders they once feared.
Pfizer studies show that being unvaccinated offers greater protection
Medical freedom rights attorney, Thomas Renz, went public with the Pfizer fraud. The Pfizer study involved over 36,000 people. Those who were injected earlier in the study were more likely to come down with covid infections later on, showing a clear trend of waning immunity. Those put in "high priority" groups, who were vaccinated earlier on, have a 36 percent greater chance of infection, compared to the group that vaccinated later on.
The group that vaccinated later on went unvaccinated for 5.1 months longer than the group that got vaccinated early on. This placebo group did not have high rates of infection while they were unvaccinated, even though they went longer without any "protection."
Because of this, Kingston stated that the vaccinated group "have an even higher chance of being infected with COVID-19 than the 36 percent difference indicated by this portion of the study."
The study even admitted in its conclusion: "An additional analysis appears to indicate that incidence of COVID-19 generally increased in each group of study participants with increasing time post-Dose 2." Kingston clarified that infection rates "increase over time" when people get two doses of Pfizer mRNA.
Most shocking was the data on the placebo group. In the first four months, the placebo group had "no vaccine protection" and recorded an infection rate of 12.6 cases per 1,000 person-years. The infection rate for the unvaccinated was a meager 1.3 percent.
After their placebo period, the group got "fully vaccinated." In just a few months, this group became more infectious and showed 43.4 cases per 1,000 person-years. Their infection rate went UP by over 300 percent to a 4.34% infection rate. Mrs. Kingston called this "super alarming."
"They had less infection when they had no protection. So, that's a problem," she said.
---
Canadian Government Orders Vaccinations for all Employees by Oct. 31, 2021
Global News on Wed, 06 Oct 2021:
Canadian Prime Minister Justin Trudeau, alongside Deputy Prime Minister Chrystia Freeland, announced on Wednesday that all federal workers must be fully vaccinated against COVID-19 by Oct. 29 or face an unpaid administrative leave.
She added the government is directing crown corporations to instate a similar mandate.
Plus, Trudeau called his recent Tofino, B.C. trip a "mistake," during the news conference, apologizing for vacationing on the first National Day for Truth and Reconciliation.
The Canadian government announced earlier that anyone over the age of 12 wanting to travel by air, rail or sea in the country must also be fully vaccinated by the end of the month.
The policy is expected to allow only for very narrow medical exemptions.
---
New York Health Care System Fires 1,400 Unvaccinated Workers
HAFOctober 6, 2021
(By Zachary Stieber, TheEpochTimes.com)
A large New York health care system on Monday said it fired 1,400 workers because they declined to get a COVID-19 vaccine.
Northwell Health terminated approximately 2 percent of its workforce, which spans across New York City, Westchester, and Long Island.
The workforce across the 23-hospital system is now 100 percent vaccinated, the system told news outlets in a statement.
"Northwell believes that having a fully vaccinated workforce is an important measure in our duty to protect the health and safety of our staff, our patients, and the communities we serve," the health care system said. "This allows us to continue to provide exceptional care at all of our facilities, without interruption and remain open and fully operational."
"Northwell regrets losing any employee under such circumstances, but as health care professionals and members of the largest health care provider in the state, we understand our unique responsibility to protect the health of our patients and each other. We owe it to our staff, our patients, and the communities we serve to be 100 percent vaccinated against COVID-19," it added.
A spokesperson did not immediately respond to a request for comment on whether any religious or medical exemptions were granted.
Health care workers in New York were ordered by Gov. Kathy Hochul, a Democrat, to get a COVID-19 vaccine. A legal challenge was partially dismissed late last month except for those seeking a religious exemption.
Additionally, President Joe Biden's administration plans on releasing a new nationwide requirement for employers who have 100 or more workers to mandate a vaccine or weekly COVID-19 testing.
Thousands of unvaccinated health care workers were placed on unpaid leavelast week due to Hochul's mandate. The situation led to some disruptions. Strong Memorial Hospital, for instance, said it was pausing some elective procedures for two weeks.
Northwell workers fired because of their refusal to get vaccinated were being denied benefits like employer contributions to retirement plans, The Epoch Times previously reported.
John Trinchino, a registered nurse, told The New York Times he was fired from his job at Staten Island University Hospital, which is part of Northwell, last week.
Trinchino said he didn't agree with the vaccine mandate because he had recovered from COVID-19. Studies show people who recover from the disease, which is caused by the CCP (Chinese Communist Party) virus, enjoy similar protection against later infection than those who are vaccinated.
"All this is going to lead to is worse care for the patients, and I'm just disgusted by it," he said.
Northwell workers protested against the mandate on the day it went into effect, arguing it violated people's freedoms. [delete]
Karen Roses, a patient care technician at a Northwell hospital in Riverhead, New York, told The Epoch Times that she knew her refusal to get a vaccine could mean she loses her job, but said she's "not going to be bullied or pressured [by] anybody for any reason."
"It's not an anti-vaccine statement. It's a freedom of choice statement," she said.
---
Thanks to Kathleen.
Journalists known for taking on governments of Philippines and Russia win Nobel Peace Prize
Paul Schemm, Shibani Mahtani,and Robyn Dixon, Washington Post, Oct. 8, 2021
(https://www.washingtonpost.com/world/nobel-peace-prize-maria-ressa-muratov/2021/10/08/0d0516e8-2806-11ec-8739-5cb6aba30a30_story.html)
Editors Maria Ressa and Dmitry Muratov won the 2021 Nobel Peace Prize on Friday for their fight for a free and independent press in a major boost to journalists amid increasing pressures on freedom of expression around the world.
Berit Reiss-Andersen, chair of the Norwegian Nobel Committee, praised the journalists from the Philippines and Russia for their efforts to safeguard freedom of expression, which she called "a precondition for democracy and lasting peace." Reiss-Andersen also alluded to the rise of authoritarianism and fake news around the world.
"Giving the peace prize to two very courageous outstanding journalists that have proved excellent in their profession really illustrates what it means to be a journalist and how you exercise freedom of expression even under the most difficult and destructive circumstances," she said.
In a tearful interview right after the award was announced, Ressa described it as "a recognition of the difficulties, but also hopefully of how we're going to win the battle for truth, the battle for facts: We hold the line."
In a subsequent interview, she added that "the fact that a journalist from the Philippines and Russia won the Nobel Peace Prize tells you about the state of the world today."
Conviction of Maria Ressa, hard-hitting Philippine American journalist, sparks condemnation
Muratov, for his part, said the prize was a tribute to the courage of the newspaper's journalists, not to him.
"I'll tell you this: This is not my merit. This is Novaya Gazeta. It is for those who died defending the right of people to freedom of speech. Since they are not with us, they [the Nobel Committee] apparently decided that I should speak for them," he told Tass news agency.
The committee's statement called them "representatives of all journalists who stand up for this ideal in a world in which democracy and freedom of the press face increasingly adverse conditions."