My thanks to Suzi, Len, D, and Brian for their research.
Remember: "War" is for the purpose of declaring martial law. Declaring martial law is for the purpose of announcing the fall of the cabal and the return of the Republic.
No need to worry. This is what we've been waiting for.
---
Federal Judge Temporarily Blocks Texas Anti-Abortion Law
Ivan Pentchoukov, Epoch Times, October 6, 2021
(https://tinyurl.com/25byjwcb)
A federal judge in Austin, Texas, on Wednesday granted a temporary injunction against the Texas anti-abortion law that drew national attention after it recently survived judicial scrutiny by the Supreme Court.
U.S. District Judge Robert Pitman, an Obama appointee, opined that "a person's right under the Constitution to choose to obtain an abortion prior to fetal viability is well established."
"Fully aware that depriving its citizens of this right by direct state action would be flagrantly unconstitutional, the State contrived an unprecedented and transparent statutory scheme to do just that," Pitman wrote in the 113-page ruling, referring to the unique enforcement mechanism in the Texas law.
"The state created a private cause of action by which individuals with no personal interest in, or connection to, a person seeking an abortion would be incentivized to use the state's judicial system, judges, and court officials to interfere with the right to an abortion," he added.
The judge denied the state's request to delay the enforcement of the injunction until it files an appeal with a higher court.
"The State has forfeited the right to any such accommodation by pursuing an unprecedented and aggressive scheme to deprive its citizens of a significant and well-established constitutional right," Pitman wrote.
"That other courts may find a way to avoid this conclusion is theirs to decide; this Court will not sanction one more day of this offensive deprivation of such an important right."
The office of Texas Attorney General Ken Paxton did not respond to a request for comment. The state, soon after the ruling was issued, filed an appeal to an appeals court.
Nancy Northup, president and CEO of the Center for Reproductive Rights, which is representing abortion providers in a separate suit over Texas Senate Bill 8, said in a statement that the injunction "is a critical first step in restoring abortion rights and services in Texas."
"For 36 days, patients have been living in a state of panic, not knowing where or when they'd be able to get abortion care. The clinics and doctors we represent hope to resume full abortion services as soon as they are able, even though the threat of being sued retroactively will not be completely gone until SB8 is struck down for good," she added.
Texas Right to Life, a pro-life group, called the ruling "wildly broad."
"The provision blocking lawmakers is entirely unnecessary since the language of the Texas Heartbeat Act already prohibits government officials from enforcing the policy. However, Pitman's effort to obstruct state judges and court clerks from fulfilling their lawful duties is astonishing," the group said in a statement.
Pitman's ruling is part of a case brought by the Biden administration against the state of Texas. The administration challenged the constitutionality of SB8, a law that bans virtually all abortions after a heartbeat is detected in an unborn child. The law survived judicial review by higher courts. It employs an enforcement mechanism that leaves it to private parties to sue the persons involved in an abortion, except for the mother.
In a sign of his ideological alignment, Pitman used the term "pregnant person" to describe expectant mothers, noting that he "recognizes that not all pregnant people identify as women."
In addition to the Biden administration, a large group of abortion providers is likewise suing Texas for the constitutionality of SB8. The Supreme Court, in that case, denied the plaintiffs' request for an injunction or stay, noting that it "raised serious questions regarding the constitutionality of the Texas law at issue."
Zachary Stieber contributed to this report.
---
University of Colorado Hospital System Denies Woman's Life-Saving Kidney Transplant; Will No Longer Provide Organ Transplants to Unvaccinated Patients
Julian Conradson, Gateway Pundit, October 6, 2021
(https://tinyurl.com/2r7yc47w)
One of Colorado's largest hospital systems has implemented a new policy that denies organ transplants to patients who have not taken the experimental Covid-19 vaccine under "almost all situations."
All organ donors will also have to be vaccinated under the new policy, and it has already stopped one woman from receiving the life-saving treatment she needs.
Last month, the University of Colorado Health sent a letter to Leilani Lutali informing her that her status on the waiting list for a kidney transplant was "inactivated" for "non-compliance" because she has chosen not to take the jab. She was given 30 days to take the shot, or else she would be removed from the transplant list completely.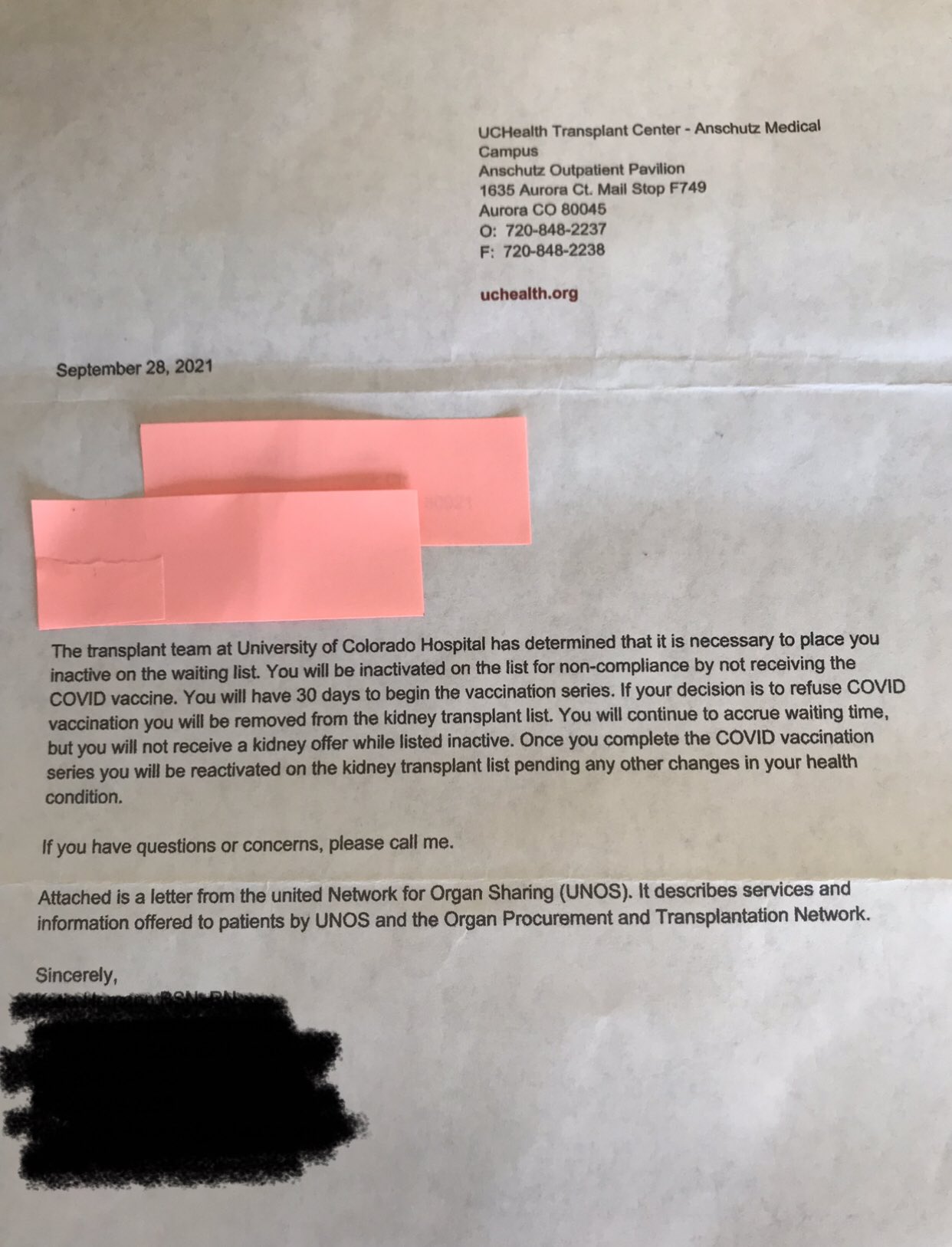 Lutali, who has stage 5 renal failure, was told by the hospital in August that she wouldn't need to be vaccinated to get her new kidney and was only made aware of the hospital's new segregation policy when she received her letter in the mail – and only AFTER she was able to find a donor she knew who was willing to give her a kidney.
CBS4 Denver spoke with Lutali about the hospital's policy and their reasoning behind foregoing the rushed vaccine, which she says has "too many unknowns."
"I said I'll sign a medical waiver. I have to sign a waiver anyway for the transplant itself, releasing them from anything that could possibly go wrong.

It's surgery, it's invasive. I sign a waiver for my life. I'm not sure why I can't sign a waiver for the Covid shot."
They also spoke with her donor – Jaimee Fougner – who was outraged that the hospital could decide not to operate when there is a kidney available that will save her friend's life.
Like Lutali, Fougner is also not vaccinated.
"It's your choice on what treatment you have. In Leilani's case, the choice has been taken from her. Her life has now been held hostage because of this mandate.

Here I am, willing to be a direct donor to her. It does not affect any other patient on the transplant list. How can I sit here and allow them to murder my friend when I've got a perfectly good kidney and can save her life?"
The University of Colorado Health (UCHealth), which operates dozens of medical facilities and hospitals throughout the state, confirmed the segregation policy to the New York Post on Wednesday and claimed they were making the change because transplant patients are 20% more likely to die if they catch Covid-19.
But, how much more likely are they to die if they catch Covid before getting a life-saving transplant? Or even without catching covid?
Higher than 20%, that's for sure. Many of the people on the waiting list are also most likely medically exempt from taking the vaccine.
Not to mention the vaccine is so bad at preventing breakthrough infections that the tyrannical US health order is about to force a third booster dose, which will be most likely followed by perpetual doses every six months – Being vaccinated doesn't even provide immunity (just check the CDC's updated definition). Vaccinated patients waiting for an organ are about just as likely to contract a breakthrough case after a transplant as the non vaccinated.
UCHealth doubled down on their refusal to operate on the unvaccinated, saying that several other surgery centers have covid vaccine mandates for their patients in place already, and many more are following suit.
"In almost all situations, transplant patients and living donors are now required to be vaccinated against Covid-19 in addition to meeting other health requirements and receiving additional vaccinations.

Physicians must consider the short and long-term health risks for patients as they consider whether to recommend an organ transplant."
The hospital's policy has forced Lutali to search elsewhere for her operation. Unfortunately, she has checked with every surgery center in Colorado who would be able to perform a kidney transplant and none of them will provide care to her because she is unvaccinated. She is now looking outside the state for a hospital that will be willing to take her.
Like Lutali's donor said, her life is being held hostage over this vaccine mandate.
How many others will be denied care and left to perish because of these policies?
So much for that "if we save just one life" nonsense. That was never the case.
---
Some sources have questioned the authenticity of this communication. It looks authentic. I've hesitated to post it, but, if accurate, it's significant. Your discernment is invited. Thanks to Bethel.
MO 1

(https://tinyurl.com/2r7yc47w)
---
Thanks to D.
Singapore puts Robocop on the streets: Patrol bots blast warnings at people engaging in 'undesirable social behaviours' including standing too close together – sparking concerns about citizen privacy
Shivali Best, Daily Mail, Oct. 5, 2021
(https://www.dailymail.co.uk/sciencetech/article-10063475/Singapore-patrol-robots-stoke-fears-surveillance-state.html)
Singapore is frequently criticised for curbing civil liberties and people are accustomed to tight controls, but there is still growing unease at intrusive tech.
The government's latest surveillance devices are robots on wheels, with seven cameras, that issue warnings to the public and detect 'undesirable social behaviour'
Behaviours you could get 'blasted' for
The government's surveillance devices will blast warnings if they detect the following 'undesirable behaviours:
– Smoking in prohibited areas
– Illegal hawking
– Improperly parked bicycles within HDB Hub
– Congregation of more than 5 people
– Motorised active mobility devices and motorcycles on footpaths
The robots are on wheels, and are equipped with seven cameras.
During a recent patrol, one of the 'Xavier' robots wove its way through a housing estate and stopped in front of a group of elderly residents watching a chess match.
'Please keep one-metre distancing, please keep to five persons per group,' a robotic voice blared out, as a camera on top of the machine trained its gaze on them.
During a three-week trial in September, two robots were deployed to patrol the housing estate and a shopping centre.
'It reminds me of Robocop,' said Frannie Teo, a 34-year-old research assistant, who was walking through the mall.
It brings to mind a 'dystopian world of robots… I'm just a bit hesitant about that kind of concept', she added.
Digital rights activist Lee Yi Ting said the devices were the latest way Singaporeans were being watched.
'It all contributes to the sense people… need to watch what they say and what they do in Singapore to a far greater extent than they would in other countries,' she told AFP.