The news stories and videos are coming out faster and in more numbers than allow for individual posting. So wherever possible we're going to combine them.
 Thanks to Suzi on Buy me a Coffee for her research.
---
Accountability
Arizona Legislature Votes To Revoke Democrat Secretary of State's Authority In Election-Related Lawsuits
The Arizona Legislature voted to strip the partisan official of her authority over election-related lawsuits.
Andrew White, National File, June 28, 2021
(https://nationalfile.com/arizona-legislature-votes-to-revoke-democrat-secretary-of-states-authority-in-election-related-lawsuits/)
The Arizona Legislature has voted to revoke the election-related lawsuit authority of Secretary of State Katie Hobbs, who has been desperately trying to delegitimize the results of the forensic audit ahead of its preliminary results. The authority would be transferred to the state's Attorney General if approved by Arizona Governor Doug Ducey.
The Arizona State Legislature has voted to revoke highly partisan Democrat Katie Hobbs' authority in election related lawsuits, as she has been frantically trying to delegitimize the results of the forensic audit of the 2020 election in Arizona ahead of the release of its preliminary results.
The election lawsuit authority would be transferred to Arizona Attorney General Mark Brnovich, who argues that Hobbs would not properly defend the state against election related lawsuits filed by Democrats, according to reports. Hobbs has been vocally opposed to the audit, which she nicknamed "fraudit," and has been pushing baseless conspiracy theories in attempt to criticize the audit itself, as well the group Cyber Ninjas, the highly respected cybersecurity firm tasked with conducting the audit. Hobbs referred to the vote as "egregious," complaining that Arizona Republicans were "weaponizing the process to take retribution against my office."
As the audit was nearing its completion, Biden administration Attorney General Merrick Garland recently announced that the Department of Justice would "scrutinize" post-election "audits to ensure they abide by federal statutory requirements to protect election records and avoid intimidation of voter," drawing stern responses from Brnovich and Arizona State Senator Wendy Rogers. Brnovich issued a letter to Garland accusing the Attorney General of displaying an "alarming disdain for state sovereignty," adding that Arizona will not "tolerate any effort to undermine or interfere with our State Senate's audit to reassure Arizonans of the accuracy of our elections." Garland has since then made no announcements suggesting that the DOJ would scrutinize the 2020 Presidential election results in the same manner as they would with the audits. (READ MORE: ARIZONA: Attorney General Brnovich Slams Merrick Garland's Threat To Involve Feds In Audit)
"If Attorney General Merrick Garland thinks he has a right to our ballots and machines he should go to court. If he uses force when multiple courts have already authorized this audit he will be in violation of the law," Rogers said in a tweet. In seperate tweet Rogers warned Garland not to touch "Arizona ballots or machines," unless he wants to "spend time in an Arizona prison."
As mainstream media outlets and Democrats insist that no fraud occurred during the 2020 Presidential election in Arizona, National File Senior Reporter Patrick Howley reported that several hundred thousand votes that were counted in Maricopa County are associated with missing ballots.
---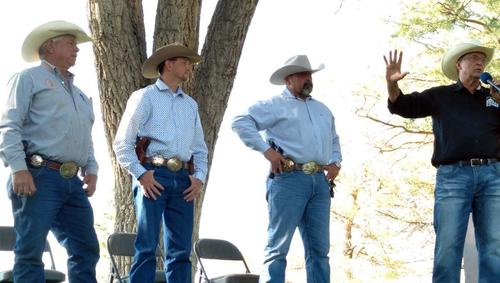 Magenta's Nine have predicted that resistance to the cabal will grow. Here is the Constitutional Sheriffs and Peace Officers Association, taking a stand. I like their message. "White Supremacy has no place." 
Nice to see law enforcement opposing the New World Order.   Thanks to Suzi on Buy me a Coffee
No, I don't support violence. But I think that the more people who take a stand, as here and in London, the less likely it is to come to violence.
Nevada Sheriff's Group Says NSA Sitting On 'Every Call, Text, Chat And Banking Transaction' For 'Elite Pedos And Wall Street Criminals'
Tyler Durden, Zero Hedge, Jun 25, 2021
(https://www.zerohedge.com/political/nevada-sheriffs-group-says-nsa-sitting-every-call-text-chat-and-banking-transaction-elite)
Residents and local law enforcement from two rural Nevada counties have decided to become members of a growing movement that believes sheriffs have the final say on the constitutionality of any given law.
On Sunday, hundreds gathered in Elko City Park, where the Constitutional Sheriffs and Peace Officers Association (CSPOA) presented a plaque to county commissioners to mark their membership with the group, according to the Elko Daily Free Press.
Constitutional Sheriffs and Peace Officers Association founder Richard Mack was the main speaker at the event. The group says "law enforcement powers held by the sheriff supersede those of any agent, officer, elected official or employee from any level of government when in the jurisdiction of the county."

Lander County Manager Bartolo "Bert" Ramos emceed the event, which was also expected to feature Joey Gilbert, a former professional boxer from Reno who plans to run for governor as a Republican. Ramos said Gilbert was unable to attend due to a family obligation.

Dressed in Minuteman garb and sitting on a horse that traveled to Washington, D.C., for the Grass March in support of ranchers, Elko attorney Travis Gerber held a 13-star flag and asked the crowd if they knew how many democracies existed in the world in 1776.

"There were zero democracies," he said. "And today, because of this flag and what it stands for, most of the world is free." –Elko Daily Free Press
According to Steele, the biggest threats facing America include Wall Street criminals and elite pedophiles.
"The National Security Agency has every single email, cell call, text, game chat and banking transaction for every traitor, every elite pedophile and every Wall Street criminal and every corrupt government official at the local, state and federal levels," he said to applause. "And I remind you that no army of lawyers are going to be able to stand up to an Army Ranger battalion with fixed bayonets. We're coming."
"I will tell you with absolute certainty that the thing that Nancy Pelosi and Adam Schiff fear most is not jail, but us releasing their 10 most treasonous phone calls to their own public," he continued. "They will be torn limb from limb on their own streets."
'White Supremacy has no place'
Founder Richard Mack – who successfully sued the US Government over background check provisions in the Brady Handgun Violence Prevention Act condemned racism and the IRS during his speech.
"White Supremacy has no place in a free society," he said, adding "There is no exception. You cannot say 'freedom for me but not for thee."
Mack added that the IRS is "the most criminal organization in American history – the Gestapo of America," adding "You know what I train sheriffs to do? [referring to IRS agents] Kick 'em the hell out of your county."
Next, Mack called the sheriffs of Lander, Eureka and Elko counties to speak, where Elko's Sheriff Aitor Narvaiza described meeting Mack in Battle Mountain, after which he took the proposal to join the CSPOA to his county's commissioners.
"Sheriff Mack said here just a minute ago that we're gonna take some heat," said Narvaiza. "Well, ladies and gentlemen, I've already been taking some heat but I don't really care. I fight for you guys, I fight for the people of Elko County and the people who elected me to fight for them."
---
Nearly 4,000 Fully Vaccinated People in Massachusetts Test Positive for COVID-19
Isabel van Brugen, Epoch Times, June 22, 2021
(https://news.yahoo.com/nearly-4-000-fully-vaccinated-191924452.html)
Nearly 4,000 people in Massachusetts who have been fully vaccinated against COVID-19 have tested positive for the disease, adding to the growing number of breakthrough cases nationwide.
According to the Massachusetts Department of Public Health, as of June 12, there were 3,791 infections among the 3.7 million fully vaccinated people in the state, or about one out of every 1,000 individuals.
"We're learning that many of the breakthrough infections are asymptomatic or they're very mild and brief in duration," said Boston University infectious diseases specialist Davidson Hamer, the Boston Herald reported. "The viral load is not very high."
"Breakthroughs are expected, and we need to better understand who's at risk and whether people who have a breakthrough can transmit the virus to others," Hamer said. "In some cases, they'll be shedding such low levels of the virus and won't be transmitting to others."
So-called breakthrough cases refer to cases appearing two or more weeks after a person's final shot, that is, the second Pfizer or Moderna dose or the single-shot Johnson & Johnson vaccine.
"Vaccine breakthrough cases are expected," the Centers for Disease Control and Prevention states on its website. "COVID-19 vaccines are effective and are a critical tool to bring the pandemic under control. However, no vaccines are 100 percent effective at preventing illness. There will be a small percentage of people who are fully vaccinated who still get sick, are hospitalized, or die from COVID-19.
"There is some evidence that vaccination may make illness less severe."
The CDC said last month that through April 30, 10,262 breakthrough infections were reported in 46 U.S. states and territories.
Of the cases, more than six in 10 occurred in females, with the median patient age being 58, according to a new report from the CDC, which stopped counting breakthrough infections as of May 1, except for those that cause hospitalization or death.
Approximately 10 percent of the patients required hospital care, and 160, or about 1.5 percent, died.
Data indicate that about three in 10 hospitalized patients were admitted for a reason unrelated to COVID-19 or with no symptoms.
The median age of those who died after getting vaccinated was 82 years. Twenty-eight deaths were pegged to a cause unrelated to COVID-19 or occurred in patients who displayed no symptoms.
Sequencing data were available for 555 of the breakthrough cases. Over 60 percent were identified as stemming from variants, including the B.1.1.7 variant that was first identified in the United Kingdom.
By April 30, about 101 million people in the United States had been fully vaccinated against the CCP (Chinese Communist Party) virus, which causes COVID-19. As of June 21, that figure stands at 150 million people, according to the CDC.
---
I apologize if this is a repost.

Ex-Pfizer VP Yeadon Warns: Children 50 Times More Likely to Die From Vaccine Than Virus
Bannons War Room, June 9, 2021
https://rumble.com/embed/vfot1d/?pub=4
---
Scenes from London Protest, June 26
A crowd of police officers created a barrier as swathes of demonstrators looked on in London earlier this afternoon
Police officers stand guard in front of the No 10 Downing Street as opponents of the new type of coronavirus (Covid-19) measures, environmentalists and anti-government demonstrators stage a protest in London
Reclaim party leader Laurence Fox was among the tens of thousands of anti-lockdown protestors who attended Saturday's protest and was seen shouting into a speaker as he stood on a barrier outside Downing Street
Arrest Matt Hancock!
One of the demonstrators holds up a sign as they marched through the streets of London to protest earlier this afternoon