Living within a 5D Bubble of Light
As incredible as it may seem, there are now reports that the second half of this year could be even more intense than the first. Sources are saying there may be a second wave of the virus that is a lot more virulent; the world economy continues to be shaky; and many of our familiar institutions are breaking down. The future is increasingly uncertain, both in the outer world and in most of our personal lives.
More than ever, there seem to be two choices for how we choose to navigate our lives: either with love or with fear. But even if we choose love, how can we do that consistently? How can we stay in 5D consciousness with all the increasing challenges ahead of us, both in the world and in our personal lives?
Creating a 5D Bubble of Light
One way I've found is to create a "5D Bubble of Light" – a unique environment of 5D consciousness of your own making – within which you can live your life. In creating this, you can more consistently feel positive, supported and uplifted, no matter where you go or what you do. And you'll find it's easier to keep in charge of your thoughts and emotions and not be swayed by outer events in the world or the opinions of others about these events.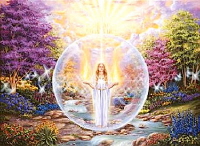 In addition, you will find that, when you're caught off-guard by something that triggers you, this field of high-frequency light will automatically give you a sense of peace and support, even before you tune into it.
You won't have to struggle to remember what you need to do to keep your vibration high or how to respond; the field of light is already there to keep you balanced.
How To Create One

Here are some suggestions for creating a 5D Bubble of Light:
Call in Divine Light: To begin, close your eyes, relax, and call in divine light to fill, surround and protect you. See this light forming an energetic bubble around you, filled with love and joy and peacefulness. Relax as this bubble continues to form. Feel how the light is completely filling and surrounding you, and creating a protective shield around you. Then, to fill it further with a high frequency, call in the energies of archangels, ascended masters, and galactic guides you relate to. Feel the sense of safety within this sphere of light, and the feeling of ease and relaxation it brings.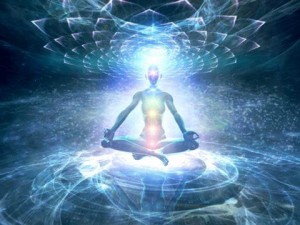 Bring in More High-Vibrational Energies: Now bring into your Bubble a feeling of optimism, trust and gratitude. Add laughter, pleasure, fun, beauty – and any other high-vibration emotions and beliefs that come to you. Maybe strength, balance and confidence. Just saying these kinds of positive, high-frequency words will shift the sensation inside you. Then take time to feel each one deeply.
If you have trouble feeling any of them, take a moment to remember a time in which you did feel it in the past. As you call forth the memory in your mind, you'll see that your body begins remembering the feeling of it. Spend time enjoying the memory and the body sensation, and feel this energy permeating your Bubble. This will give your brain the message to strengthen the neural pathway of that memory and sensation and make them more available to you.
Now add in a feeling of love for yourself. And appreciation, acknowledgment, and gratitude to yourself for how you keep going, doing the best you can, no matter what life throws at you.
Open Your Eyes: When you feel complete in creating this 5D Bubble, open your eyes and be aware of its presence still around and within you. It's a field of energy that can be sensed and almost seen. It's bright, fluid, nurturing, alive. Continue to call more light into it and feel the high-vibrational emotions and thoughts that permeate it.
At some point, stand up and begin to move around and experience how it moves with you. Walk around inside your home, then go outside. Go for a walk, staying aware of it as it continues to stay with you. Play with it, experiment with it. It will probably make you smile.
Continue to Strengthen it: After initially creating it and taking it for a trial run, take some time each day for a while to strengthen it, by paying attention to it when you awaken in the morning, at night before bed, and as often as possible during the day. After a while, you'll see that, when you tune in, it is already there, waiting for your awareness of it.
(Concluded in Part 2, tomorrow.)