Events are happening faster than we can write articles on, so we're switching to a summary format for some articles.
After being redscreened a second time, we're no longer posting live hyperlinks.
Hyperlinks are (in brackets) to prevent them defaulting to a page view.
---
Dr. Rashid Buttar URGENT! Full Disclosure From INSIDE| HR 6666 IS COMING!
Regarding the discussion of 6666, 666 is allegedly "the sign of the beast."
Dr. Buttar's notes: They don't want the truth to be told about the HR666 resolution that is coming within the next few weeks, The full disclosure INSIDE!. Please share before they ban this immediately (Dr. Rashid Buttar will not be silenced).
---
No, the revolution has not started. There's no need for a revolution….
Dr Jeff Barke: "What If Quarantining The Healthy Doesn't Actually Save Lives?"
(https://www.collective-evolution.com/2020/05/08/dr-jeff-barke-what-if-quarantining-the-healthy-doesnt-actually-save-lives/.)
Dr. Jeffrey Barke, a well-respected California family doctor, took to the microphone during a rally in Riverside, CA a few days ago to air some of his common-sense views shared by many in his profession that he says are being silenced by those in power.
---
My name is Dr. Jeff Barke and I'm here representing thousands of physicians across the country whose voices are being silenced because we don't agree with the mainstream media, and the 'experts' who are telling us what to do.
---
As I mention in my previously published article 'Why This 'Pandemic' Is Looking More Like A Social Engineering Experiment,' those in power seem to be enforcing safety and health measures that do not square with the actual data (which itself has been shown to be exaggerated) in order to test out larger and more comprehensive attempts to gain power and enforce compliance of the people.
The Revolution Has Started
Of course, we can take solace in the notion that the quarantine measures that healthy people are being subjected to are probably getting rushed in and forced upon us a bit more quickly than our authority would want, because they are feeling like their time is running out and they have to make this push now while some in the population have not yet awakened to the truth.
However, with the rapid communication afforded by social media to get a message out to the world–this article itself being spawned by a video found on social media–we are past the point when the genie can be put back in the bottle. The revolution that is the awakening of the people of the world to the truth cannot be stopped.
With the help of people like Jeff Barke and many others, we are starting to see the links between health, media, politics, and our inherent rights and freedoms as citizens.
(Read more: https://www.collective-evolution.com/2020/05/08/dr-jeff-barke-what-if-quarantining-the-healthy-doesnt-actually-save-lives/.)
---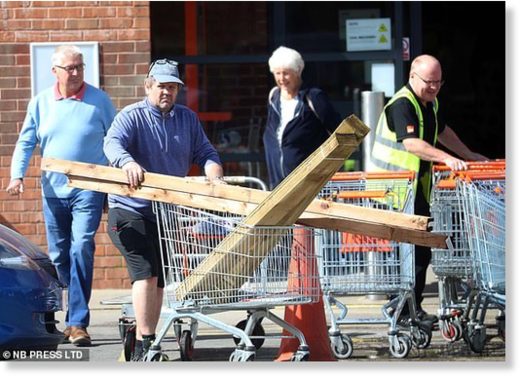 British cops blast lockdown rules that 'make no sense' – 'Why is queuing at B&Q OK, but not BBQs?'
Martin Robinson, Daily Mail, 27 Apr 2020
(https://www.sott.net/article/433438-British-cops-blast-lockdown-rules-that-make-no-sense-Why-is-queuing-at-B-Q-OK-but-not-BBQs.)
Shoppers in York leave a B&Q store which saw a steady flow of people coming in and out
Boris Johnson was today told to 'get a grip' by police chiefs over nonsensical lockdown rules that saw lone sunbathers scolded but hundreds allowed to gather outside B&Qs across Britain this weekend.
With no exit plan in sight, large numbers of Britons went out to shop and enjoy the weather over the weekend amid fears the lockdown appears to be unravelling.
Police were seen speaking to individuals sunbathing alone or with a partner in Greenwich Park, Hyde Park and St James' Park in London yesterday.
Yet B&Q's decision to reopen 130 stores saw massive queues forming outside its outlets in Watford, Edinburgh, Bristol and Swansea, as people used the shutdown to catch up on DIY.
Today Ken Marsh, chair of the Met Police Federation, said: 'You can't have a scenario where police are telling two people in a park not to sit on a bench but 50 yards away there's 300 people, can't put a fag packet between them, queuing to go into a DIY store.
He told TalkRadio : 'If officers are confused about all this then so will the public be.
'Police officers are on the front line of combating the coronavirus crisis. We need clear and unambiguous laws, guidance and communication from the Government around what the public can and can't do. What is essential and what isn't'.
Boris Johnson is back in work today after almost losing his life to coronavirus and there are deafening calls for him to reveal an exit plan to loosen Britain's lockdown.
There were signs that the public's temperance was creaking as beaches in Brighton and Bournemouth as well as parks all over the UK were busier than they had been over the past five weeks.
(Read more: https://www.sott.net/article/433438-British-cops-blast-lockdown-rules-that-make-no-sense-Why-is-queuing-at-B-Q-OK-but-not-BBQs
---
Kroger Buys and Redirects Dairy Farmers' Excess Milk, Sending 50,000 Gallons Per Month to Food Banks
Andy Corbley, Good News Network, May 9, 2020
(https://tinyurl.com/ya3rdufu)
Though it's difficult for food banks to stock this item, nutrient-dense milk is one of the most-often requested items. Now, in these critical times, the Kroger grocery store chain has ramped-up its Dairy Rescue Program, one that takes donated excess raw milk normally sold to restaurants or hotels, which is now going to waste, and pays for the packaging and processing in order to provide a nutritious food source for communities in need.
The effort also helps support dairy farmers struggling to find enough demand for their supply—especially now that schools are closed.
In partnership with its dairy cooperative, with suppliers and farmers across the Midwest and South, Kroger will use its facilities in Texas, Kentucky, Michigan and Ohio to process and donate about 200,000 gallons of additional milk to Feeding America food banks and community organizations through the end of August.
"Kroger recognizes the growing need for fresh, highly nutritious food in our community, especially for children, as schools remain closed to flatten the curve during the pandemic," said Erin Sharp, Kroger's group vice president of manufacturing.
"At a time when dairy farmers have surplus raw milk, we're doubling down on our mission to reduce hunger and waste."
RELATED: Publix Supermarkets Are Buying Food From Struggling Farmers So They Can Use it to Feed Families in Need
Through the expanded program, Kroger's dairy processing plants and suppliers will be donating an additional 50,000 gallons of milk per month to local food banks and community organizations. Feeding America member food banks and other partners will help Kroger to transport the gallons and half-gallons to local hunger relief agencies.
"With so many families struggling with unemployment and food insecurity today, providing access to fresh, nutrient-rich milk has never been more important," said Blake Thompson, chief supply chain officer, Feeding America. "Kroger's Dairy Rescue Program is keeping America's farmers productive, avoiding unnecessary food waste, and helping families in need."
NEW: California Will Start Paying Restaurants To Deliver Food to Seniors in Need
Some dairy farmers are struggling as demand for milk in America gradually decreases, with alternatives like oat, rice, coconut, almond, cashew, and soy milks are taking huge chunks out of the milk market share.
"Kroger's Dairy Rescue Program is an invaluable resource for the dairy industry during this crisis and beyond," said Heather McCann, director of public affairs for Dairy Farmers of America's Mideast Area.
Even though Kroger is a large corporation, personal human relationships between producers, suppliers, and vendors are often very strong, as the logistical operations behind them require a large amount of cooperation and trust. So helping such farmers be productive during changing or challenging times is a win-win-win.
(Read more: https://tinyurl.com/ya3rdufu.)
---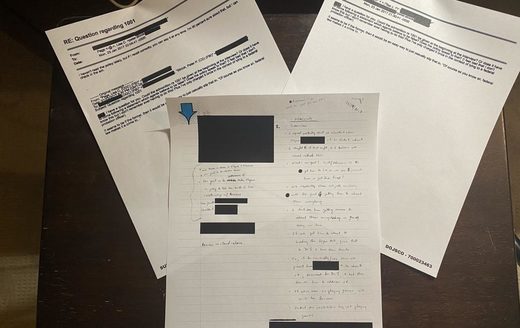 For brevity's sake we give only the 12 revelations. We ask you to go to the site to read the whole article.
12 revelations that destroyed Mueller's case against Flynn
John Solomon, Just the News, 9 May 2020
(https://www.sott.net/article/434207-12-revelations-that-destroyed-Muellers-case-against-Flynn)
Here are the 12 revelations that unraveled the false narrative and Mueller's prosecution of a 33-year military veteran:
1.Flynn's RT visit with Putin wasn't nefarious. In fact, it was cleared by his former employer, the Defense Intelligence Agency, and he received a defensive briefing before he went to Russia and debriefed with U.S. intelligence after he returned.
2. Not a Russian agent. A Justice Department memo exonerated Flynn of Russia collusion on Jan. 30, 2017, nearly a year before he pled guilty. "The FBI did not believe Flynn was acting as an agent of Russia," a DOJ memo states.
3. Case closed memo. FBI agents wrote a memo to close the investigation of Flynn on Jan. 4, 2017, writing they found "no derogatory" evidence that Flynn committed a crime or posed a national security threat. FBI management then ordered the closure to be rescinded and pivoted toward trying lure Flynn into an interview.
4. DOJ heartburn. Senior Justice officials expressed concern and alarm at the way the FBI was treating Flynn, including trying to interview him without the normally required notification to the Trump White House. Former acting Attorney General Sally Yates expressed significant concern that White House officials weren't being advised. "The interview was problematic from Yates' perspective because, as a matter of protocol and courtesy, the White House Counsel's Office should have been notified beforehand," a DOJ memo stated.
5. Logan Act threat wasn't real. DOJ officials immediately did not believe Flynn could realistically be prosecuted under the Logan Act for his conversations with the Russian ambassador Sergey Kislyak. Former Deputy FBI Director Andrew McCabe testified he was told such a prosecution was a "long shot," and former Assistant Attorney General Mary McCord "said that upon learning of Flynn's phone calls with Ambassador
6. Unequal treatment. James Comey bragged in a videotaped interview that he authorized the FBI to try to conduct a Flynn interview without the proper notifications and protocol, hoping to catch Flynn and the new Trump White House off guard. In other words, they didn't follow procedure or treat Flynn like others when it came to due process. Comey said the tactic was "something I probably wouldn't have done or maybe gotten away with in a more organized administration."
7. Disguising a required warning. FBI officials debated whether they could avoid, disguise or slip in the required FBI admonition against lying to agents at the start of Flynn's interview to keep him off guard. "It would be an easy way to just casually slip that in," FBI lawyer Lisa Page texted during the discussions.
8. "Playing games." Then-Assistant Director for Counterintelligence William Priestap wrote in handwritten notes that he feared the bureau was "playing games" with the Flynn interview in an effort to get the national security adviser to lie so "we can prosecute him or get him fired."
9. No deception. The FBI agents who interviewed Flynn, including Peter Strzok, did not believe Flynn intended to lie or be deceptive in his interview. "Strzok provided his view that Flynn appeared truthful during the interview," a memo from Mueller's team stated.
10. No actual denial. The FBI agents who interviewed Flynn indicated in a draft report that Flynn did not directly deny talking to Kislyak about sanctions, as he was accused by Mueller. Instead they noted he couldn't remember, wasn't sure and even conceded it was possible. Here's a direct quote from the draft interview memo. "FLYNN stated it was possible that he talked to KISLYAK on the issue, but if he did, he did not remember doing so." That's a far cry from a direct denial.
11. Interview Reports Edited. According to evidence DOJ disclosed this month, FBI officials subsequently edited the original Flynn interview report. After Strzok and fellow special agent Joe Pientka interviewed the Trump adviser, Pientka wrote the original interview report, known as a 302, then Strzok heavily edited it, so much so that he worried he was "trying not to completely re-write" the memo. Then FBI lawyer Lisa Page, who neither attended the interview nor is an agent, edited it again, according to the DOJ evidence. And then that version of the 302 was never given to the court. Instead, a substitute summary of the interview written months later was presented as official evidence, an act current and former FBI officials told me was extraordinarily unusual
12. Evidence withheld. The biggest, and perhaps most troubling discovery, according to DOJ officials and Flynn's lawyers, was the majority of the above evidence was withheld from the courts and Flynn's legal team for years despite repeated orders that all exculpatory Brady materials, i.e. evidence of innocence, be produced.
(Read more: https://www.sott.net/article/434207-12-revelations-that-destroyed-Muellers-case-against-Flynn.)
---
Elders Around the World in Their 80s, 90s, and 100s Are Bouncing Back From Virus – and Sharing Advice
Good News Network, May 8, 2020
(https://tinyurl.com/yas5r9b6)
People in their golden years have lived through a lot of difficult times. Most remember the six grueling years of World War II, and the rejoicing 75 years ago today when the Nazis surrendered.
People made sacrifices—and weddings were postponed.
Lucille Ellson of Orlando knows a lot of people are in a panic about their weddings, and sees parallels between today and WW II, especially: She was supposed to be married in 1942, but then came the attack on Pearl Harbor and her fiancé enlisted to fight. Their marriage would have to wait.
Maybe living through war and depression strengthens the spirit—because GNN has been logging a lot of reports from around the world about seniors staying strong.
Even with the novel coronavirus, we're seeing survivors in their 80s, 90s, and even in their 100s.
Married couple Guadalupe and José who live in Madrid, Spain, had just celebrated their 65th wedding anniversary a few weeks earlier when they both became ill with the virus. Although they were both 88 years old—and José had had a stroke in 2012—they both survived the infection in the hospital and now are home together again.
In April, the same Red Cross Hospital in Spain discharged six more patients who had recovered from the virus whose ages were between 78-90.
Another notable recent recovery from COVID-19 was Carrie Pollock, age 99. She was admitted to Queen Alexandra Hospital in Portsmouth, UK after experiencing fever and suspected pneumonia. She is now recovered and back at home, sharing glowing reports about the hospital staff. They were inspired by her, as well.
"These are worrying times for many and to see her leaving hospital after recovering from COVID-19 gave the staff a real boost," said Karen Clark, senior sister at Queen Alexandra Hospital.
Rita Reynolds, a grandmother from Liverpool, has also survived at 99, scoring a tie with Carrie Pollock for the oldest British survivor of the virus so far, reports The Mirror.
104-year-old Ada Zanusso of Biella, Italy is also the picture of recovery. Ada had developed a fever and shortness of breath, and later was diagnosed positive with the virus. The centenarian has recovered well, with no loss of her lucidity and intelligence, according to her doctor.
But the clear winner in any contest to become the oldest survivor of this virus is Cornelia Ras. The Dutch woman who lives in a residential care facility in Sommelsdijk, celebrated her 107th birthday on March 17th with a few visitors and staff members (and greetings from the mayor). The following day, she was not feeling well and had a slight fever, but didn't think she had the virus until her positive diagnosis was discovered. Despite being disappointed that she can't have visitors, Cornelia has bounced right back and is "perfectly healthy."
WATCH: 15-yo Expert Teaches Karate Moves to Seniors – and the Results Are Pure Gold
When asked what advice she had for modern-day people stuck in self-isolation, Mrs. Ellson, who had to cancel her wedding that fateful year, told the Washington Post, "To cope with this virus, and all that's going on, I would tell people to not get stressed about planning far ahead. You can't do it."
"A long time ago, I started making a list every morning of what I had to do that day. It was the only thing I could control, and I stuck to it."
(With contributions from Jennifer Zolper)