A roundup of articles on the status of the Coronavirus and ways we can help….
---
HUGE! MN Senator and Dr. Reveals HHS Document Coached Him on How to Overcount COVID-19 Cases — WITH COPY OF DOCUMENT (VIDEO)
Cristina Laila, Gateway Pundit, April 8, 2020
https://www.thegatewaypundit.com/2020/04/huge-mn-senator-dr-reveals-hhs-document-coaching-overcount-covid-19-cases-copy-document-video/
Dr. Scott Jensen, a Minnesota physician and Republican state senator said he received a 7-page document coaching him to fill out death certificates with a COVID-19 diagnosis without a lab test to confirm the patient actually had the virus.
"Last Friday I received a 7-page document that told me if I had an 86-year-old patient that had pneumonia but was never tested for COVID-19 but some time after she came down with pneumonia we learned that she had been exposed to her son who had no symptoms but later on was identified with COVID-19, then it would be appropriate to diagnose on the death certificate COVID-19," Dr. Scott Jensen said.Dr. Jensen explained that this is not a normal procedure.Dr.. Jensen said for example if the same patient had pneumonia during flu season and he didn't have a test confirming the patient also had influenza, he would never diagnose the patient with influenza on the death certificate.

TRENDING: China Billionaire Undermines US Food Supply – Shuts Down Pork Plants in Multiple States – But Beef Packers Not Affected for Some Strange Reason?

WATCH:
SHOCKING: MN Sen & Dr. @drscottjensen said that he received a 7 pg doc from @mnhealth to fill out death certificates with a diagnosis of #COVID-19 whether the person actually died from COVID-19 or not.

Why is #MN inflating COVID-19 death numbers? pic.twitter.com/llvHDoIMGH
— Chris Berg (@chrisbergPOVNOW) April 8, 2020
The Gateway Pundit has a copy of the HHS letter sent out to doctors across the country on counting COVID-19 victims.
The document is here.
US HHS Document to Doctors … by Jim Hoft on Scribd
As TGP reported over the weekend, the amount of Americans who are reported to have died from the Coronavirus is based on a CDC coding system that will "result in COVID-19 being the underlying cause more often than not."
Dr. Birx confirmed this on Tuesday during a COVID-19 task force briefing.
A new ICD code was established to keep track of Coronavirus deaths.
The U07.1 code will be used for death by Coronavirus infection.
However, there's another secondary code, U07.2, "for clinical or epidemiological diagnosis of COVID-19 where a laboratory confirmation is inconclusive or not available," the CDC guidelines read.
"The underlying cause depends upon what and where conditions are reported on the death certificate. However, the rules for coding and selection of the underlying cause of death are expected to result in COVID- 19 being the underlying cause more often than not," the guidelines read.
Dr. Birx on Tuesday told a reporter during a Coronavirus task force briefing, "We've taken a very liberal approach to mortality."
"Can you talk about your concerns about deaths being misreported by Coronavirus because of either testing or standards for how they are characterized?" the reporter asked Birx.
"If someone dies with COVID-19, we are counting that as a COVID-19 death," Birx said.
There is a big difference between dying with the virus and from the virus.
---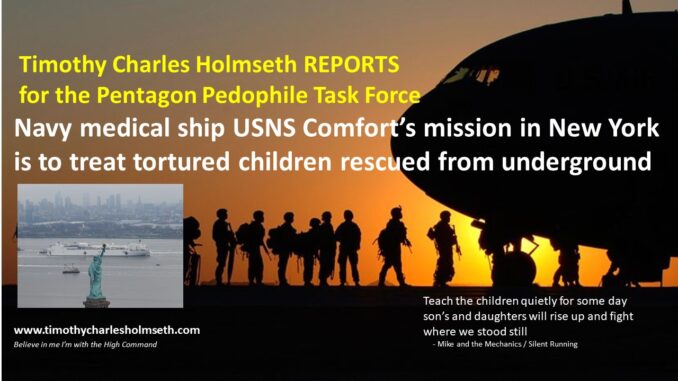 Navy medical ship USNS Comfort's mission in New York is to treat tortured children rescued from underground
The U.S. Navy medical ship USNS Comfort arrived in New York on March 30, 2020.
"Like its sister ship, the USNS Mercy, the Comfort will not be treating any coronavirus-positive patients," Business insider reported.
According to my high-level intel source, the reason the USNS Comfort was sent to New York was to treat tortured and abused children that were rescued from tunnels underneath New York.
---
RESCUE MISSION/CENTRAL PARK,children in tunnels?
April 2, 2020
---
China's Massive Amount of Immunotoxic 5G Networking and the Wuhan Coronavirus: The Emperor's New Virus. Could there be a link between the Coronavirus and 5G?
Researcher and building biologist Paul Doyon has just spent the last 18 months in China. He's written a brilliant article laying out the evidence. And how you can protect yourself.

Gary G. Kohls, MD and Paul Doyon, Duluth Reader, Mar. 12th, 2020
Could there be a link between the Coronavirus and 5G? Researcher and building biologist Paul Doyon has just spent the last 18 months in China. He's written a brilliant article laying out the evidence. And how you can protect yourself—an EMF based protection strategy.
Warning: this is a heavy science-based article with nearly 100 references to studies—neither Paul or myself want to be accused of fear-mongering.
My heart goes out to China and to all its people who have suffered so much due to this new "novel" Wuhan coronavirus outbreak (COVID-19).
However, as someone who had become very sick and had his immune system break down and was sick for six months looking for answers before even suspecting that living in close vicinity to several cell phone towers was actually what was causing the problem and making him sick, I feel I cannot in good conscience remain silent, and I strongly suspect that China and the rest of the world are looking under the wrong stone for what is actually the problem here.
At the moment, with 10,000 recently installed 5G antennas plastering its city, Wuhan is probably one of the most 5G-electro-polluted cities on the planet.
Electrosmog Warnings from Scientists for Over 40 Years
Respected scientists, researchers, doctors, and activists have been — for over forty years — warning us about the dangers of wireless radiation and electromagnetic fields. In 1977, the reporter Paul Brodeur published a book called The Zapping of America; in 1985, the late Dr. Robert O. Becker (twice nominated for the Nobel Prize in Medicine for his work on cellular dedifferentiation and re-differentiation in the healing process) wrote The Body Electric, and later published Cross Currents: The Perils of Electropollution, The Promise of Electromedicine in 1990; in 1995 (and again later in 2007), B. Blake Levitt, author and researcher, published Electromagnetic Fields: A Consumer's Guide to the Issues and How to Protect Ourselves. Since then there have been a slew of other books and documentary movies put out on the subject. And the list goes on and on.
Dr. Leif Stafford, Swedish neuro-oncologist, has called this wireless rollout "the largest biological experiment ever." 1
And Dr. Robert O. Becker wrote in 1985:
"The dangers of electropollution are real and well documented. It changes, often pathologically, every biological system [emphasis added]. What we don`t know is exactly how serious these changes are, for how many people. The longer we as a society, put off a search for that knowledge, the greater the damage is likely to be and the harder it will be to correct. (p. 304) 2
And finally, Dr. Martin Pall, PhD, and Professor Emeritus of Biochemistry and Basic Medical Sciences at Washington State University has stated recently that
"Putting in tens of millions of 5G antennae without a single biological test of safety has got to be about the stupidest idea anyone has had in the history of the world." 3
At least 10,000 5G Antennas Installed in Wuhan Alone
What has not been apparent in the news reports is the fact that China in its rush to take the lead in the 5G race, had by the end of 2019 (and mostly within the last several months leading up to the COVID-19 outbreak) installed 130,000 5G antennas throughout the country, 31 with at least 10,000 antennas installed in Wuhan alone. 32 (As a comparison, the USA only has approximately 10,000 5G antennas presently installed throughout the whole country.)
"Wuhan City, the capital of Hubei, is expected to have 10,000 5G base stations by the end of 2019…" 32
"According to previous reports, the three operators were expecting to operate nearly 130,000 5G base stations by the end of 2019."
Wuhan: One of the Initial Cities Trialing 5G
In fact, Wuhan was one of the initial 16 cities selected to trial 5G back in 2018.
China Unicom will begin testing 5G network in 16 cities including Beijing, Tianjin, Qingdao, Hangzhou, Nanjing, Wuhan, Guiyang, Chengdu, Shenzhen, Fuzhou, Zhengzhou, and Shenyang.
China Mobile will conduct external field test and set up more than a hundred 5G base stations in each of the following five cities: Hangzhou, Shanghai, Guangzhou, Suzhou, and Wuhan. 34
From the article, "Wuhan 5G Industry Development: Five-Chain Coordination, Three-Wheel Drive," (武汉5G产业发展:五链统筹 三轮驱动), 35 (written in Chinese) published October 11th, 2019, it becomes clear that Wuhan was in a race with other Chinese cities to position itself at the forefront of 5G technology, and with approximately 10,000 5G antennas, is probably one of — if not the most — 5G-radiated city in China:
At present, Wuhan is seizing major developmental opportunities in 5G commercialization, with the construction of a national first-class 5G network as a guide, with the development of a national first-class 5G industry as the main body….
…Wuhan City has fully implemented the "Wuhan 5G Base Station Planning and Construction Implementation Plan," with an extraordinary policy effort, to guide and support basic telecommunications companies and China Tower Corporation to accelerate the construction of 5G networks. This year and next, Wuhan will build more than 20,000 5G base stations, form a 5G basic network with leading scale, first-class quality, and strong demonstration to ensure full coverage of the 5G network in the city and be at the leading level among similar cities in the country. 35
Finally, it was stated in an article titled "5G network coming to Wuhan," (April 16, 2018), that "3,000 macro base stations and 27,000 micro base stations" would soon be constructed, and that by 2020, the "5G network will cover every corner of the city and be available at an affordable price." 36 This means that there may in fact be a lot more than just 10,000 antennas in Wuhan, though 10,000 alone would make Wuhan one of the most 5G concentrated cities in the world.
5G Systems Deployed in Hospitals
What is also concerning here is that China has, since about November of 2019, been installing 5G systems in its hospitals.
"Key Chinese hospitals, leading telecom carriers and Huawei Wednesday launched a project to establish standards for 5G-based networks in hospitals." 37
"China released a pioneering standard for its 5G hospital networks, following a joint drafting and verification process between the medical and telecommunication industries." 38
5G Systems Installed at Wuhan Coronavirus Hospitals
And to seemingly add insult to injury here, Huawei was very quick to install 5G systems in the new coronavirus hospitals — Wuhan Volcan Mountain Hospital and Thunder Mountain Hospital — the two hospitals known for only being built in just over a week. 41 42
The two articles cited here are ironically titled, (1) "Huawei installs 5G in China Hospital to fight Coronavirus," and (2) "Huawei builds 5G in Wuhan Hospital, aims to indirectly fight the Coronavirus" as this might very well be the complete opposite of what they are indeed intending to do here. There is also an interesting video on YouTube entitled "Chinese hospitals deploy robots to help medical staff fight coronavirus outbreak," 43 demonstrating this in action.
Chinese Telecoms Started Offering 5G Commercially in Nov, 2019
The Chinese telecom companies started to offer commercial 5G services to its customers on the first of November last year.
China's three major wireless carriers— China Mobile, China Unicom , and China Telecom —will begin selling 5G services to consumers on Friday, November 1st in 50 major cities, including Beijing and Shanghai, said Chen Zhaoxiong, vice minister of the Ministry of Industry and Information Technology on Thursday October 31st at a Beijing conference….
The Chinese government has made building 5G a national priority, clearing red tape and reducing costs so the three wireless providers introduce the new technology as swiftly as possible.
"They've made this a national priority. It's part of the [Communist] Party's ability to show that it's delivering the goods," said Paul Triolo, head of geo-technology at the Eurasia Group consultancy. "And in the middle of the trade dispute and the actions against Huawei, it's even more important for China to show that they are continuing to move forward despite all these challenges," he added….
China's central government wants 5G coverage extended to cover all of Beijing, Shanghai, Hangzhou and Guangzhou by the end of the year. The country's largest carrier, China Mobile, which has 900 million cellphone subscribers, says it will be able to offer 5G services in more than 50 cities this year….
Approximately 13,000 5G base stations have been installed in Beijing, the communications administration said this week. About 10,000 are already operating. China already has a total of more than 80,000 5G macro base stations, typically cellular towers with antennas and other hardware that beam wireless signals over wide areas, government officials said. See this article on 5G towers.
They said China will end the year with about 130,000, while Bernstein Research estimates South Korea will be in second place with 75,000, followed by the U.S. with 10,000. Piper Jaffray estimated that of the 600,000 5G base stations expected to be rolled out worldwide next year, half will be in China. 31
This basically means that China had suddenly turned on the 5G switch, just less than two months before the COVID-19 outbreak, suddenly blanketing many cities with this 5G wireless radiation. And as of this writing, South Korea's numbers of COVID-19 cases are also starting to skyrocket.
As we can see from the above article, South Korea has the second highest number of 5G antennas with 75,000. That is a lot for a country its size. Is there a connection? I think there is with at present (Feb. 29, 2020) also the highest number of coronavirus cases (3150) and one of the highest number of death rates (17) outside of China.
Electromagnetic Fields (EMFs) and the Immune System
Wireless radiation from 1G to 5G have all emitted modulated "Radiofrequency (RF) electromagnetic fields (EMFs)" and there are literally thousands of studies showing biological effects from exposures to man-made electromagnetic waves, and out of these, hundreds showing biological effects on the immune system.
To give just one example, research by Kolomytseva, et al. (2002) described in the paper, "Suppression of nonspecific resistance of the body under the effect of extremely high frequency electromagnetic radiation of low intensity," 61 found that with whole-body exposure of healthy mice to low-intensity extremely-high-frequency electromagnetic radiation (EHF EMR, 42.0 GHz, 0.15 mW/cm2, 20 min daily)… phagocytic activity of peripheral blood neutrophils was suppressed by about 50% (p < 0.01 as compared with the sham-exposed control) in 2-3 h after the single exposure to EHF EMR…and that this…effect persisted for 1 day after the exposure, and then the phagocytic activity of neutrophils returned to the norm within 3 days.
And furthermore, a significant modification of the leukocyte blood profile in mice exposed to EHF EMR for 5 days was observed after the cessation of exposures: the number of leukocytes increased by 44% (p < 0.05 as compared with sham-exposed animals), mostly due to an increase in the lymphocyte content.
They concluded that, the results indicated that the whole-body exposure of healthy mice to low-intensity EHF EMR has a profound effect on the indices of nonspecific immunity.
In a paper 62 (written by myself along with Prof. Olle Johansson of the Karolinska Institute) — which I believe offers the most solid hypothesis to date on the main mechanisms by which EMFs do in fact disable the immune system —a number of these related to immune system effects can be found listed in the citations.
Johansson (2012) further details, in Section 8 of the BioInitiative, "Evidence for EMF Effects on the Immune System," 63 numerous studies demonstrating those effects, especially with regards to how radiofrequency EMFs alter the immune system.
In the previously mentioned Aljazeera article,18 it is stated that a study published in the medical journal, The Lancet, on January 24th, found what it called a "cytokine storm" in infected patients who were severely ill. The condition is a severe immune reaction in which the body produces immune cells and proteins that can destroy other organs.
Hence, it should be noted here that there are, in fact, numerous research studies showing an EMF effect on cytokines: A PubMed search, for example, produced 119 search results. 64
Back in 1998, a biologist named Roger Coghill conducted an experiment where he "took white blood cells, known as lymphocytes, from a donor," and kept them alive via the use of nutrients while exposing them to either cell phone radiation or the natural electromagnetic field of the human body. ent the last 18 months in China.
(Read more….)