A roundup of articles on the status of the Coronavirus and ways we can help….
---
Women are using code words at pharmacies to escape domestic violence during lockdown
By Ivana Kottasová and Valentina Di Donato, CNN, April 2, 2020
https://edition.cnn.com/2020/04/02/europe/domestic-violence-coronavirus-lockdown-intl/index.html
blockquo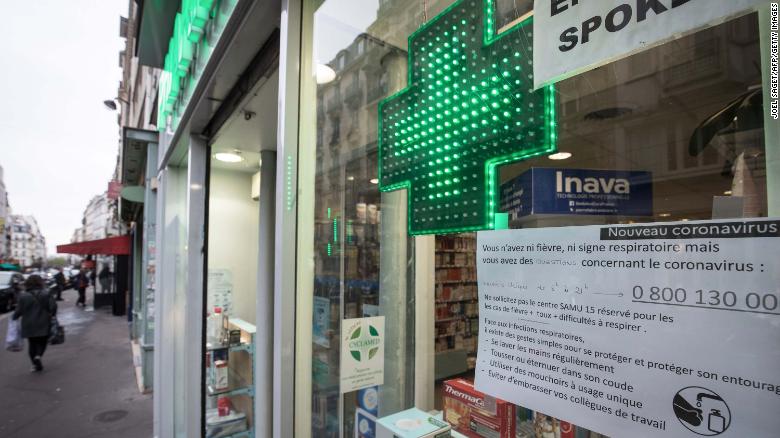 (CNN)On Sunday, a woman walked into a pharmacy in the French city of Nancy, one of the few public places still open after the government imposed a nationwide lockdown to prevent the spread of a dangerous virus.
But the woman wasn't there for medicine; she was there to tell the pharmacist that her partner had abused her. Soon after, the woman's spouse was arrested by police.
As the coronavirus pandemic forces countries everywhere to take unprecedented steps to restrict the movement of their citizens, victims of domestic violence have suddenly found themselves trapped at home with their abusive partners. Some are unable — or too afraid — to call the police, experts say.
So France, inspired by a similar scheme in Spain, has started telling victims to head to drugstores. If they can't talk openly in the store, they can simply say the codeword "mask 19" to the pharmacist behind the counter. The woman in Nancy was the first to seek help since the government launched the initiative last week, the spokesperson for Marlene Schiappa, the French minister for equality, told CNN.
As lockdown measures across Europe get stricter, charities and police forces are raising the alarm over a potential spike in domestic violence. Being confined at home with their abuser makes victims more vulnerable, because there is no escape. On top of that, multiple studies have found that emotionally stressful events can lead to an increase in aggressive behavior at home. Researchers identified such spikes during the 2008 economic crisis, when major natural disasters hit, and also during big football tournaments.
Christophe Castaner, the French Interior Minister, said there had been a 36% increase in police intervention for cases of domestic violence in Paris after the lockdown measures were enacted. The government has announced that it will pay for 20,000 nights in hotel rooms for victims of domestic violence and open pop-up counseling centers at supermarkets.
There are worrying reports from other countries, too.
"There has always been gender violence, but this crisis makes it all worse," Simona Ammerata, who works at the Lucha y Siesta women's shelter in Rome, Italy told CNN.
One young woman who contacted Lucha y Siesta recently said her partner of four years had always been controlling and abusive but had become much worse during the lockdown. "The dynamic of violence in the house is getting very serious," said Ammerata. "She asked him to leave and he doesn't want to. She says she has no places to go."
The public health crisis has overwhelmed Italy and local authorities have been forced to redirect much of their resources to fighting the virus. "The court procedures are working slower than usual because most people are working from home," Ammerata added. "The fear is that the legal decrees to protect women won't be put in place in time."
---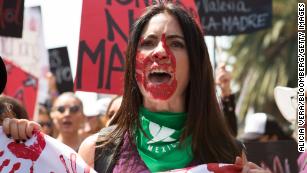 Mexico imagines a world without women, in strike against gender violence
---
And the problem isn't limited to Europe. In Australia, the government said that Google has registered the most searches for domestic violence help in the past five years during the outbreak, with an increase of 75%. The government has introduced an AUD $150 million ($92 million) package to support victims of domestic, family and sexual violence due to the fallout from coronavirus.
Refuge, a leading British charity focused on fighting domestic violence, said one of the biggest concerns is that victims may find themselves unable to report their ordeal.
"We know that ordinarily the window of opportunity for women with abusive partners to make a call and seek help is often very limited," said Sandra Horley, Refuge's chief executive. "Now, it is likely that window has become even smaller," she added. Refuge is advising women to use the "Silent Solution" emergency call, which allows people to reach the police using touch phone without the need to speak. It has also put in place a chatbot.
---
We know the #lockdown will be an incredibly scary time if you're living with an abusive partner. Our chat bot can empower you so that, when you do leave the house, you're only sharing your location with those you want to.
Click on the pink icon to start: https://t.co/MZZhTmbWV1 pic.twitter.com/cfjeGPVWlw
— Refuge (@RefugeCharity) March 27, 2020
---
The Telefono Rosa domestic violence helpline in Italy said it received 55% fewer calls in the first two weeks of March because many women found it difficult to ask for help during the lockdown. It said many women are "whispering to avoid being heard by their partner in the room next-door."
---
Delphine Beauvais, the director of a women's shelter network Rosa in the north of France, told CNN the organization is experiencing a similar drop in calls: "We believe this could be due to women's inability to reach out to us as a consequence of confinement."
Ammerata has had a similar experience. Victims have been reaching out during their brief trips to supermarkets or sending messages while taking showers. She said the strict rules are making it difficult for vulnerable women to escape their abusive relationships.
"In a normal situation, leaving the house and the abuser is already hard," she said. "Today, this has quadrupled, because you can't go to your friends or family because the government decree says you can't go … leaving now is very, very hard. Harder than ever."
CNN's Pierre-Eliott Buet, Fanny Bobille, Stephanie Halasz and Samantha Beech contributed reporting.
---
India's Coronavirus Lockdown:
Prime Minister Narendra Modi announced a total lockdown of the country of 1.3 billion people to contain the COVID-19 pandemic.
U.S. News Staff, March 30, 2020
https://www.usnews.com/news/best-countries/photos/2020/03/30/photos-indias-coronavirus-lockdown?src=usn_thereport
March 28, 2020 | New Delhi | Migrant workers sit atop a bus, provided by the government, as others walk along an expressway.
Authorities sent a fleet of buses to the outskirts of India's capital to meet an exodus of migrant workers desperately trying to reach their home villages during the world's largest coronavirus lockdown.
With rail and bus services shut down, the lockdown has left tens of thousands of out-of-work migrant workers stranded, and millions of Indians who live off daily earnings out of work.
Indian Prime Minister Narendra Modi apologized to the public for imposing a three-week national lockdown, calling it harsh but "needed to win" the battle against the coronavirus pandemic. (Altaf Qadri/AP)
March 28, 2020 | Gauhati, India | Workers arrange beds to prepare a quarantine center at the Sarusojai Sports Complex.
(Read more….)
---
Tavern Owner Sets Up Virtual Pub for Town Patrons—But Welcomes More Than 14,500 Global Customers
Good News Network, Mar 30, 2020
This ex-landlady who set up a virtual pub to keep people entertained during the novel coronavirus lockdowns has been forced to employ bar staffers as a means of coping with her 14,500 online customers.
Since 40-year-old Jo Bowtell launched The Virtual Pub Facebook page just over a week ago, she has been regularly hosting live music, quizzes, DJ sets, open mic, and comedy nights.
She started the page in order to bring her local English community together after running The Noel Arms in Melton Mowbray, Leicestershire for several years.
WATCH: Love in the Time of Corona—NYC Man is Now Dating His Neighbor After He Creatively Woos Her in Quarantine
However, the group has become so popular, it has attracted members from as far away as Australia, the USA, Canada, Spain, and Italy.
The flood of visitors has forced the mum-of-two to enlist the help of international staff members to keep her customers entertained when she goes to bed.
She currently has a team of ten made up of "bar staffers," who talk to customers, and "bouncers", who moderate the people allowed into the pub.
The Noel Arms in Melton Mowbray — SWNS
---
Doctor Left Crying After Officer Pulls Her Over For Speeding But Gives Her Face Masks Instead of a Ticket
McKinley Corbley, Good News Network, Apr 1, 2020
When a Minnesota state trooper pulled over Dr. Sarosh Ashraf Janjua for driving above the speed limit in her car last week, she assumed she was going to be ticketed for the offense.
Upon handing the policeman her Massachusetts driver's license, Janjua explained how she flies out to Minnesota from Boston once a month in order to do cardiology work at the local hospitals.
"He went back to his patrol car to look up my license, and when he returned, quite firmly told me it was very irresponsible of me to be speeding, especially since I would not only take up resources if I got into an accident, but would also not be in a position to help patients," 37-year-old Janjua later recounted on Facebook.
"Feeling thoroughly chastised, I waited for him to write me a ticket. Instead, he told me he was going to let me off with a warning. As I sputtered to apologize and say thank you, he reached in to hand me what I assumed was my license back."
RELATED: 'Unbelievable Act of Kindness': Customer Left $2,500 Tip for Restaurant Staffers Before They Closed Up Shop
To her surprise, the officer handed her five new N95 masks from his own personal state-supplied stash.
"I burst into tears. And though it may just have been the cold wind, I think he teared up a little as well, before wishing me well and walking away," she continued. "Like all healthcare workers and emergency responders around the world, I have felt afraid of not having adequate protective equipment, and in my darkest moments, have worried about what would happen if I fell sick far from home.
"This complete stranger, who owed me nothing and is more on the front lines than I am, shared his precious masks with me, without my even asking," she added. "The veil of civilization may be thin, but … we are going to be ok."
MORE: Restaurant Flooded With Business After Launching an 'Adopt a Doc or Nurse' Catering Service
The state trooper, who was later identified as Brian J. Schwartz, says that he was simply hoping to support a hardworking healthcare professional combatting the novel coronavirus outbreaks in Duluth.
"Thank you to Sarosh for her hard work and dedication," wrote the state trooper's Facebook page. "Troopers are working hard during the pandemic and are thinking about all the first responders who are caring for Minnesotans during this critical time."
telef
---
A note of caution to readers using Zoom to communicate during the pandemic.
'Zoom-bombing' attacks on video conferencing platform leave victims shaken
Zulekha Nathoo,  MSN, April 3, 2020
https://www.msn.com/en-ca/news/canada/zoom-bombing-attacks-on-video-conferencing-platform-leave-victims-shaken/ar-BB1277tU?ocid=spartandhp
Zoom has emerged as an indispensable video conferencing tool for remote work and study as millions of people are forced to stay home during the COVID-19 pandemic. But a growing number of so-called Zoom-bombing incidents is prompting warnings from the FBI and from the victims themselves.
People participating in meetings and lessons via video conference platforms like Zoom can find their screens hijacked by malicious actors who can put words and images on the screen and in the chat box or create havoc with the audio.
Dennis Johnson said he was in the middle of a video conference defending his doctoral dissertation — about the struggles of African Americans in California's education system — when he started seeing profanity appear on the screen.
"I'm talking about … students of colour, specifically black students," said Johnson, 28, in a Skype interview from Long Beach, Calif. " As I'm talking about this, I see a circle on my screen … then another circle and then I see another shape. It's a p****."
Then he saw letters spelling out the N-word.
Johnson says he froze. Seconds later, pornographic images began appearing all over the shared screen. Eventually, someone on the call was able to remove the uninvited culprit from the group.
He is the first college graduate in his family, so his mother and 68-year-old grandmother were watching the presentation along with his professors. He says even after he regained his composure and was told he had passed, feelings of sadness replaced what should have been pride.
"I spent three years working on this paper, you know, working on this research," he said. "This moment was taken away from me in front of my family, in front of my friends. I was disrespected on a level that I could never imagine."
Zoom-bombing is becoming more frequent in Canada, as well, with unidentified visitors entering private online meetings and classrooms to spew racial and sexist slurs.
Russ Klein, the head of a Jewish high school in Vancouver, told CBC News that a community gathering the school was hosting on Zoom on Tuesday was infiltrated.
Earlier this week, a 250-guest virtual town hall held by Toronto's YWCA to discuss the impact of COVID-19 on women was Zoom-bombed as well.
"They started shouting racial epithets, they shouted the N-word," said YWCA Canada CEO, Maya Roy. "Two YWCA employees were sexually harassed. Comments were made about them in the chat function."
FBI issues warning, tips
The number of incidents, known among security experts as "video teleconferencing (VTC) hijacking," has been alarming enough that it prompted a warning from the FBI earlier this week.
"The best mitigation strategy at this point is just to let a lot of the users know that this is going on, because they're going to be the ones that are able to protect themselves best," Boston-based FBI special agent Doug Domin, who primarily works on cyber cases, told CBC News.
The agency also released a tip sheet that included the following:
Keep VTC meetings private by issuing users a password or employing the "waiting room" function, which requires the host to invite each guest individually.
Don't share invitation links on social media.
Keep software updated to stay on top of any security patches provided by VTC companies.
(Read More….)
---