A roundup of articles on the status of the Coronavirus and ways we can help….
There are so many stories coming out now, we'll need to post several roundups throughout the day….
---
"Biggest Lockdown in World History": India Paralyzed as COVID-19 Crisis Unfolds
https://stillnessinthestorm.com/2020/03/biggest-lockdown-in-world-history-india-paralyzed-as-covid-19-crisis-unfolds/
(Zero Hedge)
Indian stocks crashed on Monday, suffering their worst single-day loss on record, as domestic and foreign investors were absolutely terrified that a 
nationwide lockdown
triggered by a COVID-19 outbreak could crash the economy.
The NIFTY 50 is the flagship index on the National Stock Exchange of India, plummeted 12.98% to a near four-year low of 7,610.25 on Monday.
The Indian rupee hit a record low of over 76 against the dollar and puts pressure on the Narendra Modi government and the Reserve Bank of India (RBI) to ramp up emergency response efforts to protect a crashing currency and economy.
Modi's "Make-in-India" program, an attempt to revive the economy and diversify its manufacturing sector away from automobiles to bolster its aerospace and defense sectors, has miserably failed.
Book Eat Dirt: Why Leaky Gut May Be the Root Cause of Your Health Problems and 5 Surprising Steps to Cure It
The economy has come to a screeching halt as residents in 75 districts across the country, including in major cities, such as the capital New Delhi, Mumbai, and Bangalore have been forced into mandatory quarantine by the government until March 31.
India is the second-largest country in the world, and has reported only 467 cases and ten deaths.
The lack of test kits has made it virtually impossible for the Ministry of Health and Family Welfare to detect community spreading of the virus. As test kits come online, India could be staring at a pandemic.
Actions by the government already suggest the virus crisis is getting worse. In the last day, India launched the world's most extensive social distancing lockdown of 1.3 billion people to flatten the pandemic curve to slow down the infection rate.
Nearly a billion Indians stayed indoors on Sunday.

India's 14-hour #coronavirus lockdown — in pictures https://t.co/j6MuwLiw3i pic.twitter.com/q2xVzvP5wH

— Al Jazeera English (@AJEnglish) March 22, 2020
Flight bans and the cancellation of all passenger trains in the country is another attempt to limit the spread. The country's hospital system is poorly equipped and doesn't have enough hospital beds and ICU-level treatments to handle a massive influx of virus patients.
"This is the biggest lockdown in world history," said Raghu Raman, a former soldier with the Indian Army and founder of the National Intelligence Grid, an umbrella database aimed at countering terrorism.

"This strategic pause gives decision-makers more time to arrest the exponential spread of the virus and evaluate tradeoffs."
Watch Forks Over Knives Documentary
Foreign investors aren't sticking around to see if the virus crisis will abate in the near term – they're currently dumping Indian assets at an unprecedented pace.
Oxford Economics estimates India's January-April growth forecast to be around 3%, a level not seen since the global financial crisis.
Bloomberg Economics says that the Indian government needs to spend at least 1% of GDP, or about $30 billion, to respond to the virus outbreak.
India's manufacturing hubs have ground to a halt as companies have been forced to shutter operations for virus containment purposes. Maruti Suzuki India Ltd., Tata Motors Ltd., Toyota Kirloskar Motor, Hero MotoCorp., Samsung Electronics Co. and LG Electronics Inc., Mahindra Group, TVS Motor Co., Kia Motors Corp., Renault Nissan Automotive India Private Ltd., and Yamaha Motor India are some of the large multinationals that have recently suspended operations.
The government's principal economic adviser Sanjeev Sanyal warned that "waves of default" of corporate debt could be imminent. There's a record 5.9 trillion rupees of corporate debt maturing this year.
Finance Minister Nirmala Sitharaman said last week that the government would announce a relief package for companies in the near term. The RBI is expected to slash interest rates and inject 1 trillion rupees into the economy on April 3.
We noted back in December that India's economy was "in a very deep crisis," which was a month before the world figured out about a virus outbreak in Wuhan, China. 
It was only earlier this month that India organized a rescue plan for the nation's fourth-largest private bank as a long-running crisis among shadow lenders threatened to spill over into the banking system.
With a nationwide lockdown underway, India's economy could be on the brink of a significant downturn that would be absolutely devastating for the Modi government.
Dr. Sebi: A society that keeps cures a secret so they can continue to sell medication for huge profits is not a real society but a huge mental asylum.
---
Coronavirus: Tory MP urges Government to adopt universal basic income to support self employed
The Government has taken steps to prevent economic activity sliding during the pandemic, but has done little for the self employed
By Albert Evans, Inews, 24th March 2020
https://inews.co.uk/news/health/coronavirus-tory-mp-universal-basic-income-self-employed-2516697
MPs, including those on the Tory backbenches, have called on the Government to adopt a universal basic income to support the near five million self-employed workers in the UK that have not yet received financial assistance to deal with the fallout from Covid-19.
The Government has taken a number of steps to try and prevent economic activity sliding due to the spread of the virus, including changes to sick pay and benefits, and guaranteeing 80 percent of the salaries for workers who are kept on by companies that would have otherwise let them go.
The idea of a universal basic income has been promoted by some economists, doing away with the costs of administering various means-tested benefits and buffering workers against the rise of automation that threatens many jobs.
'A system which is humane, rapid and above all, simple'
Sir Edward Leigh said that the scheme could be effective in supporting self employed workers. (Photo: Parliament TV)
One Tory backer of universal basic income recalled receiving an "earful" from Margaret Thatcher after suggesting the idea to her.
Former trade minister Sir Edward Leigh urged the Treasury to adopt the system to help self-employed workers during the coronavirus outbreak.
He was among several MPs, including Tories, pressing for immediate action to assist the self-employed.
Sir Edward, MP for Gainsborough, told the Commons: "May I make a point from a public accounts point of view and urge on the Chief Secretary a system which is humane, rapid and above all, simple.
"The Treasury traditionally and the Department for Work and Pensions are obsessed with complexity, targeting and clawback, so what we need is a simple system.
"About 40 years ago I suggested universal basic income to Mrs Thatcher and got an earful for it for my pains.
"But something like that, which is very simply rolled out, which can be claimed by the taxi drivers, the cleaners, these sort of people. Rich people will not bother with this.
"So just get on with it, make it simple and do it now."
'The devil is in the detail of its delivery'
Steve Barclay said the 'devil is in the detail' (Photo: Parliament TV)
Treasury minister Steve Barclay, in his reply, said: "He (Sir Edward) will know that many policy ideas start with the simple, but the devil is in the detail of its delivery."
Mr Barclay added: "What's worth bearing in mind is if one looks, for example, at the central population there will be some – again a small number – who may be doing quite well in the current climate.
"Not what we're focusing on now, but there'll be some people whose trading will have gone up, a very small proportion, but many, many others who are suffering.
"The question we're seeking to address is: how do we target our measures at those who are most deserving?"
SNP employment spokesman Chris Stephens joked Sir Edward could be the "red Ed" in the Commons, given his remarks.
Labour's Bambos Charalambous, MP for Enfield Southgate, said: "Surely it's better to have a system where one wealthy freelancer benefits, and 100 don't go hungry?"
Earlier, Conservative Sir Graham Brady, MP for Altrincham and Sale West, said he recognised the complexity of the problem, but asked for "some indication" of how quickly an interim solution would be in place for those who are "desperate for help and desperate for clarity".
Mr Barclay said there will be "some solution" for some of those affected via the economic measures already announced by the Government, adding that work is ongoing on the wider issues.
Earlier in the Commons chancellor Rishi Sunak had told MPs that he is "not in favour of a universal basic income, although have strengthened the safety net for the most vulnerable in our society with over £7bn invested into improving our welfare system for this year, including improvements to Universal Credit, Employment Support Allowance, and indeed the Local Housing Allowance".
"Those payments are all available much quicker, much easier and more generously than they were before and I know that will make an enormous difference to many vulnerable people."
The Chancellor said that while he is "determined to support" the self-employed the delay is due to the complexity of the scheme.
He said: "There are genuine practical and principal reasons why it is incredibly complicated to design an analogous scheme for the one we have with employed workers."
---
Spanish army asks NATO for international assistance to fight coronavirus
El Pais, Madrid, March 24, 2020
https://english.elpais.com/society/2020-03-24/spanish-army-asks-nato-for-international-assistance-to-fight-coronavirus.html
With the infection rate now surpassing Italy's, government will extend the lockdown until April 12
The Spanish army has requested international assistance to fight the coronavirus pandemic, which is now expanding at a faster rate than in Italy. Although the country has been in lockdown for over a week, the number of cases has soared in recent days, with 514 deaths in just 24 hours.
On Tuesday, the Euro-Atlantic Disaster Response Coordination Center (EADRCC) of the North Atlantic Alliance (NATO) "received a request for international assistance from the Armed Forces of Spain in their response to the global pandemic."
"The Armed Forces of Spain are acting in favor of civil population to mitigate the virus spread," said the EADRCC in a press release. "In order to prevent the spread of the virus in the military units of the Armed Forces of Spain and in the civil population, international partners are asked to provide assistance to the Ministry of Defense of Spain in supplying humanitarian assistance."
New measures
In Madrid, the government on Tuesday announced new measures to fight the coronavirus. Speaking after the Cabinet meeting, Health Minister Salvador Illa and Finance Minister María Jesús Montero gave a virtual news conference to explain what the government's next steps are going to be.
On a day when coronavirus-related deaths reached 2,696 and infections pushed past 40,000, Illa warned that the worst has yet to pass.
"This week is being tough, very tough. During this phase we are going to reach the peak of the epidemic, and it is very tough to keep up the drastic measures that we are requesting to extend until April 12," he said, alluding to the executive's decision to prolong the nationwide confinement measures that went into effect after the government declared a state of alarm on March 13. The decision to extend the lockdown was approved by the Cabinet today and will be debated in Congress on Wednesday.
Illa acknowledged that the Madrid region is bearing the brunt of the pandemic, accounting for over 1,500 deaths. With a healthcare system overwhelmed by the rate of infection, the city's premier exhibition center, Ifema, has been converted into a massive field hospital and a local ice rink is now being used as a makeshift morgue.
"Right now we need to show solidarity with Madrid. The government has deployed medical resources from other parts of Spain, redoubled the acquisition of certain products such as ventilators, and activated the country's capacity to produce these items," said Illa.
Regarding media reports of dead bodies found at senior homes, the health minister said that a special task force has been created to follow up on the situation.
The Cabinet has also agreed to lift the ban on flights from Italy, but only for Spanish citizens and residents of Spain. Anyone flying in from an Italian airport will have to undergo quarantine.
Economic fallout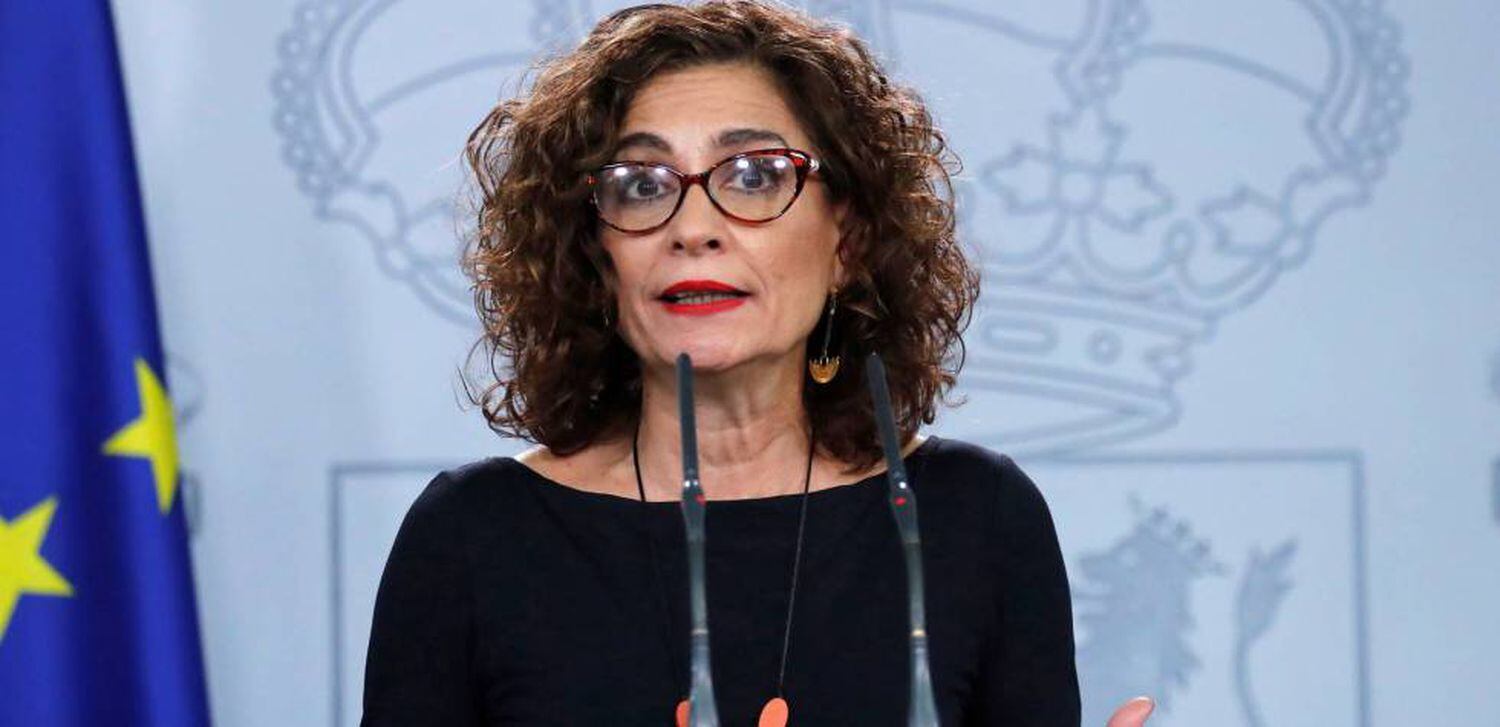 Government spokesperson María Jesús Montero, who is also the finance minister, listed the upcoming measures to deal with the economic fallout of the coronavirus crisis. Montero said that €300 million from an extraordinary fund will be distributed among regional governments to shore up social benefits. The money is aimed at helping dependent individuals, single-parent households and other particularly vulnerable groups.
"We will take the necessary steps to ensure that nobody is left behind," said Montero. "Our country is responding, but the response needs to be global or it will not be at all."
Montero also said that the Cabinet has approved the conditions to release the first €20 billion tranche of a €100 billion guarantee scheme to bring liquidity to small and medium businesses that have been experiencing a significant drop in revenues since much of the economy ground to a halt. Prime Minister Pedro Sánchez last week announced a €200 billion package that included the liquidity scheme, tax deferrals and other forms of economic relief for struggling households and businesses.
"Everyone is making a titanic effort, especially our healthcare professionals," she said. "I hope this crisis is resolved as soon as possible, but it is going to change our values scale, and make us more aware of the welfare state."