New South Wales Bushfires: 'Mega Blaze' Warning near Sydney
BBC.com, Dec. 6, 2019
https://www.bbc.com/news/world-australia-50680083
About 100 bushfires are raging in the Australian state of New South Wales (NSW), with the most severe forming into a "mega blaze" north of Sydney.
More than 2,000 firefighters are battling bushfires, which escalated in intensity late on Thursday.
Footage of one blaze on the southern fringe of the city showed firefighters fleeing as flames surged forward.
Australia's largest city has been blanketed by thick smoke all week, causing a rise in medical problems.
Since October, bushfires have killed six people and destroyed more than 700 homes across Australia.
The severity of the blazes so early in the fire season has caused alarm, and prompted calls for greater action to tackle climate change.
More than 1.6 million hectares of land in NSW have been burnt already. Fires have also raged across Queensland, Victoria, South Australia, Western Australia and Tasmania.
Fires merge
Fires spanned the entire NSW coastline on Friday, with some sparking emergency warnings amid hot and windy conditions.
Authorities confirmed three fires had merged into a "mega blaze" north of Sydney on Friday, covering more than 300,000 hectares. That blaze is about the size of greater Sydney, officials said.
"We have also seen the fires coming in very close proximity to major population centres," said NSW Premier Gladys Berejiklian.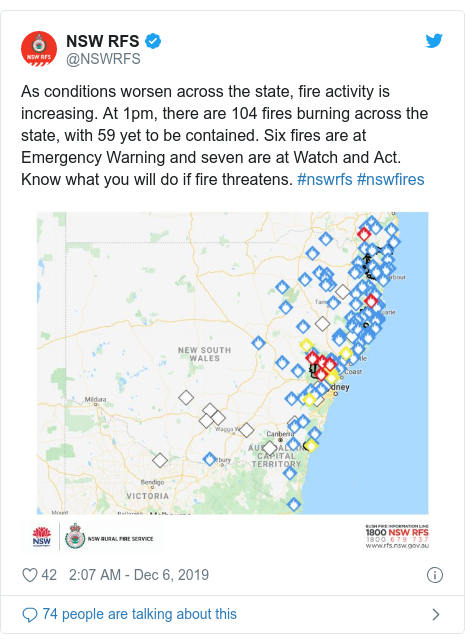 Many fires have raged for weeks, feeding off tinder-dry conditions from a severe drought which has affected much of the nation.
"We are in for another tough day," said NSW Rural Fire Service assistant commissioner Rob Rogers, adding that several properties had been destroyed in the past 24 hours.
Fire crews from the US and Canada arrived in NSW this week to help tackle the blazes.
In Queensland, authorities said at least two homes had been destroyed in the past day.
City 'choking' on smoke
Sydney's air quality deteriorated beyond "hazardous" levels this week as smoke from the fires again blanketed the city. The front page of the Sydney Morning Herald newspaper on Friday read: "Sydney chokes as state burns".
Hospital admissions have risen 25% in the past week said officials, with people reporting asthma and breathing problems. About five million people live in greater Sydney.
People have been warned to stay indoors, but the smoke in some areas has also seeped into buildings.
Early on Friday, the NSW capital ranked number 19 on the Air Visual global rankings of cities with the worst air pollution – putting it ahead of Shanghai and Mumbai.
The smoke has also affected towns closer to the fires for weeks. The state government said on Thursday that the air pollution event was "the longest and most widespread in our records".
Climate change impact
Bushfires are common in Australia, but this year's fire season is more intense and has begun earlier than usual – something meteorologists say is exacerbated by climate change.
Australia's Bureau of Meteorology says that climate change has led to an increase in extreme heat events and raised the severity of other natural disasters, such as drought.
(Read more….)