January 10, 2022, via email
bioclandestine.substack.com
Biden is desperate to hide the truth about Ukraine, the Iran Deal, and Russiagate
News broke yesterday, January 9th, 2022, that classified documents were found by Biden's attorneys on November 2nd, 2022, at the Penn Biden Center. These classified documents were confiscated by Biden (Illegal as VP) and stored at an insecure location.¹ You'll notice they waited until after the election was certified to notify the public…
As you might imagine, the Left-wing media have been extremely dismissive of Biden confiscating classified State docs as VP, while un-ironically looking to indict Trump for the same thing, despite Trump being the former Commander in Chief and able to legally declassify anything. The hypocrisy is asinine, yet it is to be expected.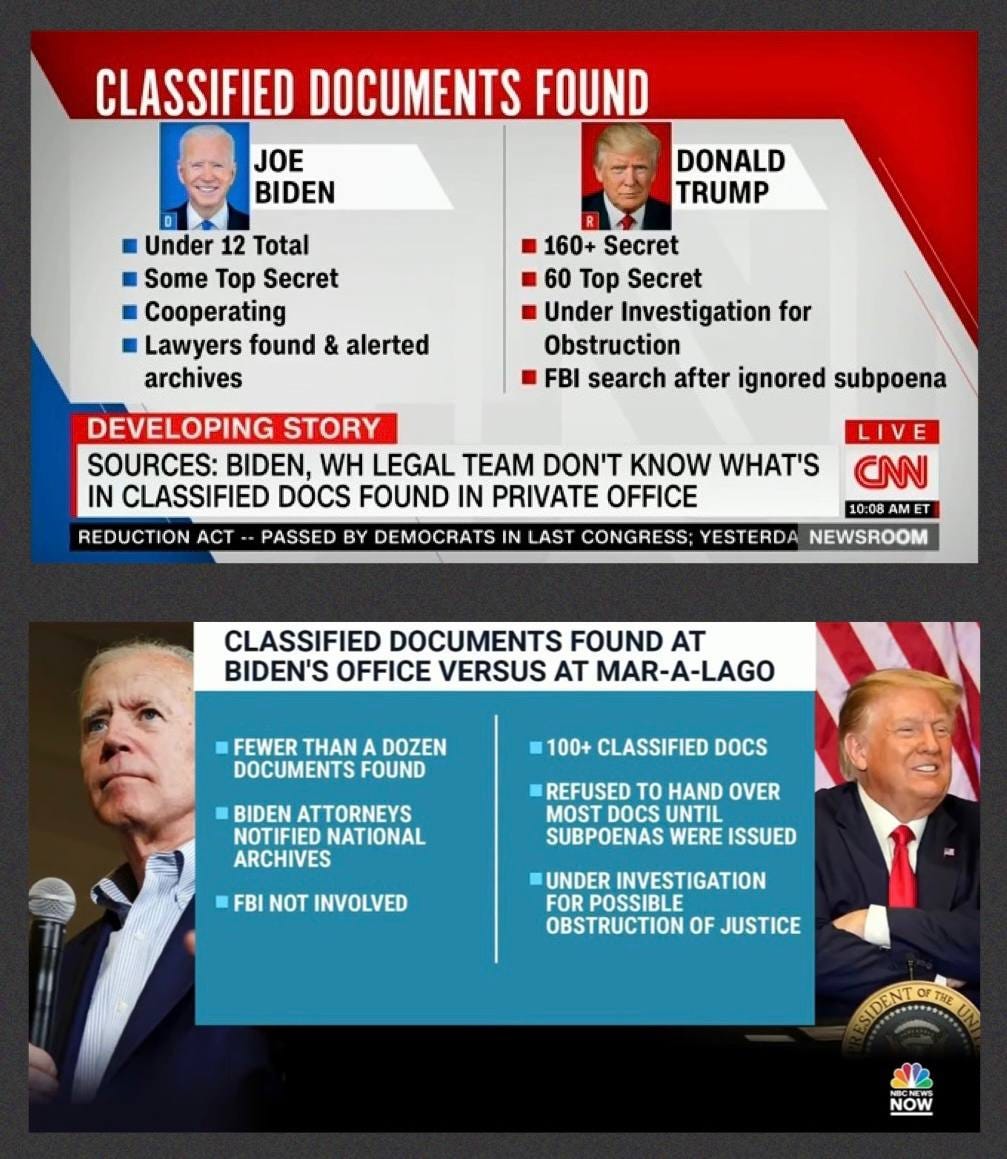 However, this story got exponentially more interesting when the general content of the docs were released this morning. According to CNN, these docs are from 2013-2016 "US Intelligence materials related to Ukraine, Iran, and the UK."²
This should set off an alarm for everyone, as these are the same contents of the docs seized from Trump at Mar-a-Lago by Biden's FBI. They were confirmed to be related to the Iran Deal, John McCain's death, Ukraine, Russiagate (UK, think MI6 agent Christopher Steele).
For those that recall, photos of the Trump docs were inexplicably leaked by the FBI, which revealed the dates on some of the documents, leading us to discover that the docs were about Obama/Biden's Iran Deal (May 9th, 2018). Later Trump would confirm the docs were about all the things he was trying to prevent Biden from burying.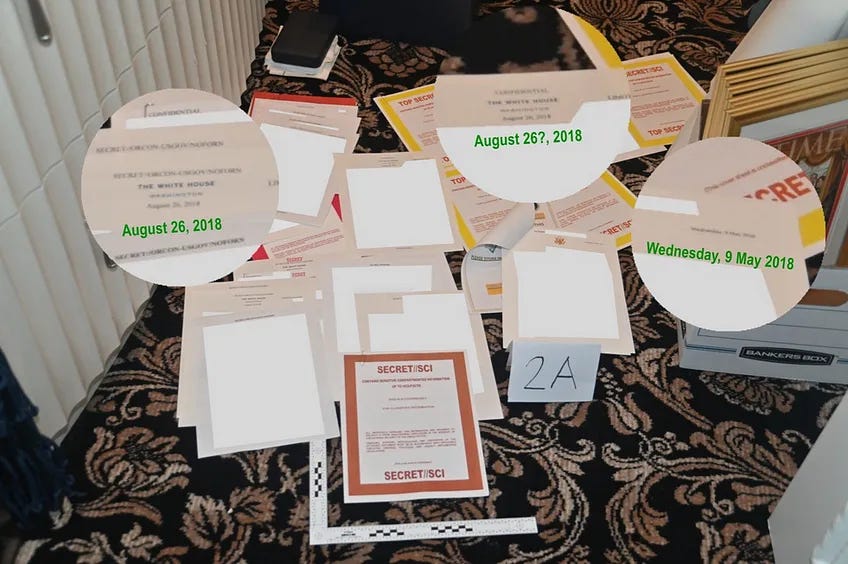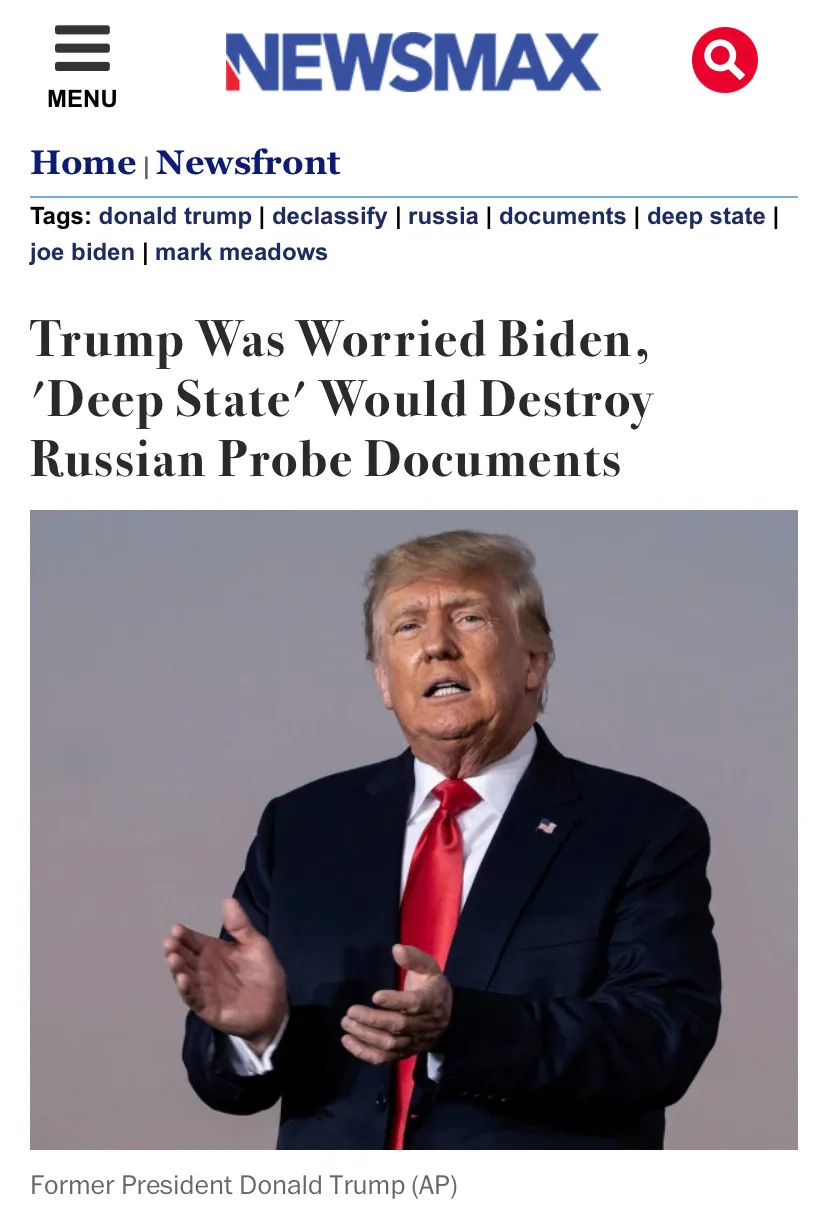 Now it's starting to make more sense as to why Trump believed Biden would "destroy or bury" documents related to Russiagate, because Biden had a history of doing so, as we can now see as he had classified documents from Obama's presidency this entire time.
Now, this timeline of Biden's behavior around docs pertaining to Deep State activity, clearly indicates that he is trying to hide something. As VP in 2016, he hid these docs. And then as soon as he gets control as POTUS in 2021, he weaponized the FBI to reclaim documents from Trump in an unprecedented abuse of power. All over documents that just so happen to be about the same subjects as the docs Biden was already hiding at a think tank.
Biden has been hiding docs that show Deep State crimes since 2013, and then he weaponized the executive branch to go after Trump to prevent him from showing the public the truth about Ukraine, Iran, and Russiagate (UK), etc.
Folks… it appears Trump and Biden are warring over the DECLAS docs.
The People of the United States are entitled to see what's in these documents, so we can find out why Biden is so desperate to keep it a secret.
~ Clandestine
https://www.reuters.com/world/us/classified-documents-bidens-vice-presidency-found-think-tank-cbs-news-2023-01-09/
https://www.cnn.com/2023/01/10/politics/biden-classified-documents-iran-ukraine-united-kingdom-beau-funeral