Thanks to D.
What a difference a day makes.

Granted that, as a result of Vancouver's torrential downpour of a few nights ago, I had some small flooding in the apartment, I was quickly able to remedy it.
Meanwhile, inland of me, Vancouver's food supply was being flooded out in the Fraser Valley. Rail traffic from the East was also halted because of multiple landslides.
Until I watched the video report, below, I had no idea of how bad things had become overnight. Reading mostly international blogs and journals, I could only see a peaceful beach outside my window.
My best friend's father nearly died in one of the landslides. He was driving a truck. The cars behind him were buried. Him and the cars ahead escaped. Things became real real for me when I heard that.
Until today, I asked myself, how will food supplies be affected, aside from unloading problems?
Thank you. I now know.
A large proportion of Vancouver's daily diet comes from the Fraser Valley, now underwater. Another large proportion is on those trains.
Not saying to jump up and down. Just demonstrating how things can change in a day.
And, yes, I've already laid in supplies, for me and my friends.
---
Donations to Hope Secondary School for flood relief can be made through the school's website. A GoFundMe page has been set up to fund helicopters making trips for food and travellers has been set up along with a more general fundraiser to help the area.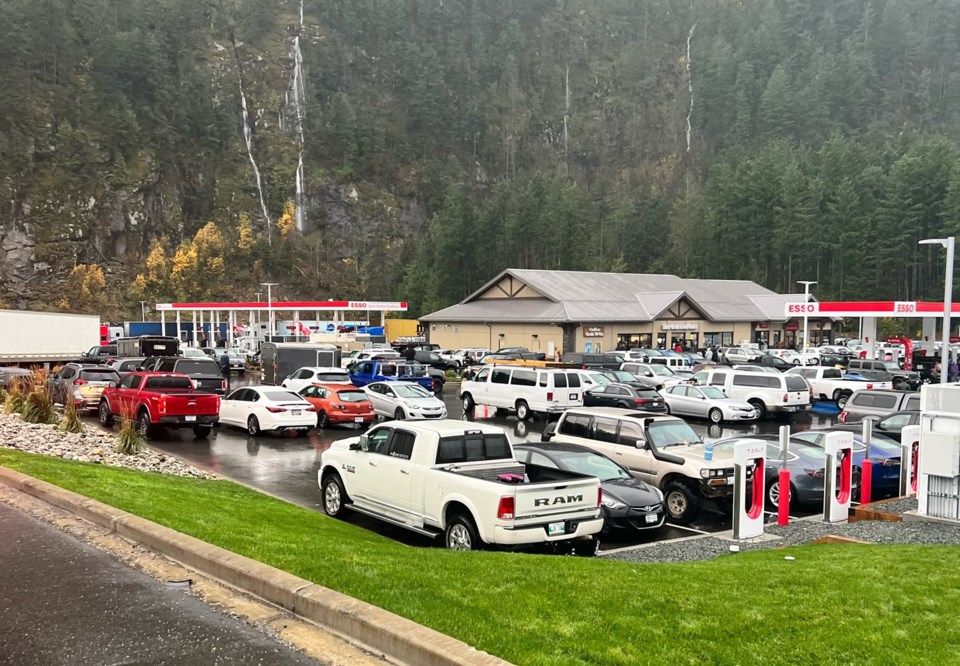 Motorists stranded at Hope, BC.