My thanks to Len, D, and Brian, the fruits of whose research make up these pages.
---
F.W. De Klerk's Final Message: An Apology for His Role in South-African Apartheid
In a final message before his recent passing, former South African President FW De Klerk apologizes for his support of apartheid.
He's an example of a person whose views entirely changed, from a repugnant policy to one of acceptance.
Hopefully there will be more as the energies continue to rise. In my opinion, we need to be ready to welcome them. All are welcome to ascend who can hold the light energies.
Start at 1:18. Thanks to Diane.
Hit graphic to watch video
(https://hooktube.com/QwL2NpgvKf8)
---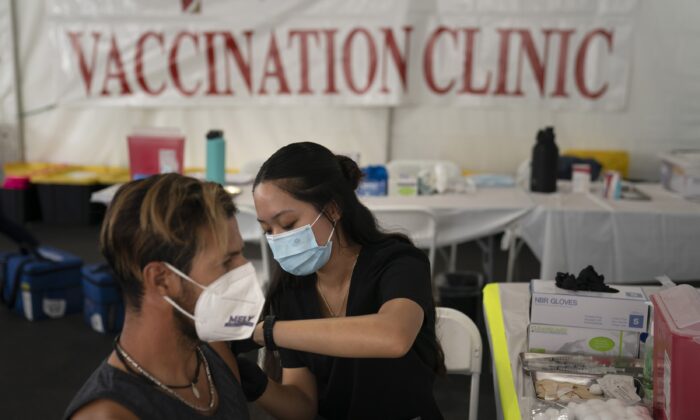 Conservative-Majority Court Chosen to Decide on Biden's Private Employer Vaccine Mandate
Zachary Stieber, Epoch Times,  November 16, 2021
(https://tinyurl.com/tsskwp2j)
An appeals court dominated by Republican-nominated judges was chosen at random Tuesday to deal with the flurry of lawsuits against the Biden administration's private business COVID-19 vaccine mandate.
The U.S. Court of Appeals for the Sixth Circuit was the winner of a lottery that was triggered by multiple appeals courts receiving challenges to the mandate, which was promulgated at the behest of President Joe Biden and would affect every business with 100 or more workers if it's allowed to take effect.
Thirty-four petitions for review, or suits, were filed against the mandate. At least one petition was filed in every single court of appeals in the nation.
Federal law says that challenges to a rule in multiple appeals courts shall lead to a lottery, from which one court is picked. That court then handles the cases, which are consolidated.
The Sixth Circuit oversees Kentucky, Michigan, Ohio, and Tennessee. Active and senior status judges include six nominees of former President Donald Trump, eight nominees of former President George W. Bush, three nominees of former President George H. W. Bush, three nominees of former President Ronald Reagan, five nominees of former President Bill Clinton, and two nominees of former President Barack Obama. That means 20 of the 27 judges were nominated by Republican presidents.
"It's not good news for Biden," Lawrence Gostin, director of the O'Neill Institute for National and Global Health Law, wrote on Twitter.
A Sixth Circuit panel will decide whether to keep in place a stay of the mandate that was ordered on Nov. 6 by three Republican-nominated judges on the U.S. Court of Appeals for the Fifth Circuit.
The judges said the mandate raised "grave statutory and constitutional issues."
(Read more: https://tinyurl.com/tsskwp2j)
---
Some bias. Charged vocabulary.
Moderna Begins Testing Experimental Covid Injections on INFANTS, Despite Covid-19 Death Rate for Children of ANY Age is Effectively ZERO
Julian Conradson, Humans re Free, Nov. 13, 2021
(https://humansarefree.com/2021/11/moderna-begins-testing-experimental-covid-injections-on-infants-despite-covid-19-death-rate-for-children-of-any-age-is-effectively-zero.html)
Biotechnology company Moderna Therapeutics has officially begun large-scale testing of its experimental COVID-19 vaccine on America's youngest children.
As of "late October," Moderna's clinical trial – dubbed KidCOVE – kicked off phase III, which tests the controversial mRNA vaccine technology on children between the ages of 6 months and 5 years old. It will be conducted across 79 locations in 13 states and involve about ~13,250 participants in total.
Phases I and II of the trial, which tested on 12-17-year-olds and 5-11-year-olds – respectively, were completed over the past several months.
Now, researchers are turning to toddlers and infants to carry out their experiments – and keep in mind, the Covid-19 death rate for children of ANY age is effectively ZERO.
But that didn't stop Moderna from fear-mongering to parents about their kids getting sick from the virus.
From the KidCove website:
"The primary purpose of the KidCOVE Study is to test the safety and effectiveness of the study vaccine, called mRNA-1273, that may protect children between the ages of 6 months to < 12 years from getting sick if they come into contact with SARS-CoV-2, which causes COVID-19."
Now combine that with people who are convinced Covid is far more deadly than it actually is because they have completely bought the fake news propaganda – and on top of it, offer up some cold hard cash – it's no wonder so many parents were willing to enroll their young children to be tested on like guinea pigs.
Despite the overwhelmingly low risk to young children from the virus, Moderna was able to quickly find all the participants it needed to conduct the trial after briefly soliciting to parents in August.
Children who participate in the clinical trial will be given two doses in the upper arm about 28 days apart and are then required to return to the study site for "at least four follow-up appointments" over the following 13 months, according to KidCOVE.
As of now, Moderna's controversial KidCOVE study has only received minimal attention in national media. There has been some local news attention recently, but the majority of coverage has been press releases by medical facilities that are conducting the trials.
Some of their announcements are just downright creepy and dystopian.
In a press release from the University of Wisconsin-Madison on Monday, Dr. Bill Hartman – the study's co-principal investigator – called giving the experimental vaccine to America's "very youngest children" is "the final frontier," and that the kids will be "heroes" who "helped save the world."
Unsurprisingly, he also fearmongers about "we need to keep them safe."
"This is the final frontier. Our very youngest children need to get the vaccine and we need to make sure they are safe," said Bill Hartman, MD, PhD, co-principal investigator of the KidCOVE clinical trial at UW–Madison. "The kids participating are heroes. They will be able to tell the story of how they helped save the world."
(Read more: https://humansarefree.com/2021/11/moderna-begins-testing-experimental-covid-injections-on-infants-despite-covid-19-death-rate-for-children-of-any-age-is-effectively-zero.html.)
---
Vaccine Researcher Tells RFK, Jr: Australians Are Being 'Terrorized'

Children's Health Defence Team, Nov. 15, 2021
(https://childrenshealthdefense.org/defender/vaccine-researcher-tells-rfk-jr-australians-are-being-terrorized/)
On "The Defender Show," Robert F. Kennedy, Jr. talked with activist and vaccine researcher Judy Wilyman, Ph.D., of Australia about her country's drastic response to COVID.
On CHD.TV's "The Defender Show," Robert F. Kennedy, Jr. interviewed Judy Wilyman, an Australian who spent 25 years researching and publishing scientific papers on mandatory and coercive vaccination, the ethics of childhood vaccination and changes in vaccine surveillance.
Wilyman, who holds a master's of science degree in population health and a Ph.D. in the history of the control of infectious diseases, has been on the front lines of activism against totalitarianism controls in Australia.
Kennedy and Wilyman discussed the history of vaccine science, vaccine passports, quarantine camps and the state-by-state response to COVID throughout the country of Australia.
Kennedy asked why Australia seems to be more intensely embracing medical fascism than other nations in Western Europe, Germany, Italy and the rest of the world.
Wilyman responded that she noticed a shift in the freedom of speech in Australia 10 years ago, when her academic research was categorized as "sensitive" material. She was prohibited from presenting her findings and was slandered in the media when she refused to be silent.
As for the current situation in Australia, Wilyman said:
"Totalitarianism has definitely come into play over here in Australia. And I don't know whether it's because we're some kind of litmus test for the rest of the world in bringing in the new agenda. I do know that this whole issue of the vaccines and the coercive programs that Australia's put into place is all based on corruption. And so the only way to implement it is through some kind of fascist regime. And that's why freedom of speech disappeared."
According to Wilyman, the vaccine passport is what Australian leadership ultimately wants put in place "to link that to a digital financial system and the digital identity."
She discussed the implementation of Australia's coercive vaccination campaign, where people are removed from their jobs if they refuse the injection:
"The injection is having huge adverse events. As you know, the myocarditis, the pericarditis, the people dying suddenly in their sleep, the Bell's palsy that's happening everywhere. And yet they've attempted to remove people from their jobs, which they're doing, and literally terrorizing the public … Families are divorcing. They're arguing."
Wilyman said people are breaking down, and suicide attempts have "gone through the roof."
She said the restrictions are in place, yet, "here in Western Australia, there is no disease in the community whatsoever."
The reason some people don't speak up, Wilyman said, is that, "the public doesn't have a voice in the government," and because they know the government has no legal obligation to prove vaccines are safe.
Wilyman said her government is not listening to the citizens because "they reversed the precautionary principle on any drug called a vaccine," which puts the proof of harm on the shoulders of the Australian people.
But she said instead of acknowledging vaccine injury, the government is now using genetic predisposition as the reason why people are getting sick after getting the injection.
She said:
"So that's how evil the agenda is … and I never thought something so blatant could be implemented and that the public would be terrorized by these politicians the way we're being terrorized."
Kennedy commented on the videos he's seen of police brutality on the citizens of Australia. He said:
"And we're all watching these really horrifying videos. The police kicking down doors. In one case they're dragging a pregnant woman because she tweeted that there was a demonstration. That kind of speech is now illegal speech in Australia."
Wilyman agreed the police brutality has been alarming. She broke down the differences in police response and lockdowns based on the state, such as heavy-handed responses and fines in Victoria to complete discrimation against the unvaccinated in Sydney.
She said:
"We have heard premiers state that the quarantine camps are being built, and there are at least four or five being built for the unvaccinated. And so that's the terror that Australians are feeling at the moment. We can't leave our country and this vaccine passport and the digital identity is already being passed through the Parliament. And we don't have a voice anymore in our Parliament. It really does feel like a police state."
Kennedy wondered what Wilyman thought of the coverage of the pandemic in the media, as Australia has been "very radical about the censorship of vaccines." He asked Wilyman how Rupert Murdoch's conflict of interest with vaccine companies affects media coverage.
Wilyman said:
"It's very clear that in Australia, the No Jab, No Play policy was actually promoted through Murdoch's News Corp, and these policies were pushed through social services. They didn't go through the Health Act. There's no coercion in Australia. Every vaccine is required to be given with fully informed consent. And in the Health Act it says vaccines must be voluntary. So they got around that by pushing it through social services departments, whereby they called it 'Choices for Families.'
"In fact, we're removing choices for families because any child under 5 now can no longer go to preschool unless they've had 16 vaccines. And they linked $28,000 to welfare benefits. So the parents would have needed to use every one of the vaccines that was on the program to actually get those benefits. So that's what they call choice."
Ending the interview with a ray of hope, Wilyman said the resistance is growing across every state, especially where she lives, in Western Australia.
She said her area is remote and expansive and hasn't been required to lock down, but the border has been closed. "The only reason they could justify that was by claiming we didn't have any COVID," she said.
Wilyman added:
"We've been able to protest loudly. We've had community meetings. And just at this point in time, yes, I am feeling some hope. I've been up and down. I know this could go either way and we are being completely terrorized but in Western Australia, we've definitely picked up the activism and people are waking up, you know, rapidly."
Kennedy replied, "Well, we'll see you out there on the barricades."
Watch Robert F. Kennedy, Jr. interview Wilyman here: 
---
Other News
"Cardiologist Who Said He 'Won't Cry at Funeral' for 'Selfish' Unvaccinated People, Died Suddenly in His Sleep 2 Weeks After 3rd Covid Jab," Humans are Free, Nov. 13, 2021, at https://humansarefree.com/2021/11/cardiologist-died-suddenly-after-3rd-covid-jab.html.
Beth Brelje, "Grounded by Vaccine Exemption: Married United Pilots Feel Betrayed," Epoch Times, November 15, 2021, at https://tinyurl.com/2bc44hfk.
Isabel van Brugen, "OSHA Suspends Enforcement of Vaccine Mandate After Court Block," Epoch Times, November 17, 2021, at https://tinyurl.com/d72pt4tf.
Jim Hoft, "Most Vaxxed Country in the World Cancels Christmas Due to Huge COVID Spike — Suggesting the Vax May Not Be So Effective?" Gateway Pundit, November 16, 2021, at https://tinyurl.com/528x97y3.
Cristina Laila, "Dr. Fauci: 'There is a Misplaced Perception About People's Individual Right to Make a Decision that Supersedes the Societal Safety' (VIDEO)," Gateway Pundit, November 15, 2021, at https://tinyurl.com/7z6jwezd
Ethan Huff, "STUDY: Covid "vaccines" kill nine out of 10 babies in first trimester of pregnancy," Natural News, November 04, 2021, at https://www.naturalnews.com/2021-11-04-covid-vaccines-kill-babies-first-trimester-pregnancy.html
Please note: Because of numerous malware attacks originating from sites we link to, we've stopped hyperlinking to other sites than our own.