The news stories and videos are coming out faster and in more numbers than allow for individual posting. So wherever possible we're going to combine them.
---
Accountability
Are news folks starting to rebel? Here a Detroit meteorologist confides on air that she'll be speaking to Project Veritas this week about "the discrimination CBS is forcing upon its employees." (00:18). Thanks to Suzi on Buy me a Coffee
---
And here Fox-26 TV Reporter Ivory Hecker reveals on air that she is also speaking to Project Veritas about Fox TV muzzling her. Thanks to Suzi on Buy me a Coffee
---
2021 article in American Journal of Medicine recommends early use of hydroxychloroquine for Covid-19.
Pathophysiological Basis and Rationale for Early Outpatient Treatment of SARS-CoV-2 (COVID-19) Infection
The American Journal of Medicine
Volume 134, Issue 1, January 2021, Pages 16-22
(https://www.sciencedirect.com/science/article/pii/S0002934320306732)
Excerpt:
Hydroxychloroquine (HCQ) is an antimalarial/anti-inflammatory drug that impairs endosomal transfer of virions within human cells. HCQ is also a zinc ionophore that conveys zinc intracellularly to block the SARS-CoV-2 RNA-dependent RNA polymerase, which is the core enzyme of the virus replication.21 The currently completed retrospective studies and randomized trials have generally shown these findings: 1) when started late in the hospital course and for short durations of time, antimalarials appear to be ineffective, 2) when started earlier in the hospital course, for progressively longer durations and in outpatients, antimalarials may reduce the progression of disease, prevent hospitalization, and are associated with reduced mortality.22, 23, 24, 25 In a retrospective inpatient study of 2541 patients hospitalized with COVID-19, therapy associated with an adjusted reduction in mortality was HCQ alone (hazard ratio [HR] = 0.34, 95% confidence interval [CI] 0.25-0.46, P <0.001) and HCQ with azithromycin (HR = 0.29, 95% CI 0.22-0.40, P <0.001).23
HCQ was approved by the US Food and Drug Administration in 1955, has been used by hundreds of millions of people worldwide since then, is sold over the counter in many countries, and has a well-characterized safety profile that should not raise undue alarm.25,26 Although asymptomatic QT prolongation is a well-recognized and infrequent (<1%) complication of HCQ, it is possible that in the setting of acute illness symptomatic arrhythmias could develop. Data safety and monitoring boards have not declared safety concerns in any clinical trial published to date. Rare patients with a personal or family history of prolonged QT syndrome and those on additional QT prolonging, contraindicated drugs (eg, dofetilide, sotalol) should be treated with caution and a plan to monitor the QTc in the ambulatory setting. A typical HCQ regimen is 200 mg bid for 5 days and extended to 30 days for continued symptoms. A minimal sufficient dose of HCQ should be used, because in excessive doses the drug can interfere with early immune response to the virus.
---
More Photos of Italy's Sardine Movement
2019-2020
Why aren't we doing this here?

We know Covid-19, to quote Dr. Byram Bridle, is "propagandized bioterrorism by injection."  I'd call it a propagandized deep-state bioweapon. 
We know very few people die from it. We know masks don't stop it. Respirators are the worst thing for it. HCQ and other commonly-available medications are the best treatments.
We know the vaccine is the real threat and the second vaccine is much worse than the first. If people die, it'll be from the vaccine.
So what are we waiting for?
Singly we have little power. But together, like a school of fish, we have strength and resilience.
Mass together in the village square. Never mind flash mobs. Have world-unity mobs.  Leave your wallet at home and mash together like sardines. Let's put an end to Covid-19 and the entire network that created it, promotes it, and has plans for all of us as a result of it. Let's come together to defeat the people behind and promoting Covid-19.
---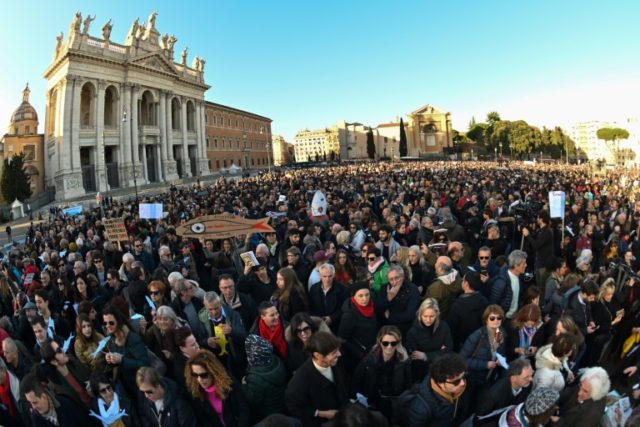 "Italy's 'Sardines' pack Rome for anti far-right rally," Breitbart News, Dec. 14, 2019, at https://www.breitbart.com/news/italys-sardines-pack-rome-for-anti-far-right-rally/.
---
Rome (AFP) – Tens of thousands of members of Italy's youth-driven Sardine Movement on Saturday rallied in Rome, as part of their campaign to battle xenophobia and shake up the country's politics.
The "Sardines" have become a symbol of protest against far-right firebrand leader Matteo Salvini, who served as interior minister and deputy prime minister in Italy's previous coalition government and cracked down on immigration.
In Rome's immense San Giovanni Square, retiree Roberto Piperno was among those joining the crowd, which sang the anti-fascist anthem Bella Ciao, a staple of the movement's demonstrations.
He turned out because he did not want to see "hatred propagated" and to do nothing would make him "ashamed to be Italian", he said.
Taking aim at "populism", 32-year-old Mattia Santori, a founder of the movement, told the crowd the idea was to "bring out a new energy through a much freer and more spontaneous form" than a traditional political party "that will not be hierarchical" but would instead set "broad directions".
One demonstrator held up a giant sardine model, while others brandished drawings and posters.
The movement, only a month old, started in Bologna when a rally organised by four unknown activists to denounce Salvini's discourse of "hatred and division" drew a crowd of 15,000, surprising everybody.
– Mission: make politics 'cool' –
Since then, they have staged a series of rallies drawing tens of thousands in Milan, Florence, Naples and Palermo.
"The first was against Salvini and then it became a reaffirmation of democracy: we are anti-fascist, pro-equality, against intolerance, against homophobia," Mattia Santori, one of the movement's founders, told AFP.
Santori, a researcher in economics, and the other co-founders — Andrea Garreffa, a 34-year-old tourist guide and Roberto Morotti, a 31-year-old engineer, say they want to make politics "cool".
The movement's representative in the Italian capital is Stephen Ogongo, a 45-year-old journalist of Kenyan origin.
He set up the Facebook page of the Roman chapter of the Sardines announcing the rally about 15 days ago.
"The following day, there were 10,000 people who wanted to join in," he said. "The next day 20,000."
– 'We are tired of hatred' –
Ahead of Saturday's rally, Ogongo said the "important thing is to see many people take to the streets to say 'we are weary of this culture of hatred. We will no longer tolerate language that is racist, fascist, discriminatory or sexist'."
Ogongo received threats and insults when he got Facebook to erase racist messages from an account bearing Salvini's name with the title Prime Minister.
Salvini, he said, had "allowed the worst forms of racism" to flourish.
Many Sardines also rally against climate change, the mafia and poverty.
The movement is turning its attention to the small towns they say are "fragile territory", susceptible to "simplistic ideas and populism".
The Sardine Movement was a response to the growing strength in the north of the right-wing coalition led by Salvini's League.
In late October, the League won a historic victory in regional polls in central Umbria, which had been led by the left for half a century.
Salvini is now campaigning hard to try to capture another leftwing stronghold, the wealthy northeast region of Emilio Romagna.
Regional elections there are set for January 26 and the polls suggest the League's candidates are running neck and neck with the current centre-left governor.
Salvini has said he wants to conquer the regions one by one to bring down the current coalition between the Five Star Movement and the centre-left Democratic Party, and thus force early elections.