A roundup of articles on the status of the Coronavirus and ways we can help….
There are so many stories coming out now, we may need to post several roundups throughout the day….
---
Several articles on UBI. UBI is becoming an idea whose time has come.

Petition for Universal Basic Income
Catherine Early, Ecologist, 26th March 2020
https://theecologist.org/2020/mar/26/petition-universal-basic-income
A public petition calling for a trial of Universal Basic Income (UBI) during the coronavirus crisis has reached over 100,000 signatures.
UBI could ensure home and food security for all UK residents, and support the needs of those who need to self-isolate. It would also keep money flowing through the economy, the petition says.
It has been supported by all parts of the UK, but particularly in Scotland, Wales and south west England.
Safety net
UBI, also known as a Citizen's Income or Basic Income, refers to an unconditional, regular payment made to every citizen of a country or territory, with some differences in amounts by demographic factors like age.
The Green Party backs the idea, and proposed introducing it by 2025 as part of a green new deal in its manifesto for last year's general election.
Some MPs, including the SNP's Richard Thomson and Conservative MP for Gainsborough Sir Edward Leigh have suggested the same idea in recent parliamentary debates about financial support during the pandemic.
However, in a debate yesterday, chancellor Rishi Sunak said: "We are not in favour of a universal basic income, although we have strengthened the safety net for the most vulnerable in our society, with more than £7 billion invested into improving our welfare system for this year, including improvements to universal credit, employment support allowance and, indeed, the local housing allowance."
These payments were all available more quickly, more easily and more generously than before, and would make an enormous difference to many vulnerable people, he added.
---
Dyer: Keep it quiet, but universal basic income is coming
Gwynne Dyer, London Free Press,  March 26, 2020
When you lock people down (to save their lives), you inevitably close down a lot of the economy as well. And the lockdown will definitely have to last in most countries until May or June — Donald Trump's promise of a "beautiful timeline" to reopening the U.S. economy just two weeks hence being delusional.
So where's the money coming from in the meantime?
The majority of people still have jobs they get paid for: people in essential services who have to go to work, people who can do their work from home, and quite a few others as well.
However, between a third and quarter of the employed population has been left idle as their employers, from airlines to retail businesses, downsize or shut temporarily. If you leave these people without income, then you are reproducing the conditions of the Great Depression of the 1930s when unemployment peaked at 24 per cent in the United States and the country's GDP shrank by almost half.
Adolf Hitler came to power when German unemployment reached 30 per cent. Misery and desperation can lead to violence. Nobody wanted to see that movie again, so after the Second World War every developed country created a welfare state to shelter its population from the worst effects of the business cycle.
The welfare state has served us well for most of a century (including in the United States, whose rudimentary welfare state was first in the field with Franklin Roosevelt's New Deal of the 1930s). But it is not enough to keep the wheels turning when a huge chunk of the workforce had dropped out for reasons that are not economic but health-related.
That's why governments, including deeply orthodox right-wing ones like the Conservatives in Britain and the Republicans in the United States, are turning to what economist Milton Friedman first named "helicopter money" half a century ago.
The idea is that a government can reboot an economy in which spending power has collapsed (because so many are out of work) by simply giving the penniless consumers free money — as if throwing it out of a helicopter. After all, it's free money for the government, too. They just ask the central banks to print it for them.
At this point traditionalists will begin to mutter about inflation, and the risk of undermining the work ethic, and various other shibboleths, but the governments in all the bigger Western economies — the U.S., the U.K., Germany, France — are in conservative hands at the moment, and they are all doing it.
As Robert Chote, director of Britain's comically named Office for Budget Responsibility, said last week: "When the fire is large enough, you just spray the water and worry about it later." So get in the chopper and start dropping the money.
Sweden has guaranteed laid-off workers 90 per cent of their incomes until the health crisis is past, France is offering "partial unemployment benefits" equal to 84 per cent of the workers' incomes, and Britain is offering 80 per cent. In every case the employers (who are also getting government aid) are expected to hold their employees' jobs open for them when normal service is restored.
Even the self-employed, including the gig workers who now make up around 10 per cent of the workforce, are not being left out. Norway is giving them 80 per cent of their income based on their last three years of tax returns (tough luck if they understated it), and most other European countries will follow suit.
The U.S. government is less generous, of course, and would be even under a Democratic administration: the free-market ideology is the real national religion. The U.S. Congress has passed a stimulus package with provisions for cheques of about $1,200 per person (the same as Hong Kong is giving its citizens), but it is one-time money.
Nevertheless, what all these governments (and others elsewhere in the world) are really playing with is the idea of a guaranteed national income that nobody can fall below. Only temporarily, you understand. Once the COVID-19 virus is tamed, we'll go back to the dog-eat-dog, devil-take-the-hindmost economy we all know and love.
Really? You think that after six months or a year of this we will just go back tamely to the old economic rules? I rather doubt it.
The political and economic rules do not evolve gradually in modern societies; they shift in sudden great lurches. The First World War drew millions of women into the factories and kick-started women's emancipation.
The rise of fascism and the Second World War required the creation of the full welfare state (which was previously restricted to meagre old age pensions) to avoid a replay the next time the economy tanked.
The current emergency may be fostering the rise of ideas previously seen as too radical to contemplate, but nobody is saying "universal basic income" yet. You'll frighten the horses.
Gwynne Dyer is an independent journalist based in London, England.
---
'Whatever it takes' should now include a universal basic income
The Conversation, Australia, March 26, 2020
https://theconversation.com/whatever-it-takes-should-now-include-a-universal-basic-income-134405
G20 leaders have pledged to do "whatever it takes" to minimise the impacts of COVID-19.
Most of these nations are lumbered with welfare safety nets unfit for purpose. They are designed for last century, with a binary way of thinking about employment that's no longer the experience of casual, contract and gig workers.
The limitations are being thoroughly exposed by a crisis further blurring the line between having or not having work.
A simple solution is a universal basic income – a regular payment to every adult, no questions asked.
Binary thinking
The deficiencies of current welfare nets have been demonstrated in Australia over the past week. The nation's social security system has been in meltdown as hundreds of thousands make new claims for government assistance.
There have been massive queues at Centrelink offices. The government's MyGov website has crashed and phone calls have gone unanswered.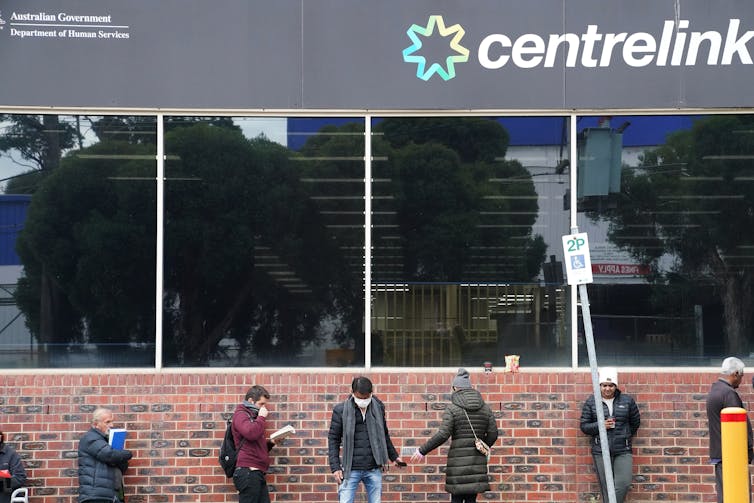 These problems are more than logistical. They are also ideological, reflecting how the system has been conceived. It requires people to jump through bureaucratic hoops, filling in forms and providing documents and financial statements. It judges need according to a binary (employed-unemployed) way of thinking, with processes that are punitive and complex.
No conditions attached
The universal basic income (UBI) is a well-developed idea to address these problems with existing social security regimes.
The basic idea is to make a regular cash payment to all adult individuals, no conditions attached. The intention is to ensure the welfare safety net reflects the fact many more people in informal, casual, part-time, portfolio, irregular and self-employed work face financial stress despite technically being employed. Everyone gets the means for a basic existence regardless of their employment situation.
---
Read more: Job guarantees, basic income can save us from COVID-19 depression
---
Limited trials have occurred in Finland, Kenya and Canada. These have generally found recipients are happier and not disincentivised to look for work, a common criticism of the concept.
Unemployment spiking
The most common criticism of the universal basic income is its cost. But now, with the need for income support spiking and governments adopting a "whatever it takes" approach to spending to keep economies afloat, this argument is not compelling.
The scale of the economic challenge is demonstrated by Australia's unemployment predictions for the next six months jumping from 7% a week ago to 11%. Government Services Minister Stuart Robert this week acknowledged the decision to close businesses had left "maybe a million people unemployed overnight". That million, on top of 700,000 already unemployed, would take the jobless rate above 12%.
In truth, much like the trajectory of the coronavirus, no estimates can be relied upon at this stage, other than to say unemployment levels will be very high. Along with pensioners and other welfare recipients, this means government financial support will be crucial for a significant proportion of households.
How it might work
The advantage of a universal basic income scheme, especially now, is that it is simple and easily understandable.
This is how it might work in Australia.
It would be run through the Australian Taxation Office, not Centrelink. A direct payment would be made fortnightly into the bank account of all adult Australian citizens and permanent residents over 18 years and no longer at school.
That's it.
The money would be taxable income, so the tax office would recoup a significant portion from higher earners. For now, it could exclude those over 65 years for whom long-standing pension and retirement systems exist and which we may not want to meddle with at this time.
Ballpark estimates
Australia's United Workers Union (representing workers in hospitality, health, aged care, supermarket supply, cleaning and other exposed sectors) has advocated a universal basic income equivalent to the minium wage – A$740 a week.
But I'm going to make some ballpark calculations based on an emergency universal basic income payment of A$550 a fortnight.
This is equal to the bonus the Australian government is giving job seekers during the crisis (double their usual payment).
To extend this to 7.65 million eligible Australians would cost about A$55 billion over six months. The government would recoup a portion of this, though, through income tax and being able to suspend some (but not all) existing welfare payments.
That compares with almost A$84 billion – about 3.5% of GDP – in spending already announced by the Australian government. About A$24 billion of this is for payments to welfare recipients, with the lion's share directed to business and industry.
---
Read more: Scalable without limit: how the government plans to get coronavirus support into our hands quickly
---
At a time of economic crisis unprecedented in our lifetimes, an innovative approach like a universal basic income could be an essential, simple, confidence-boosting and popular response.
---
Basic income is the answer to a COVID-stricken economy
Mike Schreiner and Jo-Ann Roberts, The Star, March 25, 2020
https://www.thestar.com/opinion/contributors/2020/03/25/basic-income-is-the-answer-to-a-covid-stricken-economy.html
People are worried about their health, their loved ones, and their future. They're worried about paying the bills next week.
Experts are telling governments to get money into people's pockets immediately to blunt the economic hardship from the COVID-19 crisis.
What we need in these unprecedented times is a dose of economic solidarity that will ensure no one falls through the cracks.
And the most efficient and least bureaucratic way to do this is direct cash payments in the form of an emergency universal basic income.
Green parties around the world have been championing the idea for years, with variations depending on the country or province. Federal Greens refer to a Guaranteed Livable Income (GLI), while the Ontario party talks about a Basic Income Guarantee (BIG).
It's the simplest and most straightforward solution to keep food on the table and weather the economic storm we've been thrust into.
The proposal has never made more sense than it does right now, with hundreds of thousands of Canadians losing their earnings.
But let's face it. Our social safety net has been broken for a long time, and the COVID-19 crisis has only exposed the gaps in our income support programs.
---
Coronavirus: The case for a universal basic income becomes clearer
In an economy already built up largely by consumer debt, asking struggling Canadians to take on even more debt to survive this pandemic is unconscionable
by Kristyn Wong-Tam, NowToronto.com, March 25, 2020
The federal government's $82-billion COVID-19 Economic Response Plan asks us to use the scenario of a single parent of low to modest income with two children to contextualize what their proposed supports would do. There were limited specifics offered in the announcement, but let's consider what this means for a single parent in the city of Toronto.
In Toronto, 88.5 per cent of all single-parent homes are led by a woman. Women are also more likely to work part-time, frontline, shift work that can't be done from home. With all schools, daycare centres and March Break camps closed, this single mother of two will likely have been required to forgo all her income this week. And will have to do the same next week, and in the weeks upcoming.
One of the most straightforward announcements was the proposed enhancements to the GST credit and the Canada Child Benefit. A single parent with two children of low to modest income would receive nearly $1,500 in short-term support. This one-time payment would be released in May.
That means that by the time these payments are made in May, this mother could have been out of work for 7 to 8 weeks.
Maybe this mother has been laid off rather than just had her hours cut, so she qualifies for Employment Insurance. But maybe not. The demand for EI has very quickly outstripped the capacity of the Canada Revenue Agency to manage it all in a timely fashion. What does this mother do while she waits for approval?
If our single mother hustles in the gig economy, then she's part of the nearly 10 per cent of Toronto workers as documented in a Bank of Canada 2019 study who would not qualify for EI. Assuming she could apply for the Emergency Care Benefit, those applications don't open until April and it will require her to reconfirm her eligibility every two weeks. This benefit will give families a maximum of $1,800 a month. In an expensive city like Toronto that covers the rent.
So maybe the mother decides to take advantage of the low-interest rates and takes out a loan. Which might work if she isn't already burdened with credit cards or lines of credit.
She has to navigate four different programs and funding streams before our single mother has actually received a single penny of financial support. In an economy already built up largely by consumer debt, asking struggling Canadians to take on even more debt to survive is unconscionable.
This global epidemic guarantees that the weeks, months and years ahead will not look like the ones before.
The preliminary measures the government announced were welcomed and important, but it wasn't direct enough, fast enough – or big enough. Today they had to retool their programs into a newly created Canada Emergency Response Benefit (CERB), which will provide a monthly $2,000 rescue fund for four months for people who are off work and without an income as a result COVID-19.
The CERB is a time-limited form of a Universal Basic Income. In the economic disaster brought on by this global pandemic, the federal government without bitter debate or partisanship adopted a social policy that dates back to the 16th-century – a basic income guaranteed by the right of citizenship.
The federal government did this to keep social order and protect the most vulnerable among us. They heard feedback that their initial programs weren't going to cut it and that people are still falling through the cracks. They smartly pivoted to fix the problem.
Under the declared state of emergency and to ensure governments leave no one behind, our national government has responded with life-saving urgency to invest in people to reconstruct the nation's economy. When faced with disaster, they did the right thing.
The real test will be when COVID-19 is behind us. Will our governments continue to do the right thing and make permanent the social programs that were introduced during this time of crisis?
The economy we rebuild can be stronger and more just than the one we started with. Let's hope governments continue to act when the emergency is over. It's always been about political choices.
Kristyn Wong-Tam is chair of the Toronto Accessibility Advisory Committee and city councillor for Ward 13 (Toronto Centre).

---