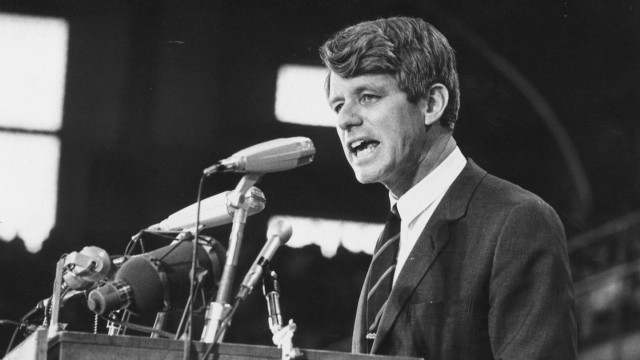 Thanks to Jean Haines. The truth about the assassination of Robert Kennedy is just one of the stories that will be revealked when our true history comes to be disclosed.
RFK assassination witness tells CNN: There was a second shooter
Posted on May 1, 2012
By Michael Martinez and Brad Johnson, CNN
https://www.cnn.com/2012/04/28/justice/california-rfk-second-gun/index.html
Los Angeles (CNN) – As a federal court prepares to rule on a challenge to Sirhan Sirhan's conviction in the Robert F. Kennedy assassination, a long overlooked witness to the murder is telling her story: She heard two guns firing during the 1968 shooting and authorities altered her account of the crime.
Nina Rhodes-Hughes wants the world to know that, despite what history says, Sirhan was not the only gunman firing shots when Kennedy was murdered a few feet away from her at a Los Angeles hotel.
"What has to come out is that there was another shooter to my right," Rhodes-Hughes said in an exclusive interview with CNN. "The truth has got to be told. No more cover-ups."
Her voice at times becoming emotional, Rhodes-Hughes described for CNN various details of the assassination, her long frustration with the official reporting of her account and her reasons for speaking out: "I think to assist me in healing — although you're never 100% healed from that. But more important to bring justice."
"For me it's hopeful and sad that it's only coming out now instead of before — but at least now instead of never," Rhodes-Hughes told CNN by phone from her home near Vancouver, British Columbia.
Sirhan, the only person arrested, tried and convicted in the shooting of Kennedy and five other people, is serving a life sentence at Pleasant Valley State Prison in Coalinga, California.
The U.S. District Court in Los Angeles is set to rule on a request by the 68-year-old Sirhan that he be released, retried or granted a hearing on new evidence, including Rhodes-Hughes' firsthand account.
At his 1969 trial, Sirhan's original defense team never contested the prosecution's case that Sirhan was the one and only shooter in Kennedy's assassination. Sirhan testified at his trial that he had killed Kennedy "with 20 years of malice aforethought," and he was convicted and sentenced to death, which was reduced to life in prison in 1972.
After the trial, Sirhan recanted his courtroom confession.
In the recent federal court filings, state prosecutors led by California Attorney General Kamala Harris argue that even if there were a second gunman involved in the Kennedy shooting, Sirhan hasn't proven his innocence and he's still guilty of murder under California's vicarious liability law.
Sirhan's new legal team disputes Harris' assertion about that state statute.
Their current battle has prosecutors and Sirhan's new lawyers engaging directly the merits of new evidence — as well as witness recollections such as Rhodes-Hughes' account — never argued before a judge.
Prosecutors under the attorney general are contending that Rhodes-Hughes heard no more than eight gunshots during the assassination. In court papers filed in February, Harris and prosecutors argue that Rhodes-Hughes was among several witnesses reporting "that only eight shots were fired and that all these shots came from the same direction."
Sirhan's lawyers are challenging those assertions.
In a response also filed in federal court in Los Angeles, the defense team led by New York attorney William Pepper contends that the FBI misrepresented Rhodes-Hughes' eyewitness account and that she actually had heard a total of 12 to 14 shots fired.
"She identified fifteen errors including the FBI alteration which quoted her as hearing only eight shots, which she explicitly denied was what she had told them," Sirhan's lawyers argued in February, citing a previously published statement from Rhodes-Hughes.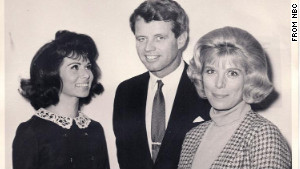 In this NBC photo taken in 1965, TV actress Nina Roman, today known as Nina Rhodes-Hughes, left, and her "Morning Star" co-star Elizabeth Perry, right, meet Robert F. Kennedy at NBC's Burbank studios. Two and a half years later, Rhodes-Hughes witnessed Kennedy's assassination.
The FBI and the California attorney general's office both declined to comment to CNN on the controversy over Rhodes-Hughes' witness account since the matter is now being reviewed by a federal judge.
Rhodes-Hughes was a television actress in 1968 who worked as a volunteer fundraiser for Kennedy's presidential campaign.
The FBI report indicates that Rhodes-Hughes was indeed inside the kitchen service pantry of the Ambassador Hotel during the crucial moments of the Kennedy shooting, but she contends the bureau got details of her story wrong, including her assertions about the number of shots fired and where the shots were fired from.
Rhodes-Hughes, now 78, tells CNN she informed authorities in 1968 that the number of gunshots she counted in the kitchen pantry exceeded eight — which would have been more than the maximum Sirhan could have fired — and that some of the shots came from a location in the pantry other than Sirhan's position.
Robert Kennedy was the most seriously wounded of the six people shot inside the hotel pantry on June 5, 1968, only moments after the New York senator had claimed victory in California's Democratic primary election. The presidential candidate died the next day; the other victims survived.
The Los Angeles County coroner determined that three bullets struck Kennedy's body and a fourth passed harmlessly through his clothing. Police and prosecutors declared the four bullets were among eight fired by Sirhan acting alone.
Rhodes-Hughes tells CNN the FBI's eight-shot claim is "completely false." She says the bureau "twisted" things she told two FBI agents when they interviewed her as an assassination witness in 1968, and she says Harris and her prosecutors are simply "parroting" the bureau's report.
"I never said eight shots. I never, never said it," Rhodes-Hughes told CNN. "But if the attorney general is saying it then she's going according to what the FBI chose to put into their report."
"There were more than eight shots," Rhodes-Hughes said by phone. She says that during the FBI interview in her Los Angeles home, one month after the assassination, she told the agents that she'd heard 12 to 14 shots. "There were at least 12, maybe 14. And I know there were because I heard the rhythm in my head," Rhodes-Hughes said. She says she believes senior FBI officials altered statements she made to the agents to "conform with what they wanted the public to believe, period."
"When they say only eight shots, the anger within me is so great that I practically — I get very emotional because it is so untrue. It is so untrue," she said.
Contacted by CNN for comment, Sirhan lead attorney William Pepper called the alleged FBI alteration of Rhodes-Hughes' story "deplorable" and "criminal" and said it "mirrors the experience of other witnesses."
(The story carries on for several more pages. Please go to  https://www.cnn.com/2012/04/28/justice/california-rfk-second-gun/index.html for the rest.)