Readers have sent in other articles on smart meters after this site published the first one from Krystael.  I'm going to gang three articles and publish them here as one.  This issue I think will go away with First Contact but what I'm recommending is that we orient towards it "as if" it were not going away. It sounds as if the smart meters do harm and as such should not be used. Undoubtedly they will not be part of the technology that comes into use once the galactics assist us with free-energy devices, etc.
Worried about Smart Meters?
http://planetthrive.com/2011/02/worried-about-smart-meters/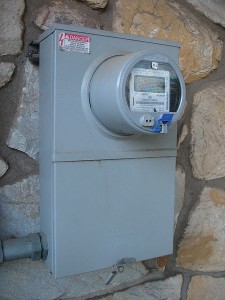 People on both sides of the political spectrum are banding together to fight the current rollout of wireless "Smart Meters" being installed by electric utility companies across America. The left is citing health concerns while the right is focused on privacy issues. The Smart Meter rollout has started in northern California, where everyday citizens are fighting back against their electric utility companies. Many previously healthy people are experiencing health issues following the installation of these meters, and some with electrical sensitivity have been forced to leave their homes and live in their cars. Most everyone is having a lot of trouble getting their electric company to remove the Smart Meter once they are installed. If you are electrically sensitive or have other health and privacy concerns, what can you do to prevent the installation of a Smart Meter at your home?
Planet Thrive guest blogger Cynthia Perkins, M.Ed., a holistic health counselor helping individuals with chronic illness or chronic pain to live life more fully and author of Living Life to the Fullest: Creative Coping Strategies for Managing Chronic Illness, has put together a very informative web page to help educate people on all the issues surrounding Smart Meters and provide resources and direction for preventing their installation at your home. She writes:
Smart Meters expose all of us to dangerous microwave like EMF/RF frequency on a continuous basis, that among other things can disrupt the brain, nervous system, endocrine system, immune system and hormones. Plants that grow beside Smart Meters die. It doesn't take a rocket scientist to know that if it kills a plant it can't be good.

Many people across the country who don't even have any preexisting health conditions report they are developing very serious and debilitating effects from the Smart Meters, like high blood pressure, severe headaches, migraines, exhaustion, high pitched ringing in the ears, impaired memory and confusion, insomnia, nausea and vomiting, constant thirst, heart palpitations, anxiety, and a reduced level of functioning experienced prior to installation.

When a citizen tells the utility company they don't want the Smart Meter installed they are told they have no choice in the matter, they must have the Smart Meter installed. If a person who becomes very ill after installation asks the utility company to remove the meter, most of them are told, No.

Initially, Pacific Gas and Electric also known as PG&E and San Diego Gas and Electric also known as SDG&E, were very unresponsive and unwilling to accommodate anyone's request, however there have been so many protests and reports of problems that they are beginning to be a little more responsive and now state that they will consider your request on a case by case basis. You have to fight like heck, but some people are successful at preventing installation or having it removed once they are made ill."
Cynthia shares the letter she wrote to Southern California Edison to inform them she did not want a Smart Meter installed at her home. You can read it here, where she shares a lot of other resources on the topic as well: Smart Meters Are Hazardous to Your Health and Violate Your Rights.
Here are some additional resources at the EMF Safety Network:
Smart Meter Hazards
NO Thanks PG&E
Commentary by Blake Levitt
Smart Meter Questions
Smart Meter Comments
Smart Meter Fires
Smart Meter Health Impacts
Smart Meter Media Reports
Ecological Option Videos
Another great website to watch: Stop Smart Meters! Growing out of the grassroots group Scotts Valley Neighbors Against Smart Meters, which was started in June 2010, Stop Smart Meters! has now evolved into an advocacy, media outreach, and direct action organization providing activism consultation and advice to dozens of local groups sprouting up who are fighting the wireless 'smart' meter assault.
---
PG&E to let customers disable their smart meters
March 28, 2011 by Todd Woody
http://thegreenwombat.com/2011/03/28/pge-to-let-customers-disable-their-smart-meters/
I wrote this story for Grist, where it first appeared.
Over the past year, a revolt against the rollout of utility Pacific Gas & Electric's smart meters has swept through Northern California as some customers claimed the devices' wireless transmission of electricity data was harming their health. In response, city councils in a number of cities tried to ban their installation.
On Thursday, PG&E, acting under orders from state regulators, unveiled a proposal to let customers have their smart meter's radio turned off — for a price. PG&E would charge a one-time fee ranging from $105 to $270 and then customers would pay between $14 and $20 a month for two years. All in all, it would cost about $600 for the average customer to disable their smart meter.
"This cost is based on what it costs PG&E to disable the radio, adjust our IT system, adjust our billing system, and to manually read customers," Paul Moreno, a PG&E spokesperson, said in an email.
In other words, that's the price of dumbing down smart meters.
Tens of the millions of the devices are being installed nationwide and are a linchpin of the coming smart grid. Smart meters monitor electricity use in real time, allowing utilities to better balance supply and demand and charge accordingly. Customers can use that data to adjust their electricity use when rates are high and pinpoint the power hogs in their homes.
PG&E expects nearly 150,000 of its 5.1 million customers to shut down their smart meters' radio transmitters.
"There is a loss of the benefits of the smart grid (power outage detection, ability to participate in demand response programs to reduce peak demand energy and better utilize renewable power)," said Moreno.
While the rollout has gone fairly smoothly in Southern California, some activists in the greater Bay Area claim the frequencies emitted by the smart meters' wireless transmitters have triggered migraines and myriad other health problems.
"I'm here to charge you with the following criminal counts," one person told members of the California Public Utilities Commission at a meeting last September. "This is misguided, Big Brother green ideology that the smart meters support."
"This is massive experimentation of massive proportions and we are the victims," declared another person.
Mobile phones, microwave ovens, and a host of other household gadgets also emit such frequencies, and to date there has been no scientific evidence to support claims about the health effects of smart meters.
(When I was at Southern California Edison in Los Angeles last October, an executive told me that utility had received only a handful of complaints about its smart meters.)
Nonetheless, regulators ordered PG&E to allow customers to opt out of the smart-meter program. The utilities commission must approve the utility's proposal, so expect more fireworks over the cost of disabling smart meters.
---
Smart Meters – A Call For Public Outrage
Posted by admin
Aircrap.org, Thursday, September 1st, 2011
http://aircrap.org/smart-meters-call-public-outrage/332201/

Source: rense.com.  By Dr Bill Deagle MD AAEM A4M
8-30-11
Smart meters are the latest technological imposition of utilities generating power to force with no option to opt out a system of control of billing power consumption of consumers at peak energy time rates. This should come as no surprise, but Smart Grid is an Agenda 21 population control Carbon Tax based population TAX ! There is no Federal Law mandating Smart Meters, and even if there was it would be between the Utilities and Federal Regulators and cannot include a non-contracted third party, the consumer. It violates the Federal Wiretapping Laws and clearly builds databases for sale of private information of power usages with the electrical signature of every appliance and time use in the home. This is powerful marketing and control data in the hands of control-freak bureaucrats and marketing gurus.
Smart Meters thus have two primary areas of contention. First, they are a bold invasion of privacy and purport to have authority to gather data and modify behavior and consumption patterns of unwitting power consumers and market data to third parties and government and policing agencies. Second, they are a Class 2b Carcinogen even by WHO standards, and the mountain of toxic data is mounting that Smart Meters are thousands of times more toxic than even cell phones, causing cancer, insomnia, and numerous medical problems. The biological basis is energy transferred to cell membranes and molecules that open calcium and other ion channels and disrupt the non-covalent Van der Waals hydrogen bonds that hold the fragile double helix of DNA intact and cause 4D enzyme active site disruption with disturbed enzyme KMax and nutrient-enzyme interactions and cellular communications.
Utilizing an advanced ElectroSmog Electropollution Detector from Germany HF 35C 800 MHz – 2500 MHz, the Smart Meter from SDG&E placed on my home without notice Nov 2010 was tested last week. Sempra Utilities SDG&E's Smart Meter produced a burst of ELF microwave radiation 1000s more powerful than a cell phone call at greater than 2000 uW/meter squared power levels every 5 to 15 seconds throughout the day and night. This meter is 10 feet from my studio broadcast desk. Testing beside my wife's side of our bed, Friday August 26th 2011, pointed 20 yards to our neighbors garage mounted SDG&E meter, every 2 to 5 seconds a burst of ELF microwave radiation was detected over limit 2000+ uWatts of power per square meter.
What is the challenge and what must we do? We must first join by informing our neighbors and communities that we only win if all ELF pollution is dramatically reduced resulting in elimination of ALL Smart Meter Systems, reduction of Cell Towers and eventual replacement with Fiberoptic ports for public access such as the old style phone booths, and removal of WiFi networks proliferating everywhere.
What am I doing? I am an environmental doctor and pro se activist filing a Federal Suit against the CPUC California Public Utilities Commission and SDG&E with the JurisDictionary Course by Dr Fred Graves JD and legal research by Ron McDonald, legal and constitutional genius at strategic action plans for this and other important issues of our day. Jonathan Emord's legal group has been offered the job of taking on the challenge of taking my environmental research and colleagues with medicolegal expertise in this area such as Dr Wm Rae MD AAEM director of the Dallas Environmental Health Center. We will also move from a local to national level attacking not only other state agencies and utilities but also proceeding against business and neighborhoods who refuse to remove smart meters that pollute our families and ourselves.
This is no small task, to take on the powerful utilities and control freak agencies with other agendas. However the alternative is total lack of personal privacy and irradiation causing the same micronuclei and DNA damage, premature aging and cellular pathology. Electrosmog ELF changes are similar to ionizing radiation from Chernobyl or Fukushima's ionizing radioisotope particles, with health deterioration and behavioral problems, premature illness and death. We have really no choice but to stand up and take on corrupt government and authoritarian profit driven corporations with UN Agenda 21 driven population control plans. Join the fight, realizing that inaction and silence are complicity with this privacy and electro-pollution environmental extinction level event.
Tuesday August 30th 2011, I have hired an electrician to remove the Smart Meter and bolt it down with tags to prevent tampering with a safe analog meter. I will pay 100 % of my power bill but will not be bullied and irradiated in my own home by unwarranted privacy invasion and health dangers of high energy ELF polluting transmitter on my home or my neighbors homes.
I am available for interviews my phone or on camera, and may need a film crew if they try to cut my power or have police visit my premises to force reinstallation of the SDG&E smart meter transmitter.
Dr Bill Deagle MD
NutriMedical.com