My thanks to Len, D, and Brian, the fruits of whose research make up these pages.
Please don't read "Today" unless you're prepared to hear what's really happening in the world.
Some subjects discussed as we move into the future may be distressing.
By now we may be seeing that the vaccines are instruments of global depopulation and mass control. The 5G network promises a new lot of problems.
It has never been about the virus, which kills a very small number; it's always been about the "vaccine," which promises to kill on a very large scale. … And now, 5G.
We must stop it.
And we will – gradually, peacefully, and legally.
In my view an international Freedom Convoy – a convoy in all countries – has the best chance of bringing down the vaccine mandate regime. Europe? Australia? Asia?
You say New Zealand has started theirs? Wonderful!
The number of videos mounted on this page may make it take up to a minute to load. I see there is an upper limit to the number I can place on a page and so I may need to post shorter articles more often than I'd prefer.
---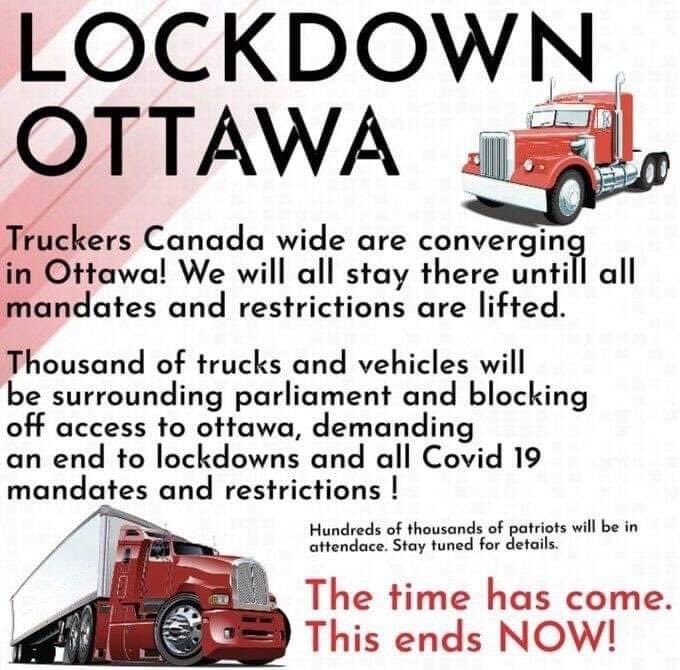 ---
INSANE: Winnipeg has come out in force! This ain't Trudeau's town. pic.twitter.com/hQOBMRTO4e

— Keean Bexte (@TheRealKeean) January 25, 2022
---
Freedom Convoy heading up from South Carolina to Ottawa
Freedom Convoy heading from South Carolina up to Ottawa to stand with us Canadians in ending Mandates! #freedomconvoy #FreedomConvoy2022 #UnitedWeStand #truckers #TruckersForFreedom pic.twitter.com/QQICGBPbDO

— Immortal Indigenous (@misscovurgurll) January 25, 2022
Airplane view of the freedom trucker convoy between Whitewood and Moosomin, Saskatchewan, Canada today. pic.twitter.com/qJEy96Q8Ez

— Marie Oakes (@TheMarieOakes) January 25, 2022
---
Photos
Prairies
Truckers in front, truckers behind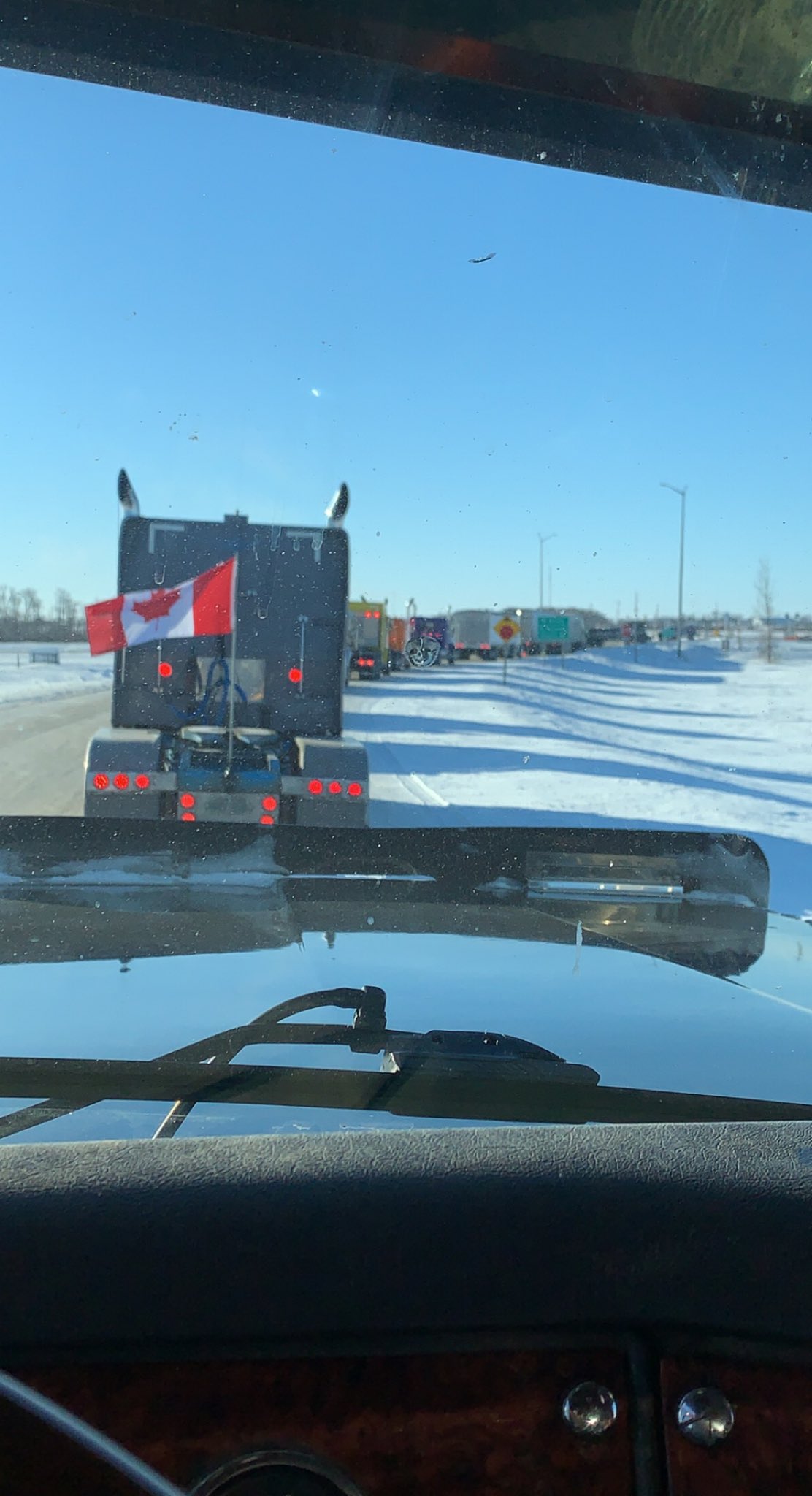 Toronto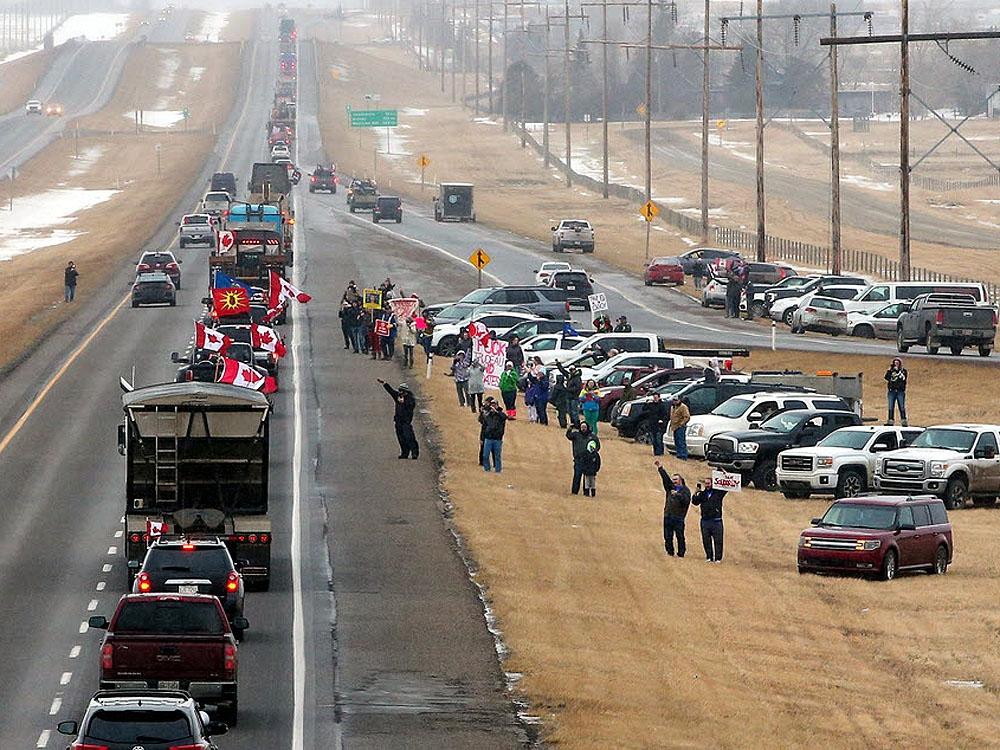 ---
Statements
'Taking Back Our Freedoms' (TBOF.ca) calls on Trudeau Government to immediately repeal its truckers 'vaccine' order, calling the Mandate "unjust, unnecessary and ultimately dangerous".
For immediate release
OTTAWA, [Jan 23, 2022]: Taking Back Our Freedoms Canada (TBOF.ca), a national organization dedicated to ending the unlawful and unconstitutional COVID-19 (C-19) Mandates, including lockdowns, the coerced [1]'vaccination' of Canadians and other illegal, unconstitutional and oppressive measures, is calling on Prime Minister Justin Trudeau to repeal his federal government Mandate requiring all foreign nationals working as truckers to be fully 'vaccinated' to enter Canada, and subjecting unvaccinated Canadian truckers to quarantine and testing requirements.
Brian Peckford, former Premier of Newfoundland & Labrador, also serving as Chairman of the Board for Taking Back Our Freedoms states  "Trudeau's Mandates against our truckers, along with all other C-19 Mandates of every Province of Canada are an assault on the rights and freedoms of the people of Canada.  These Mandates are unlawful and unconstitutional, and further, there never has been, nor is there currently a 'level of health emergency' that justifies the suspension of entire sections of the Charter of Rights and Freedoms."  Peckford is the last living first Minister that helped negotiate and then sign the Canadian Constitution (1982) of which the Charter of Rights and Freedoms is a part, and as such has firsthand knowledge of the 'original intent'. He concludes, "It's time that Canadians take back their rights and freedoms as well as take back their democracy from Provincial and Federal leaders who've conducted themselves as petty dictators."
"Take Back our Freedoms enthusiastically supports members of the trucking industry in their opposition to this latest federal mandate," said Dr. Laura Braden, a Director of TBOF "Not only do the new measures jeopardize the livelihood of thousands of truck drivers, but they also threaten to further disrupt the supply of food, medicine, and other goods, including supplies to factories that employ millions across the country."
Braden added "There is no reason to impose these rules on cross-boarder truck drivers. The Mandate is unjust, unscientific,  unnecessary and ultimately dangerous, and we urge the government to immediately repeal it."
EVENTS UNFOLDING:  In response to the Prime Minister's measures, Canadian truckers from coast to coast are staging 'truck-caravan protests' at border crossings and now organizing a massive Freedom Convoy 2022 starting today (Jan 23, 2022) from every corner of Canada, to descend on Ottawa (arriving on or about Jan 28, 2022).   Dr. Braden states, "It's clear by the sheer numbers of participating truckers, that this protest has transformed itself into a citizens movement on behalf of all Canadians, both the 'vaccinated' and the unvaccinated. The Freedom Convoy has expanded its demands to include the end of all C-19 Federal and Provincial Mandates, not just those that apply to their industry. This is a welcome and encouraging development."
Trudeau's 'measures upon truckers' threatens to shut down a large percentage of Canada's trucking industry when it is apparent our supply chain is already seriously strained. To make matters worse, he has taken this action in the middle of winter. "Food shelves across Canada are beginning to empty at an alarming rate, and the responsibility for this impending disaster falls fully upon the Prime Minister" states Braden and "On this point, all Canadians can be united; Trudeau's 'measures' are an attack against every Canadian family, regardless of C-19 vax opinion or status"
The Prime Minister's escalation also flies in the face of science and what other nations are now doing towards ending the Mandates such as  in Great Britain.
Braden concludes "at precisely the time the Prime Minister and Premiers of Canada should be ending the Mandates they are instead doubling down on the same measures that have already proven themselves to not work. The actions of our Premiers and Prime Minister appear relevant to the well-known words of Albert Einstein; 'the definition of madness is repeating the same action, over and over, hoping for a different result'.  This C-19 madness needs to end!"