My thanks to Len, D, and Brian, the fruits of whose research make up these pages
By now we may be seeing that the vaccines are intended to create a vehicle for mind control, for eliminating the immune system, and for killing on a mass scale – that is, to depopulate the globe and render the survivors controllable.

In my opinion, the Covid vaccine is a bioweapon and a weapon of mass destruction. It's our job, I think, to put a stop to it asap.
And we will – gradually, peacefully, and legally.
---
U.S. Government mandates use of vaccine which it partially owns

---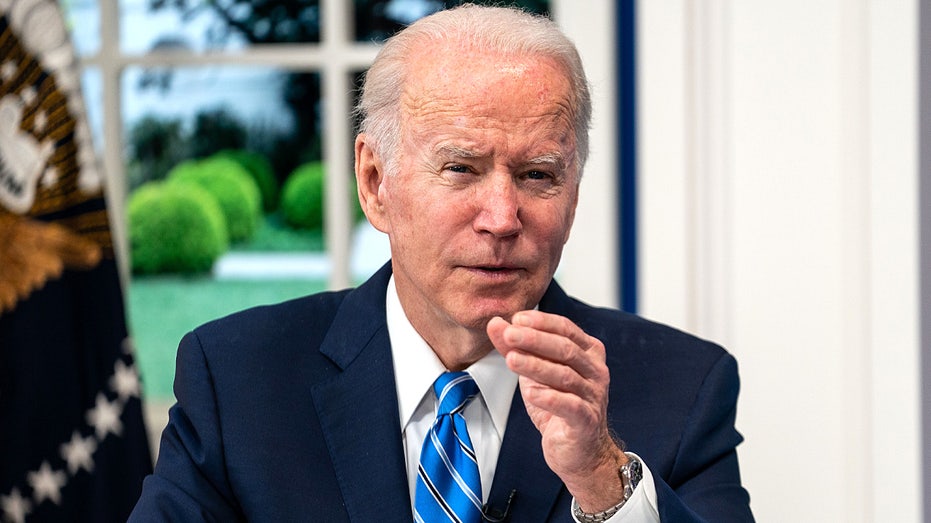 Supreme Court blocks Biden OSHA vaccine mandate, allows rule for health care workers
Court ruled that COVID-19 is not an occupational hazard but a 'universal risk'
Ronn Blitzer, Tyler O'Neil FOXBusiness, Jan. 13, 2022
(https://www.foxbusiness.com/politics/supreme-court-biden-vaccine-mandates-osha-health-care-workers)
The Supreme Court on Thursday issued mixed rulings in a pair of cases challenging Biden administration COVID-19 vaccine mandates, allowing the requirement for certain health care workers to go into effect while blocking enforcement of a mandate for businesses with 100 or more employees.
The latter, an Occupational Safety and Health Administration rule that took effect on Monday, said that businesses with at least 100 employees needed to require workers to get vaccinated, or get tested weekly and wear a mask.
The Court ruled that OSHA lacked the authority to impose such a mandate because the law that created OSHA "empowers the Secretary to set workplace safety standards, not broad public health measures."
"Although COVID-19 is a risk that occurs in many workplaces, it is not an occupational hazard in most," the Court ruled. "COVID–19 can and does spread at home, in schools, during sporting events, and everywhere else that people gather. That kind of universal risk is no different from the day-to-day dangers that all face from crime, air pollution, or any number of communicable diseases."
---
US Army Offers Max Enlistment Bonus of $50,000 to New Recruits as Service Struggles to Lure New Soldiers
Cristina Laila, Gateway Pundit, January 12, 2022
(https://tinyurl.com/3jfa7k2n)
It looks like the Biden Regime's vaccine mandates are going well.
The US Army is offering new recruits up to $50,000 bonus for enlisting for six years.
The service is struggling to lure new soldiers because of Covid – and the Pentagon's vaccine mandate.
AP reported:
The U.S. Army, for the first time, is offering a maximum enlistment bonus of $50,000 to highly skilled recruits who join for six years, The Associated Press has learned, as the service struggles to lure soldiers into certain critical jobs amid the continuing pandemic.

Maj. Gen. Kevin Vereen, head of Army Recruiting Command, told AP that shuttered schools and the competitive job market over the past year have posed significant challenges for recruiters. So heading into the most difficult months of the year for recruiting, the Army is hoping that some extra cash and a few other changes will entice qualified young people to sign up.
Hundreds of servicemembers in the Army, Navy, Air Force and Marine Corps have already been purged for refusing to get vaccinated against Covid.
---
COVID-19 vaccine passport now mandatory for large stores in Quebec
Al Sciola, the Daily Hive, Jan. 13, 2022
(https://dailyhive.com/montreal/vaccine-passport-quebec-large-box-stores)
During a Thursday press conference, Quebec Premier Francois Legault announced that big-box stores across Quebec will require proof of vaccination for customers.
After confirming that Monday, January 17 would mark the opening of schools and the end of the 10 pm curfew, Legault said that any store larger than 1,500 square metres would have to implement the vaccine passport.
He cited Canadian Tire, Wal-Mart, and Costco as examples.
The premier said grocery stores and pharmacies are excluded as they are essential services.
The new measure for big-box stores will be implemented January 24.
Health Minister Christian Dubé said all stores 1,500 square metres and bigger, including those inside malls, will need to enforce the new measure. "It's simple," he said in French, "if it's bigger than 1,500 square meters, they have to enforce it."
The premier, who was joined by Dubé, Education Minister Jean-François Roberge, and interim Public Health Director Luc Boileau, also confirmed that restaurants, venues, and theatres will be able to reopen "in the coming weeks."
Currently, Quebec's VaxiCode app considers those who have received two doses of the COVID-19 vaccine fully vaccinated.
Earlier this month, the provincial government announced that citizens will soon require three doses of a COVID-19 vaccine to be fully up to date with the digital passport.
Legault also addressed the controversial proposed tax for the unvaccinated, saying the National Assembly of Quebec will vote on the "health contribution" at an assembly at the beginning of February.
---
For Reflection
(Longer articles appear here.)
Ooops a Daisy!
Troops training to overthrow an illegitimate government? Did Fox News actually say that?
(https://www.bitchute.com/video/FRiGBq4bAfnm/?list=notifications&randomize=false)
They said it and here's the Daily Mail expanding on it:
A civil war rehearsal? US Army will conduct a two-week 'guerilla war' training exercise in North Carolina to teach Special Forces how to overthrow an 'illegitimate government' just weeks after DoJ announced new 'domestic terrorism' unit
Natasha Anderson, Daily Mail, 11 Jan. 2022
Special Forces candidates will participate in the two-week Robin Sage training exercises in which they will practice overthrowing illegitimate governments
Robin Sage places soldiers in a 'politically unstable' fictional country and uses 'unconventional guerrilla warfare' to defeat a 'numerically superior enemy'
Soldiers will face off against seasoned military members and specially trained civilians during the exercise, which serves as the Special Forces final exam
Several citizens, however, are concerned the exercise encourages soldiers to target civilians 
News of the training exercise comes at a tense time in the US, just five days after the country celebrated the first anniversary of the Capitol riot
It also follows the DOJ's creation of a new 'domestic terrorism' unit as the nation faces what officials said is an 'elevated threat from domestic violent extremists'
Young Army soldiers will be battling 'seasoned freedom fighters' across two dozen North Carolina counties in a two-week 'guerrilla warfare exercise' where they attempt to overthrow an 'illegitimate government'.
News of the training exercise comes just days after the anniversary of the Capitol riot and as the Justice Department announces the creation of a new 'domestic terrorism' unit to tackle what officials said is an 'elevated threat from domestic violent extremists'.
Some questioned the close timing of the events, while others went further with fears that the Biden administration is 'preparing for American Uprising'.
'Biden's military wargames fighting and killing American "Freedom Fighters" in guerilla (sic) warfare,' one Twitter user posted in reaction to news of the guerilla warfare training on US soil.
Another Twitter user even questioned if the government was 'trying to get troops accustomed to the idea of killing fellow Americans?'
However, the guerilla training exercise, known as Robin Sage, has actually been running every few months since the 1970s.
Young soldiers will be battling 'seasoned freedom fighters' across North Carolina counties in a two-week 'unconventional guerrilla warfare exercise' – known as Robin Sage – where they attempt to overthrow an 'illegitimate government' (Pictured: Robin Sage training in July 2019)
During Robin Sage training, young soldiers will face off against seasoned service members from units across Fort Bragg, acting as opposing forces and guerrilla freedom fighters, as well as 'specially trained' guerilla civilians.
Some social media users find the exercise concerning as the 143-year-old Posse Comitatus Act bars federal troops from participating in civilian law enforcement except when expressly authorized by law. The legislation cites military interference in civilian affairs as a threat to democracy and personal liberty.
Others have implied the exercise is preparing soldiers to prevent an insurgence and fear it is training American troops how to fight their own people.
The Robin Sage exercise, which serves as the final exam in Special Forces Qualification Course training, will begin January 22 at an undisclosed location on private land.
It places soldiers in the 'politically unstable' fictional country of Pineland and forces them to conduct reconnaissance, raids, ambushes, and numerous other operations a 'numerically superior enemy'.
Robin Sage places soldiers in the 'politically unstable' fictional country of Pineland and forces them to conduct reconnaissance, raids, ambushes, and numerous other operations a 'numerically superior enemy' (Pictured: A Special Forces candidate engaging a target during Robin Sage training in 2019)
'The Special Forces candidates have to meet up with and make rapport with a third-world nation guerrilla force, train them up, and then work by, with, and through that guerrilla force to conduct combat operations against a numerically superior enemy occupying force,' retired Special Forces warrant officer Steve Balestrieri, who typically runs the course, told Business Insider.
The US Army John F. Kennedy Special Warfare Center and School, which conducts the Robin Sage exercise, said teams are placed in a 'real world setting characterized by armed conflict' and presented with war-crime scenarios, such as a partner force wanting to execute a prisoner or destroy a village.
The soldiers are then tasked with negotiating the situations without violating war laws or losing the support of their allies.
---
Pfizer CEO: Our Vaccines Offer 'Limited, If Any Protection'
Katie Pavlich, Townhall, Jan. 11, 2022
(https://townhall.com/tipsheet/katiepavlich/2022/01/11/pfizer-ceo-our-vaccines-offer-little-protection-n2601670)
Speaking during remarks to a J.P. Morgan healthcare conference this week, Pfizer CEO Albert Bourla openly stated current vaccines the company developed for Wuhan coronavirus offer "limited, if any" protection against contracting current variants of the disease. He then encouraged booster shots.
Pfizer CEO on the vaccine that the U.S. government wants to mandate for the entire population:

"Two doses of the vaccine offers very limited protection, if any. 3 doses with a booster offer reasonable protection against hospitalization and deaths." pic.twitter.com/bflGbJWFzh

— Young Americans for Liberty (@YALiberty) January 10, 2022
The statement from Bourla comes as the Biden administration continues to justify vaccine mandates for federal workers, contractors and private businesses. The Supreme Court heard arguments about President Biden's mandates for private companies and medical workers last week. A ruling is expected soon on the constitutionality of the mandates.
A number of people who have pointed out the waning efficacy of Pfizer's vaccines, which Bourla touted last year as being "100 percent" effective against contracting or transmitting the virus, have been banned by social media companies.
Meanwhile, Bourla also announced this week the company is developing a vaccine specific to Omicron. It is expected to be ready in March when health officials predict the latest wave of the mild variant will already be over.
---
"Doomed To Fail" – Top Immunologist Blasts Global COVID Response Driven By "False Propaganda"
Tyler Durden, Zero Hedge, Jan 13, 2022
Professor Ehud Qimron, head of the Department of Microbiology and Immunology at Tel Aviv University and one of the leading Israeli immunologists, has written an open letter sharply criticizing the Israeli – and indeed global – management of the coronavirus pandemic.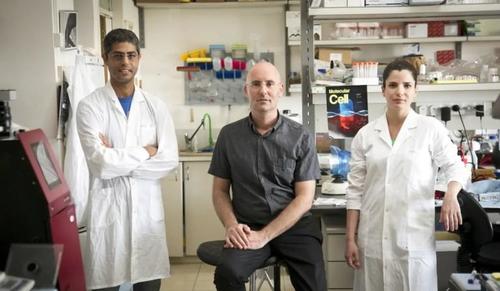 Professor Ehud Qimron (center) at Tel Aviv University (Haaretz)
Original letter in Hebrew: N12 News (January 6, 2022); translated by Google/SPR. See also: Professor Qimron's prediction from August 2020: "History will judge the hysteria" (INN).
∗ ∗ ∗
Ministry of Health, it's time to admit failure
In the end, the truth will always be revealed, and the truth about the coronavirus policy is beginning to be revealed. When the destructive concepts collapse one by one, there is nothing left but to tell the experts who led the management of the pandemic – we told you so.
Two years late, you finally realize that a respiratory virus cannot be defeated and that any such attempt is doomed to fail. You do not admit it, because you have admitted almost no mistake in the last two years, but in retrospect it is clear that you have failed miserably in almost all of your actions, and even the media is already having a hard time covering your shame.
You refused to admit that the infection comes in waves that fade by themselves, despite years of observations and scientific knowledge. You insisted on attributing every decline of a wave solely to your actions, and so through false propaganda "you overcame the plague." And again you defeated it, and again and again and again.
You refused to admit that mass testing is ineffective, despite your own contingency plans explicitly stating so ("Pandemic Influenza Health System Preparedness Plan, 2007", p. 26).
You refused to admit that recovery is more protective than a vaccine, despite previous knowledge and observations showing that non-recovered vaccinated people are more likely to be infected than recovered people. You refused to admit that the vaccinated are contagious despite the observations. Based on this, you hoped to achieve herd immunity by vaccination — and you failed in that as well.
You insisted on ignoring the fact that the disease is dozens of times more dangerous for risk groups and older adults, than for young people who are not in risk groups, despite the knowledge that came from China as early as 2020.
You refused to adopt the "Barrington Declaration", signed by more than 60,000 scientists and medical professionals, or other common sense programs. You chose to ridicule, slander, distort and discredit them. Instead of the right programs and people, you have chosen professionals who lack relevant training for pandemic management (physicists as chief government advisers, veterinarians, security officers, media personnel, and so on).
You have not set up an effective system for reporting side effects from the vaccines and reports on side effects have even been deleted from your Facebook page. Doctors avoid linking side effects to the vaccine, lest you persecute them as you did to some of their colleagues. You have ignored many reports of changes in menstrual intensity and menstrual cycle times. You hid data that allows for objective and proper research (for example, you removed the data on passengers at Ben Gurion Airport). Instead, you chose to publish non-objective articles together with senior Pfizer executives on the effectiveness and safety of vaccines.
Irreversible damage to trust
However, from the heights of your hubris, you have also ignored the fact that in the end the truth will be revealed. And it begins to be revealed. The truth is that you have brought the public's trust in you to an unprecedented low, and you have eroded your status as a source of authority. The truth is that you have burned hundreds of billions of shekels to no avail – for publishing intimidation, for ineffective tests, for destructive lockdowns and for disrupting the routine of life in the last two years.
You have destroyed the education of our children and their future. You made children feel guilty, scared, smoke, drink, get addicted, drop out, and quarrel, as school principals around the country attest. You have harmed livelihoods, the economy, human rights, mental health and physical health.
You slandered colleagues who did not surrender to you, you turned the people against each other, divided society and polarized the discourse. You branded, without any scientific basis, people who chose not to get vaccinated as enemies of the public and as spreaders of disease. You promote, in an unprecedented way, a draconian policy of discrimination, denial of rights and selection of people, including children, for their medical choice. A selection that lacks any epidemiological justification.
When you compare the destructive policies you are pursuing with the sane policies of some other countries — you can clearly see that the destruction you have caused has only added victims beyond the vulnerable to the virus. The economy you ruined, the unemployed you caused, and the children whose education you destroyed — they are the surplus victims as a result of your own actions only.
There is currently no medical emergency, but you have been cultivating such a condition for two years now because of lust for power, budgets and control. The only emergency now is that you still set policies and hold huge budgets for propaganda and psychological engineering instead of directing them to strengthen the health care system.
This emergency must stop!
Professor Udi Qimron, Faculty of Medicine, Tel Aviv University
---
Variation in Toxicity of Covid Vaccine Batches
Craig-Paardekooper, Bitchute, Nov. 16, 2021
(https://www.bitchute.com/video/6xIYPZBkydsu/)
The purpose of this study was to determine if there is any significant variation in batch toxicity – by counting the number of adverse reaction reports associated with each batch number.
The number of adverse reactions in each State of the USA caused by each individual batch was also counted.
The results were interesting.
70% of the batches were harmless – producing only one adverse reaction report each.
80% of the batches produced only 1 or 2 adverse reaction reports. So the vast majority of the batches were harmless.
However, a very distinct and significant anomaly appeared.
1 in 200 (0.5%) of the batches was found to be between 1000 and 5000 times more toxic than the average batch, and accounted for 70% of all of the adverse reactions, and 70% of all of the deaths
1 in 20 (5%) of the batches accounted for 90% of the adverse reactions and deaths.
These toxic batches consistently produced high levels of adverse reactions, disability and death across every State in the USA, in sharp contrast to the harmless batches. As a consequence the toxic batches are easily visible as a string of numbers across the screen in the video above.
The consistency with which these batches produce adverse reactions indicates that the adverse reactions are caused by the batches rather than by the health status of the recipients.
The probable reason for these more toxic batches is either
1. The batches contain added ingredients that are highly toxic
2. The batches are of a higher concentration of the same ingredients
The later suggests that Pharma may be investigating the LD50 (Lethal Dose) in order to establish the therapeutic range. Needless to say, such experimentation carried out on human beings has already resulted in deaths and disabilities – as shown in this report.
The question arises –
If there is such high variation in the toxicity of the batches, should we be mandating this medical intervention?
Should we be coercing people under threat of losing their job or being confined at home , into taking something where death or disability is a possible adverse reaction?
---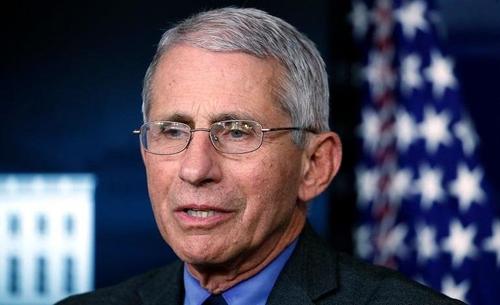 House Republicans Release Damning Fauci Emails Suggesting Concealed Knowledge Of Lab Leak
Tyler Durden, Zero Hedge, Jan 12, 2022
(https://www.zerohedge.com/markets/house-republicans-release-damning-fauci-emails-suggesting-concealed-knowledge-lab-leak)
Republicans on the House Oversight Committee have released several emails which suggest Dr. Anthony Fauci may have known that Covid-19 originated from a lab leak, and that it may have been "intentionally genetically manipulated."
"We write to request a transcribed interview of Dr. Anthony Fauci, Director, U.S. National Institute of Allergy and Infectious Diseases (NIAID). Excerpts of emails we are making public today (see enclosed Appendix I) reveal that Dr. Fauci was warned of two things: (1) the potential that COVID-19 leaked from the Wuhan Institute Virology (WIV) and (2) the possibility that the virus was intentionally genetically manipulated. It is imperative we investigate if this information was conveyed to the rest of the government and whether this information would have changed the U.S. response to the pandemic," reads the letter from Reps. James Comer and Jim Jordan to HHS Secretary Xavier Becerra.
The letter goes on to state that Fauci – despite claiming otherwise on multiple occasions – was in fact aware of the monetary relationship between NIAID, the NIH, EcoHealth Alliance and the Wuhan lab – by January 27, 2020. Fauci also knew that EcoHealth and NIAID worked together to craft a grant policy which would 'sidestep the gain-of-function moratorium at the time.'
"This allowed EcoHealth to complete dangerous experiments on novel bat coronaviruses – and with little oversight – that would have otherwise been blocked by the moratorium," the letter continues, adding that in January 2020, Fauci was also aware that EcoHealth was delinquent in submitting an annual progress report to NIAID, "presumably to hide a gain-of-function experiment conducted on infectious and potentially lethal bat coronaviruses."
The conference call
The letter references a February 1, 2020 conference call between Fauci, NIH head Collins, and 'at least eleven other scientists' who convened to discuss Covid-19.
"It was on this conference call that Drs. Fauci and Collins were first warned that COVID-19 may have leaked from the WIV and, further, may have been intentionally genetically manipulated. Again, it is unclear if either Dr. Fauci or Dr. Collins ever passed these warnings along to other government officials or if they simply ignored them."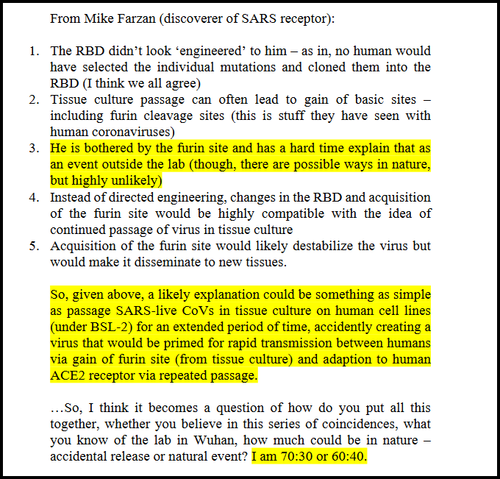 Note from February 1, 2020 conference call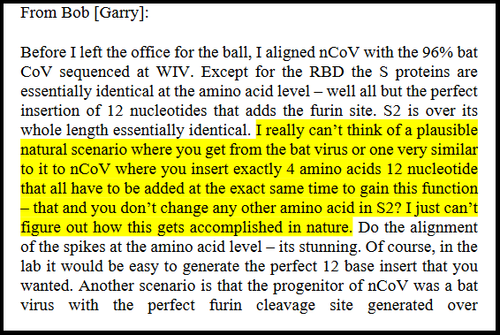 Three days after the call, four participants authored a paper entitled "The Proximal Origin of SARS-CoV-2," of which Fauci and Collins were sent drafts. The authors, who had previously expressed concern over a lab-leak and genetic manipulation, suddenly abandoned that theory to insist the new virus had a natural origin.
Meanwhile, on April 16, 2020, Collins emailed Fauci to express dismay that the Nature Medicine article which they saw prior to publication (and were given the opportunity to edit), did not quash the lab leak hypothesis. Collins asked Fauci if the NIH could do more to "put down" the lab leak hypothesis. The next day, Fauci cited the paper from the White House podium "likely in an effort to further stifle the hypothesis that COVID-19 leaked from the WIV."
Questions
The House GOP letter then asks a series of questions.
Rather than be transparent with the Committee, HHS and NIH continue to hide, obfuscate, and shield the truth. By continuing to refuse to cooperate with our request, your agencies are choosing to hide information that will help inform the origins of the ongoing pandemic, prevent future pandemics, respond to future pandemics, inform the United States' current national security posture, and restore confidence in our public health experts. HHS and NIH's continued obstruction is likely to cause irreparable harm to the credibility of these agencies. The emails released today raise significant questions, including but not limited to:
1. Did Drs. Fauci or Collins warn anyone at the White House about the potential COVID-19 originated in a lab and could be intentionally genetically manipulated?
2. If these concerns were not shared, why was the decision to keep them quiet made?
3. What new evidence, if any, came to light about COVID-19 between February 1, 2020 and February 4, 2020 to alter the belief it originated in a lab?
4. Did Drs. Fauci or Collins edit the Nature Medicine paper entitled "The Proximal Origin of SARS-CoV-2"?
5. Would having this knowledge earlier have benefitted either vaccine or treatment development?
6. By February 1, 2020, were Drs. Fauci or Collins aware of the State Department's warnings about WIV safety?
7. Would this warning have changed the early response to the COVID-19 pandemic?
Read the entire letter and released emails below:
---
Ronald McDonald House in Vancouver to evict families with young children who are unvaccinated
"They are evicting my son with leukemia and any other children or adults who are suffering with sick children into the snow."
Ari Hoffman, The Post-Millennial, January 12, 2022
(https://thepostmillennial.com/ronald-mcdonald-house-to-evict-families-who-are-not-vaccinated)
The Ronald McDonald House in Vancouver British Columbia allegedly served an eviction notice on unvaccinated children with serious illness including cancer and their parents.
Austin Furgason, from Kelowna, British Columbia, the father of a 4-year-old boy with leukemia who has been undergoing treatment since October, posted the video to Facebook showing a letter from Ronald McDonald House Charities – British Columbia & Yukon that made the announcement of the evictions. A GoFundMe has been set up to help the family with costs.
A GoFundMe has been set up to help the family with costs.
He wrote, "All tenants, adults and children over the age of 5 who are not vaccinated are out by the end of January. How absolutely wicked and vile.""They are evicting my son with leukemia and any other children or adults who are suffering with sick children into the snow." Furgason added, "The Covid cult is far more dangerous than Covid. If they will evict families with cancer, what won't they do."
The letter in the video, which was provided to True North dated January 10, 2022, said that everyone five years and older unvaccinated against the coronavirus can no longer stay at the facilities.
Beginning January 17, 2022, everyone five years and older who are working, staying or visiting our facilities (both the House at 4567 Heather St. Vancouver and at the Family Room in Surrey Memorial Hospital) must show proof of full vaccination (two doses), in addition to completing our existing screening, unless an Accommodation has been sought and has been explicitly approved and granted by RMHC (Ronald McDonald House Charities) in writing."
Families already in the facility have a grace period to get at least one dose of the vaccine which ends on January 31.
Fergason told True North on Tuesday night, "My wife Lindsey was crying on the bed. I told her, I'm going to go ask the manager about this because this isn't even real."
I said, this couldn't be real."
In the video, Furgason can be seen confronting staff and telling them that he is not anti-vaccine because his child has had all his vaccines with the exception of the one for COVID-19. Furgason also told the staff member that the COVID shots do not stop transmission and said that evicting them was against what Canada stood for.
Ronald McDonald House BC and Yukon opened in 1983 to provide support for sick kids and families needing to travel long distances to receive specialized care only found in Vancouver. The demand for this essential service quickly grew and now has a 73-bedroom house near BC Children's Hospital and also operates a Family Room in Surrey Memorial Hospital.
According to Ronald McDonald House Charities – British Columbia & Yukon, "We continue to restrict access to the House and are practicing COVID –19 safety protocols including: screening, temperature checks, physical distancing, enhanced cleaning protocols and mandatory mask-wearing in all common spaces. All guests and visitors to the House must show proof of full vaccination against COVID –19. These measures in addition to an abundance of sanitizer and kindness will help us ensure the safety of everyone at the House."
---
Other References
"HUGE BREAKING NEWS: Court Rules Pennsylvania Senate's Investigation of the 2020 Election Results in the State Will Move Forward," Jim Hohttps://tinyurl.com/26tx7xj4ft, Gateway Pundit, Jan. 12, 2022, at https://tinyurl.com/26tx7xj4
"Ivermectin/COVID-19 Care Providers" at https://covid19criticalcare.com/ivermectin-in-covid-19/covid-19-care-providers/
Tim Gielen, Monopoly: Who Owns the World?  at https://rumble.com/vn7lf5-monopoly-who-owns-the-world-must-see.html


---

VACCINE DEATH REPORT

Evidence of millions of deaths and serious adverse events resulting from the experimental COVID-19 injections

Investigative journalist David John Sorensen and world renowned 'Physician of Presidents' and nominee for the Nobel Peace Prize Dr. Vladimir Zelenko combined their knowledge to reveal something devastating to the world: the scientific data overwhelmingly shows how probably millions have died from the covid injections, and hundreds of millions are suffering crippling side effects, that often permanently disable the victims for life. The Vaccine Death Report provides all the data, along with hundreds of references, for further investigation.

This is a critical alarm call to humanity.

Download it now and spread it far and wide.

Download here: https://goldenageofgaia.com/wp-content/uploads/2022/01/vaccinereport-1.pdf