My thanks to Len, D, and Brian for their research.
Remember: "War" is for the purpose of declaring martial law. Declaring martial law is for the purpose of announcing the fall of the cabal and the return of the Republic.
No need to worry. This is what we've been waiting for.
---
Dr. Peter McCullough: Let's Win the War Against Therapeutic Nihilism
I'd say this is the one video folks should watch if they want to hear as full an explanation of what the vaccine does to us as we're probably ever going to hear.
"We have the biggest biological catastrophe on our hands in human history."
Thanks to Len and Jim.
(https://www.bitchute.com/video/0dIOOpXVADrM/)
---
Vaxx Protests Around the World
Shown for its recording of the protests, not for the videomaker's views. Thanks to Len.
Hit graphic to watch video
(https://hooktube.com/TChm_6zwEG8)
---
UCLA anesthesiologist Dr. Chris Rake was escorted out of the UCLA medical plaza and placed on unpaid administrative leave for refusing to get vaccinated or request an exemption.
"I'm willing to go lose everything…even my life."  Thank you, Dr. Rake!  We need more like you.
UCLA anesthesiologist Dr. Chris Rake, a COVID-19 vaccine mandate opponent, was escorted out of the UCLA medical plaza yesterday and placed on unpaid administrative leave for refusing to get vaccinated or request an exemption.

"I'm willing to go lose everything…even my life." pic.twitter.com/7AxUX4uyeF

— Samuel Braslow (@SamBraslow) October 6, 2021
---
Brian: This short video (5 min.) outlines what each CV shot does to our bodies and how they were designed to destroy our immune system, make us HIV +, and dependent on endless "boosters."
Hit graphic to watch video
(Or go to https://www.facebook.com/michael.tellinger.1/videos/819449392057851/)
---
THE SNAKES ARE COMING OUT.
Telegram
https://t.me/Freedom_Warriors/14924
The masks begin to fall off ! "The Chinese biological laboratory in Wuhan is owned by GlaxoSmithKline, which (accidentally) owns Pfizer!" (the one who makes the vaccine against the virus which (accidentally) started at the Wuhan Biological Lab and which was (accidentally) funded by Dr. Fauci, who (accidentally) promotes the vaccine !
"GlaxoSmithKline is (accidentally) managed by the finance division of Black Rock, which (accidentally) manages the finances of the Open Foundation Company (Soros Foundation), which (accidentally) manages the French AXA !"
Soros (accidentally) owns the German company Winterthur, which (accidentally) built a Chinese laboratory in Wuhan and was bought by the German Allianz, which (coincidentally) has Vanguard as a shareholder, who (coincidentally) is a shareholder of Black Rock, which (coincidentally) controls central banks and manages about a third of global investment capital. "Black Rock" is also (coincidentally) a major shareholder of MICROSOFT, owned by Bill Gates, who (coincidentally) is a shareholder of Pfizer (which – remember ? sells a miracle vaccine) and (coincidentally) is now the first sponsor of the WHO !
Now you understand how a dead bat sold in a wet market in China has infected the WHOLE PLANET !""
Now you know pass it on until whole world knows.
---
Summary of the Spike Protein Protocol – update/if you know someone who has been injected and requires help, please provide them with this protocol.
Summary of the Spike Protein Protocol – update/if you know someone who has been injected and requires help, please provide them with this protocol.
By David Wolfe, June 26, 2021
This is the updated protocol to protect those who have been injected with the quackccine(s) and the same protocol is useful to protect those concerned with the spike protein shedding coming off those who have been injected. So if you know someone who has been injected and requires help, please provide them with this protocol.
This is the Nutrition Protocol to Prevent Damage from Spike Protein and Derivatives due to Injection and to Protect from Spike Protein Shedding:
https://exopolitics.blogs.com/international_criminal_co/2021/06/summary-of-the-spike-protein-protocol-updateif-you-know-someone-who-has-been-injected-and-requires-help-please-provide-th.html
Zinc (30-80 mg per day depending on immunological pressure)
Vitamin D3*
Lypo-spheric Vitamin C (30 ml, twice daily)*
Quercetin (500-1000 mg, twice daily)
Iodine*
PQQ*
Pine needle tea for shikimic acid orshikimate (from green edible pine needles). There are toxic pine needles, be careful! When drinking pine needle tea, drink the oil/resin that accumulates too! Shikimate, shikimic acid and its derivatives possess cancer fighting, antiviral, antimicrobial, anticoagulant, and antithrombotic properties.
Fennel and/or Star Anise Tea: these are also an excellent source of shikimate or shikimic acid (which is known to neutralize the spike protein)
C60 (1-3 droppers full per day): one of the issues we are seeing with those who have been injected is disturbances in their energetic field (magnetism) and hot spots of inflammation. C60 is a rich-source of electrons and acts like a fire extinguisher to inflammation and simultaneously (because it bio-distributes throughout the body) drives a normalization of electron flow throughout the body. In this category, we offer two products,the traditional C60 product* is made by yours truly and the C60 SuperConcentrate* is made by a carbon scientist friend of mine and contains a higher the concentration of electrons.
Charcoal (2-4 capsules a day): charcoal is the pre-eminent detoxifier and when taken on an empty stomach works its way down into the intestines and activates a blood purification process known as "interstitial dialysis". Our Kohlbitr* product is the premier activated coconut charcoal in the world and we also now offer the more gentle birch charcoal.*
Citrus fruit (especially blood oranges, due to their high hesperidin content — hesperidin is a chalcone like quercetin that deactivates spike protein)
Peppermint (very high in hesperidin)
Wheatgrass and wheatgrass juice (blades are high in shikimate)
Super herbs to help disable spike protein:
Schizandra Berry* (high in shikimate)
Triphala formulations: In Sanskrit, the word Triphala means "three fruits": a combination of Indian gooseberry (emblica officinalis), black myrobalan (Terminalia chebula), and bellericmyrobalan (Terminalia belerica). The terminalia fruits are rich in shikimate.
St. John's Wort (shikimate is found throughout the entire plant and in the flowers)
Comfrey Leaf (rich in shikimate)
Feverfew (leaves and flowers are richin shikimate)
Gingko Biloba Leaf (rich in shikimate)
Giant Hyssop or Horsemint (Agastacheurtifolia) (rich in shikimate)
Liquid Ambar (Sweet Gum tree) A tea of the spiky seed pods is rich in shikimate.
Zeolite – advanced, hydrolyzeed, nano (Coseva, ResultsRNA,
https://www.americaswellnessclinic.com/touchstone)
Can Zeolite disassemble the spike proteins in the current injections being rolled out?
More tips:
I heard from the doctors that MMS should work too.
Taking the bath that will get nanobots and microgel out ofthe body with alpha pellets and organic soap (it is mentioned in the video below "5 doctors rectification"
by Dr. Christiane Northrop in about 58 minutes of the video.
We got Ivermectin paste in Tractor Supply for horses. If you would get it too, you have calculated the dose for your weight, and try just ½ ofthe human dose! Do not overdose!
I am also using daily LifeWave photo biomodulation patches that are helping with inflammation, immune system, detoxification, and body regeneration.
I have organic peel from grapefruit and lemons to make Quinine, and pine needles to make tea.
How to make homemade hydroxychloroquine:
IF YOU EVER FEEL A CHEST COLD COMING ON OR JUST FEEL LIKE CRAP…MAKE YOUR OWN QUININE. IT IS MADE OUT OF THE PEELINGS OF ORGANIC GRAPEFRUITS AND LEMONS, …BUT ESPECIALLY GRAPEFRUITS. I WILL GIVE YOU THE RECIPE HERE AND YOU TAKE THIS CONCOCTION THROUGHOUT THE DAY…
OR YOU CAN MAKE A TEA OUT OF IT AND DRINK IT ALL DAY. THIS SHOULD TAKE AWAY ALL YOUR FEARS ABOUT THIS VIRUS, BECAUSE YOU NOW HAVE THE DEFENSE AGAINST IT AND MANY OTHER THINGS.
IF YOU TAKE ZINC WITH THIS RECIPE, THE ZINC PROPELS THE QUININE INTO YOUR CELLS FOR A MUCH FASTER HEALING.
HERE IS ALL YOU NEED TO DO TO MAKE YOUR VERY OWN QUININE……TAKE THE RIND OF 2-3 LEMONS, 2-3 GRAPEFRUITS. TAKE THE PEEL ONLY AND COVER IT WITH WATER ABOUT 3 INCHES ABOVE THE PEELS. PUT A GLASS LID ON YOUR POT IF YOU HAVE ONE, A METAL ONE IS FINE IF YOU DON'T.
LET IT SIMMER FOR ABOUT 2 HOURS. DO NOT TAKE THE LID OFF OF THE POT TILL IT COOLS COMPLETELY AS THIS WILL ALLOW THE QUININE TO ESCAPE IN THE STEAM.
SWEETEN THE TEA WITH HONEY OR SUGAR SINCE IT WILL BE BITTER. TAKE 1 TABLESPOON EVERY COUPLE OF HOURS TO BRING UP THE PHLEGM FROM YOUR LUNGS. DISCONTINUE AS SOON AS YOU GET BETTER.
PLEASE SHARE THIS WITH THOSE THAT NEED TO REDUCE FEAR AND ALLOW THEM TO SEE THAT GOD IN ALL OF HIS GLORY, PROVIDES US WITH ALL THAT WE NEED.
PINE NEEDLE TEA
Is pine needle tea the answer to covid vaccine shedding/transmission? Learn about suramin, shikimic acid and how to make your own extracts.
1.
https://www.brighteon.com/7c129e86-7e2b-47a7-bc74-dd19621e4042
2.
https://www.brighteon.com/97b0e7f6-4fe7-4be7-9b18-4673155a1065
3.
https://www.naturalnews.com/2021-05-09-is-pine-needle-tea-the-answer-to-covid-vaccine-shedding-suramin-shikimic-acid.html
How to make a pine needle tea.
5 doctors rectification
Medical information, help, where to getHydroxychloroquine
https://drleemerritt.com/covid-information
For protocols go to www.c19protocols.com, or you can review them at this site under "Protocols for Using Hydroxychloroquine and More". For me, here is how I do prophylaxis. If I am going to be on a plane or traveling, or I think I have spent time in close contact with a vaccinated person I will take 12 mg on day 1, 12 mg on day 3 and repeat monthly if still in a high-risk environment. In over 27 controlled trials this has significantly reduced the riskof COVID, (by up to 73%). Treatment of actual COVID disease is trickier, but ifa person gets it early within 5 days mostly it can be snuffed out with either Ivermectin daily for 3-5 days at doses in the protocols, or Hydroxychloroquine,400 mg first dose then 200 mg twice daily for 5-14 days.
Dr. Lee Merritt
There's definitely something to this. From what I have researched independently, any transmission appears to require skin-to-skin contact rather than via airborne alone. The "fact-checkers" aredenying any transmission possibility …
Dr. "Zev" Zelenko: Jab Death Count, Death byGovernment Tyranny, Censored Real Solutions
__________________________________________________________________
REPORT: Pfizer Vaccine Confirmed To Cause Neurodegenerative Diseases – Study
REPORT: Pfizer Vaccine Confirmed To Cause Neurodegenerative Diseases – Study
https://blazingpress.com/pfizer-admits-in-its-own-mrna-document-that-non-jabbed-can-be-exposed-to-the-jabs-spike-proteins-by-inhalation-or-skin-contact/
Exclusive Mike Adams: The Spike Protein Is The Bioweapon, And It Is Found In The Vaccines
https://beforeitsnews.com/health/2021/05/exclusive-mike-adams-the-spike-protein-is-the-bioweapon-and-it-is-found-in-the-vaccines-3039617.html
---
Kaiser Permanente Puts 2,200 Unvaccinated Employees on Unpaid Leave Nationwide
Jack Phillips, Epoch Times, October 7, 2021
(https://tinyurl.com/6965rd34)
Kaiser Permanente, one of the largest health care systems in the United States, has placed about 2,200 unvaccinated employees on unpaid leave nationwide because of the company's COVID-19 vaccination policy.
The employees who were suspended represent more than 1 percent of the firm's workforce as the company employs around 216,000 people nationwide. They have until Dec. 1 to be vaccinated in order to return to work, the firm said in an Oct. 5 statement.
"More than 92 percent of our employees have been vaccinated—and the number continues to grow," Kaiser stated, adding that as of Oct. 4, employees who have "not responded to our vaccine requirement" were placed on unpaid administrative leave.
"We hope none of our employees will choose to leave their jobs rather than be vaccinated, but we won't know with certainty until then," the Oakland, California-based company stated. "We will continue to work with this group of employees to allay concerns and educate them about the vaccines, their benefits, and risks."
Several other large hospital systems have issued similar directives in recent days.
On Oct. 4, New York-based Northwell Health announced it had terminated 1,400 workers because they didn't receive the COVID-19 vaccine, coming as a mandate issued by the New York governor's office came into effect for health care workers.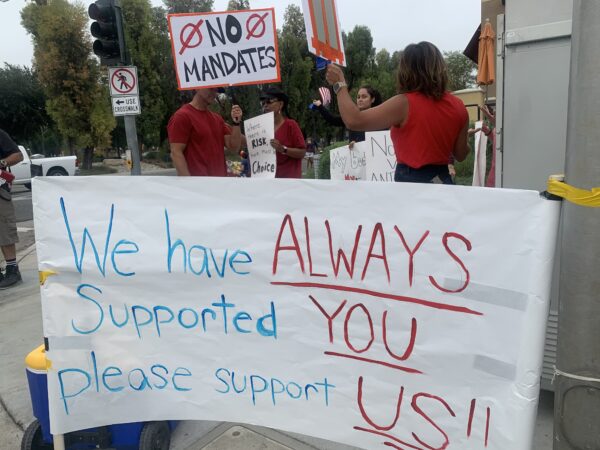 "Northwell believes that having a fully vaccinated workforce is an important measure in our duty to protect the health and safety of our staff, our patients, and the communities we serve," the health care system stated. "This allows us to continue to provide exceptional care at all of our facilities, without interruption and remain open and fully operational."
While it "regrets losing any employee under such circumstances," Northwell argued that it owes "it to our staff, our patients, and the communities we serve to be 100 percent vaccinated against COVID-19."
A hospital system that serves four states in the southeastern United States said in late September it terminated more than 100 employees over its vaccine mandate.
"They will have an opportunity to comply over a five-day, unpaid suspension period," North Carolina-based Novant Health stated, announcing that 175 workers were fired. "If a team member remains non-compliant after this suspension period, he or she will have their employment with Novant Health terminated."
At United Airlines, about 96 percent of employees have been vaccinated under a mandate. About 3 percent sought an exemption, and fewer than 1 percent will be fired, the company has stated.
Kaiser Permanente officials didn't immediately respond to a request by The Epoch Times for comment.
The Associated Press contributed to this report.