For a woman to sit in Parliament in Afghanistan is to make of herself a target. For her to sit as Vice President of the National Assembly is to increase that risk by an order of magnitude. To declare her intention to run for President of Afghanistan is to increase it by several more orders of magnitude and is an act of raw courage.  To have done this much is already to have served the human race immeasurably, whatever the result.
I'd imagine that simply staying alive and uninjured will be a constant battle. And if she demonstrates an ability to remain calm and prudent all the while, then someone truly extraordinary must be among us. Thanks to Geoff.
Meet The Next Female President of Afghanistan
The Favored Daughter: One Woman's Fight to Lead Afghanistan into the Future
Veterans Today, Feb. 19, 2013
http://www.veteranstoday.com/2013/02/19/meet-the-next-female-president-of-afghanistan/
Fawzia Koofi (born in 1975 or 1976) is an Afghan politician and women's rights activist. Originally from Badakhshan province, she is currently serving as a Member of Parliament in Kabul and is the Vice President of the National Assembly. She has also announced her intention to run as a presidential candidate in the 2014 elections in Afghanistan causing a global political earthquake.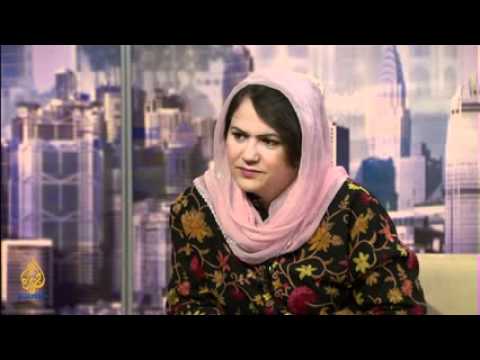 Her story movingly captures the political and cultural moment in Afghanistan, a country caught between the hope of progress and the bitter truth of history and is documented in her brand new book The Favored Daughter: One Woman's Fight to Lead Afghanistan into the Future
The nineteenth daughter of a local village leader in rural Afghanistan, Fawzia Koofi was left to die in the sun after birth by her mother. But she survived, and perseverance in the face of extreme hardship has defined her life ever since. Despite the abuse of her family, the exploitative Russian and Taliban regimes, the murders of her father, brother, and husband, and numerous attempts on her life, she rose to become the first Afghani woman Parliament speaker.
Here, she shares her amazing story, punctuated by a series of poignant letters she wrote to her two daughters before each political trip—letters describing the future and freedoms she dreamed of for them and for all the women of Afghanistan.
Youth and education
Born into a polygamous family of seven women, she was first rejected by her parents because of her sex. Her father, a member of Parliament, had married a younger woman, and Koofi's mother sought to have a son to maintain her husbands' affection. The day she was born, Koofie was left out to die in the sun.
She managed to persuade her parents to send her to school, making her the only girl in the family to attend school. She subsequently graduated from Preston University in Pakistan with a master's degree in business and management. Her father was a Member of Parliament (MP) for 25 years but died at the end of the first Afghan war (1979-1989), killed by Mujahideens.
Koofi originally wanted to become a physician, but chose to study political science and become a member of UNICEF. She worked closely with vulnerable groups such as Internally Displaced People (IDP) and marginalized women and children, and served as a child protection officer for the organization from 2002 to 2004.
Political career
Koofi began her political career in 2001 after the fall of the Taliban, promoting the right to education of girls in her "Back to school" campaign.
In the parliamentary elections in 2005, she was elected to the Wolesi Jirga, the lower house of the Afghan National Assembly, for the Badakhshan district in the northeastern part of the country and became its Vice-President.
She was the first female Second Deputy Speaker of Parliament in the history of Afghanistan. She was re-elected in the parliamentary elections of 2010 and then elected MP from a total of 69 female members of the Assembly.
She has survived several assassination attempts, including one on March 8, 2010, near the town of Tora Bora.
Koofi is currently running as a candidate in the upcoming 2014 Afghan presidential election. She is a running on a platform of equal rights for women, promoting universal education and the opposition to political corruption.
Women's rights engagement
Koofi has made it a priority to defend women's rights in Afghanistan.
Some of the key women's initiatives that she has championed during her tenure as an MP include: the improvement of women's living conditions in Afghan prisons; the establishment of a commission to combat the issue of violence (especially sexual violence) against children; and the amendment of the shia personal status law. Koofi also promoted education for women and children by advocating for access to good schools and creating opportunities for non-formal education for her constituents in Badakhshan province. In 2009, she was selected as a Young Global Leader by the World Economic Forum.
Private life
Koofi was married to a man named Hamid, an engineer and chemistry teacher. Her marriage was arranged, but she did not disapprove of her family's choice. Ten days after their wedding Taliban soldiers arrested her husband and he was imprisoned. In prison he contracted tuberculosis and died shortly after his release in 2003. Koofi lives in Kabul with her two teenage daughters.
Purchase the Book on Amazon.com
"Koofi's story is one of determination and hope and shows the power of one person making the strong right choices every day to bring change … I ask you to read Koofi's book. See for yourself."—The Huffington Post
"Gripping." "Koofi's personal story is engaging and immersive…[she] deftly writes about changes in cultural customs and norms and how they affected women, with nuance that is sometimes absent from commentary surrounding Afghan women's lives…an inspiring and courageous story."–Muslimah Media Watch
"The Favored Daughter yields important background about a part of the world that we should not forget or dismiss." –The Minneapolis Star Tribune
"One of the country's most outspoken democracy activists . . .Koofi describes unflinchingly the wreckage she witnessed at the hands of Afghans of all ideologies and clans." – The Globe and Mail
'An affecting inside look at the making of an Afghan woman leader, in spite of the repression by traditional Islamic society and the Taliban . . . With moving letters to her daughters opening each chapter, Koofi delivers an important message.' – KIRKUS Reviews
"A gripping account of survival against the odds. A sometimes brutal and shocking read, The Favored Daughter is never anything less than inspiring. Read it – and be happy for the chances life has given you."—Andrea Busfield, author of Born under a Million Shadows
About the Author
Fawzia Koofi is Afghanistan's first female Parliament speaker and a noted activist for women and children's rights. She is currently a leading candidate for the presidential elections in 2014 and has been quoted by the BBC, Time, The Washington Post, the Los Angeles Times, CNN, The Globe and Mail, and many others. Koofi was selected as a Young Global Leader by the World Economic Forum in 2009. Before getting elected to Parliament, Koofi was employed by UNICEF as a child protection officer from 2002 through 2004. The mother of two girls, she lives in Kabul.Nadene Ghouriis an award-winning journalist and broadcaster. She is a former correspondent of both the BBC and Al Jazeera English