Matthew Ward has said that the 7/7 London bombings were engineered to further the Illuminati's agenda of world domination:
"What happened in London was strategically staged to give President Bush and Prime Minister Blair full support from their respective governments, and hopefully but not necessarily public demand as well, for further erosion of civil rights and freedom of movement in exchange for promises of increased security from terrorism.
"A secondary purpose was to divert attention from the G8 summit being held safely distant, where, despite the official positive announcements of pledged debt relief to African nations and progress on environmental concerns, nothing at all substantive changed.
"The four young men identified as the suicide bombers had nothing to do with the events.  They weren't even mind-controlled pawns, but simply innocent young Muslims who were picked by a London CIA segment to be the ones blamed for the death and destruction caused by that segment.
"A large group within the CIA, which only superficially is an intelligence gathering agency to serve the security of the United States, is composed of Illuminati leaders and operators with diverse nationalities, political persuasions and belief systems, but with one aim: world domination." (Matthew's Message, Jul;y 16, 2005.)
The special report of the coroner, Lady Justice Hallett, delivered in London on May 6, 2011, was perhaps the last occasion on which a government official could have brought to light the conspiracy that killed 52 victims and saw four innocent men of Middle-Eastern background slain for a crime they did not commit.
Though Lady Justice Hallett allegedly studied the conspiracy theories relating to the bombing, she has not seen fit to investigate any of them.

The culprits for the London bombings will be brought to justice after first contact, during the accountability phase of upcoming events. But the period of time during which we had an opportunity to see that justice was done prior to the general reorganization of government under the Earth allies probably has now passed.
Just as we've been unable to date to bring disclosure forward and probably won't be able to until the divine deadline passes, so we've also been unable to see that any major false-flag attack was addressed. When we look back on this era and wonder if we could have done it without the intervention of civilizations from other parts of the universe, we may wish to consider that we've been unable to make headway in any important developments that I'm aware of.  I know that sounds a bit severe, but I say it to underline that, left to our own devices, we probably would have lost to the Illuminati. As it is, within a short period of time the cabal, that intended to eliminate so many of us, will instead be gone.
7/7 inquest verdict: Emergency services cleared but MI5 under fire
Coroner finds none of 52 victims could have been saved by faster rescue, but MI5 failings made terrorists' job easier
Alexandra Topping and Esther Addley http://www.guardian.co.uk,
http://www.guardian.co.uk/uk/2011/may/06/7-july-inquest-verdict-mi5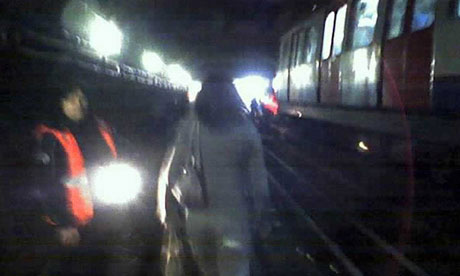 A passenger is shown the way out of Edgware Road tube station after the 7 July bombing. The coroner in the victims' inquest has found none of them could have been saved by a faster emergency services response. Photograph: Sipa Press/Rex Features
None of the 52 people who died in the 7 July terrorist attacks could have been saved even if help from the emergency services had arrived earlier, an inquest into their deaths has ruled.
But confusion in MI5's system of assessing terrorist suspects and questions over the security services' record-keeping continued to cause concern almost six years after 7/7 attacks, the coroner said.
Four bombs exploded in central London on 7 July 2005. Delivering verdicts of unlawful killing for all the victims, Lady Justice Hallett ruled that no failings from any of the emergency services involved had contributed to the deaths.
"The medical and scientific evidence in relation to all 52 victims leads to only one sad conclusion," she said.
"I am satisfied on the balance of probabilities that each of them would have died whatever time the emergency services reached and rescued them."
The coroner criticised MI5, saying she did not accept that the Security Service had made every possible improvement since 7/7. During the inquest a senior MI5 officer, referred to as witness G, and James Eadie QC, counsel for the home secretary and MI5, argued the agency had learned from its mistakes.
In a rule 43 report – which requires MI5 to respond to her concerns – Hallett said: "I feel unable to accept Mr Eadie and Witness G's assurances that all is now well [within the security services]."
Hallett added that "confusion [had] reigned" within the security services about photographs of two of the bombers that were shown to informants almost a year before the atrocity. She called badly cropped images "dreadful".
"I fully expect the Security Service to review their procedures to ensure that good quality images are shown and that whatever went wrong on this occasion does not happen again."
Hallett said she was "troubled" by witness G's evidence that it was not normal practice for photos to be revisited when new sources became available. She criticised MI5's record-keeping. "Witness G himself had to visit retired desk officers at their homes to discover as best he could what they had done and why." She called for better communication and sharing of information about terrorist subjects between MI5 and the police.
She called for a line to be drawn under the attacks and rejected calls for a public inquiry, saying the inquest had unearthed material not previously seen. "I am not aware of our having left any reasonable stone unturned. I would hope that these proceedings would be an end to the investigation of events," she said.
Speaking to two courtrooms packed with the bereaved families, survivors, members of the emergency services and the media, she began by thanking the families "for their understanding, their support and their quiet dignity" during the five-month inquest. She thanked the survivors who gave evidence, many of whom where still traumatised. "During the course of hearing evidence I ran out of superlatives in describing the courage and heroism of many who survived," she said.
The victims' families had called for 32 recommendations they believed would prevent deaths in the event of another major terrorist attack.
Some are likely to be disappointed with Hallett's decision to make only nine recommendations under rule 43 of the Coroners Rules 1984.
The coroner expressed "grave concerns" that, with London a major terrorist target and set to host the Olympics in 2012, there was dangerously low funding for volunteer helicopter medics and the London Air Ambulance (LAA). The LAA saved lives at the Tavistock Square bomb site but lack of funding meant a similar response today would fall "woefully short of the response that LAA was able to muster on 7/7".
"I am concerned that London, a major global capital, host to the Olympics in 2012 and a prime terrorist target, should find itself dependent upon corporate funding and charitable donations," she said.
She called for a review of how Transport for London contacts the emergency services after a terrorist attack. The inquest learned that a total failure in the underground radio network resulted in a unclear and incomplete picture of the nature of the attacks reaching both the London Underground control room and the emergency services immediately after the explosions.
7/7 victims' families react to inquest verdict Link to this videoHallett echoed the families' requests for inter-agency training for major incidents; the establishment of a common rendezvous point at the scene of an emergency to be manned by London Underground; a review of how TfL confirms that rail line power is switched off; and a review of whether underground trains should carry first-aid kits and stretchers. The London ambulance service was told it should review its existing triage system so victims could be given immediate basic medical intervention.
She criticised the use of complex acronyms and jargon by the emergency services, saying it may "confuse and impede communication".
"In a life-threatening situation everyone should be able to understand what everyone else is saying and what they are trying to do."
In a statement the home secretary, Theresa May said she hoped the inquest would provide comfort to the families and survivors.
The coroner said she found no evidence MI5 knew of and failed to prevent the bombings.
The government and security services would learn from the 7 July attacks and had insisted "there have been a considerable number of improvements put in place since 2005".
Immediately after the hearing, families represented by Russell Jones & Walker welcomed the verdict of unlawful killing. In a statement James Carlton, representing 10 of the 30 families said: "The coroner's ruling marks the end of a lengthy process for the families."
"The coroner should be commended for her efforts in ensuring that these proceedings have been conducted at all times in a dignified, timely and sensitive manner to those who lost their lives to this tragedy."